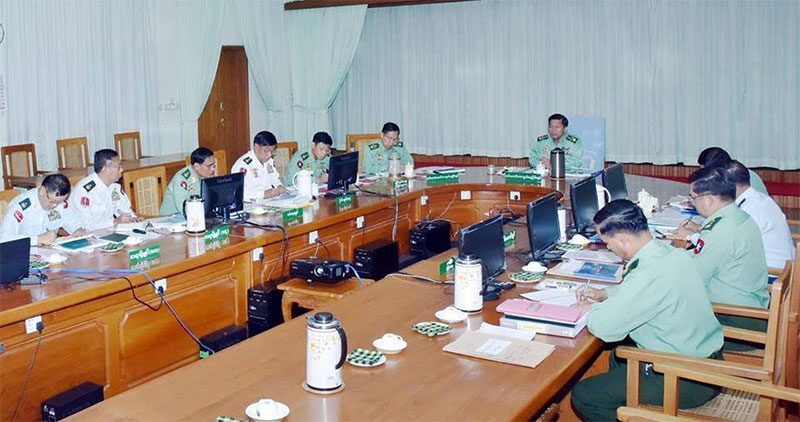 Commander-in-Chief of Myanmar's Defense Services Min Aung Hlaing said the air crash of a military plane on June 7 was a great loss for the nation and the armed forces. 
"Loss of lives involved in this accident is assumed to be the loss of every individual in the nation," Min Aung Hlaing told a meeting at the Army Headquarters in Nay Pyi Taw, the Myanmar News Agency reported on Tuesday. 
He thanked all participants in the rescue operation for their concerted efforts, and people and families of the armed forces across the nation for their donation. 
The search work will continue depending on the weather condition, he said. 
According to the Navy, during the period from June 7 to July 2, 13 naval vessels and 26 local fishing vessels have taken part in the search for the plane wreckage and further search and transportation will be carried out by nine more naval vessels, eight local fishing vessels and nine soldier-divers. 
According to the Air Force, a total of 261 pieces of wreckage have been recovered so far which are categorized into nose section, middle fuselage and rear section. 
On June 18, flight Data Recorder (Black Box) and CVR (Cockpit Voice Recorder) were found in the retrieved plane's tail section, which was entangled with a fishing net of a local vessel under the sea off the country's southern coast. 
The authorities are continuing to probe into the reasons of the plane crash based on the black box. 
So far, a total of 92 bodies of victims have been retrieved. 
With a load of 2.4 tons of cargo and 122 people aboard, including 108 military personnel and their family members and 14 crew members, the aircraft of the Myanmar Air Force lost contact with the ground shortly after taking off from Myeik on June 7. 
The plane has been confirmed crashed in the Andaman Sea off the southern Tanintharyi region on a flight to Yangon.
Courtesy Global Times