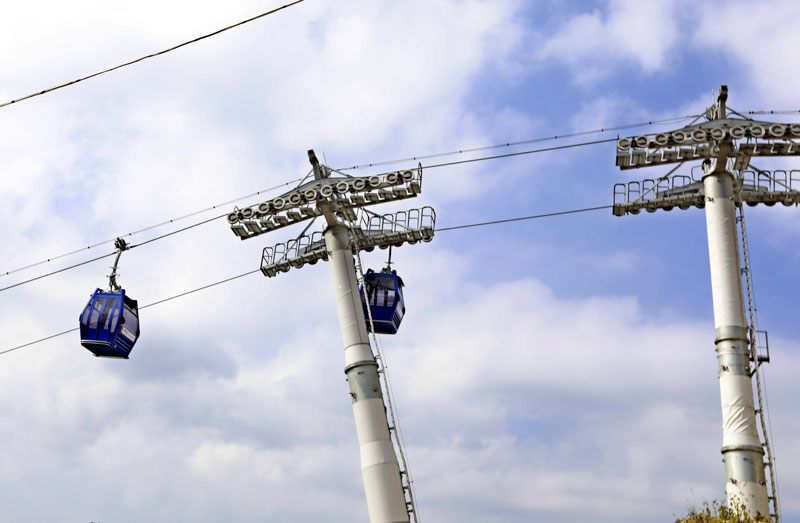 Myanmar has introduced the country's first cable car services at a well-known pilgrimage and tourist site the Kyaiktiyo Pagoda, also known as Golden Rock, in southeastern Mon state, the official Global New Light of Myanmar reported Sunday. 
The cable car service, run by a South Korean company, the Sky Asia Co., was inaugurated by Minister of Natural Resources and Environmental Conservation U Ohn Win on Saturday. 
With six towers it will run with 44 cable cars, each with the capacity of a maximum eight persons and the journey will take about 10 minutes running from Yathedaung Mountain to the Kyaiktiyo pagoda. 
The 21 million US dollars project was implemented on a 5.46 hectares' land within Kyaiktiyo Wildlife Sanctuary. 
Kyaiktiyo Pagoda, a small one built on the top of a 1,100-meter high granite boulder covered with gold leaves pasted on by devotees, is one of the well-known pilgrimage sites in the country. 
It attracted more than 80,000 foreign visitors over the past six months, according to the pagoda's Board of Trustees. 
According to legend, the Golden Rock itself is precariously perched on a strand of the Buddha's hair. The balancing rock seems to defy gravity, as it perpetually appears to be on the verge of rolling down the hill. 
The rock and the pagoda are at the top of Mount Kyaiktiyo. It is also the third most important Buddhist pilgrimage site in Myanmar after the Shwedagon Pagoda in Yangon and the Mahamuni Pagoda in Mandalay.
Courtesy Global Times