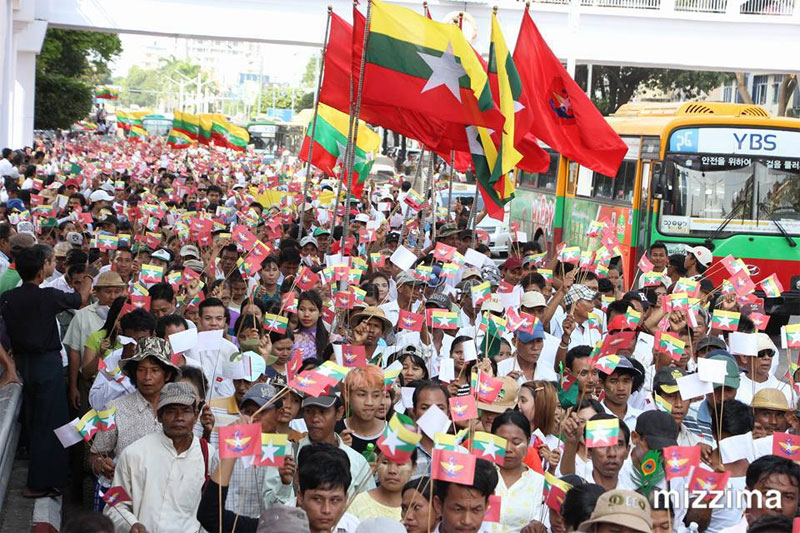 Military songs rang out across downtown Yangon Sunday as thousands rallied in defence of Myanmar's army, an institution accused by the global community of driving Rohingya Muslims from the country.
More than 600,000 Rohingya have fled western Rakhine state to Bangladesh since late August when raids by terrorists from the minority group were met with ruthless army "clearance operations".
But inside Myanmar support for the army has surged -- an unlikely turnaround for a once feared and hated institution that ruled for 50 years and whose lawmakers lost heavily in 2015 polls.
Those elections sent Aung San Suu Kyi's pro-democracy party into power, but the Rohingya crisis has put her government on the backfoot.
Demonstrators carried banners lauding Commander-in-Chief Min Aung Hlaing and rebuking the international community for "pressuring the Tatmadaw" -- as Myanmar's army is known.
"The Tatmadaw is essential for the country, it protects our ethnic groups, races and religion," Nan Aye Aye Kyi, 54, told AFP as the rally snaked through Yangon to the iconic Sule Pagoda.
The Rohingya are not recognised as one of Myanmar's patchwork of ethnic groups.
Kyaw Than, 64, a retired sergeant who served in the army for 41 years said the Tatmadaw "is protecting the whole country", adding allegations of murder, rape and arson against the Rohingya were "not true".
© AFP