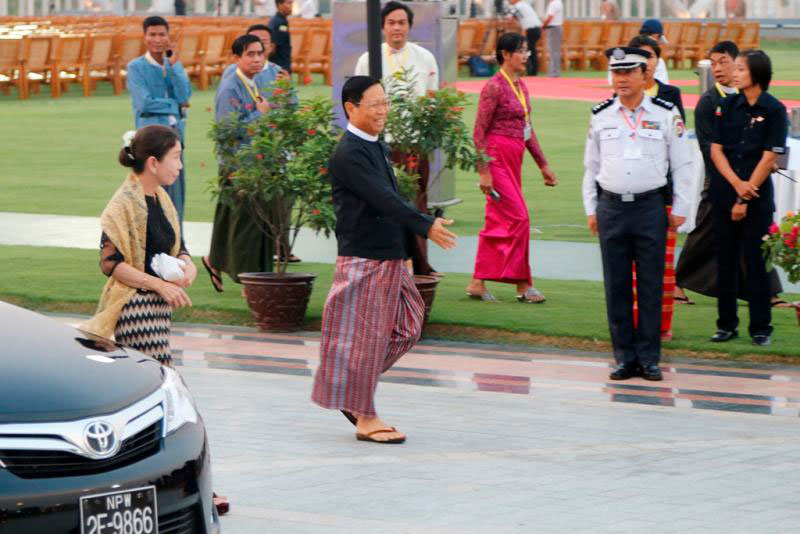 Myanmar's new minister for religious and cultural affairs came under fire from Muslim and Hindu communities in the country recently for referring to them as "associate citizens," during a radio interview. 
Thura Aung Ko, a former general who was the deputy minister of religious affairs in the previous military-backed government, made the comments on April 1, his first day in office, in an interview with the Myanmar-language service of Voice of America radio. 
Commenting on the issue of religious harmony, he said, "[the previous government] did not oppress or restrict minority religions, including Christianity, the religion of ethnic [groups], or Islam and Hinduism - the religions worshipped by most associate citizens". 
Myanmar's 1982 Citizenship Law designates three degrees of citizenship; full citizenship, associate citizenship, and naturalised citizenship.
Myanmar is a predominantly Buddhist country, but has long had large minority communities comprising millions of Christians, Muslims and Hindus. 
In recent years, the radical Buddhist nationalist Ma Ba Tha movement has campaigned against Muslims, and tensions between groups have boiled over to communal riots, leaving tens of thousands of people, predominantly Muslims, displaced. 
Wunna Shwe, the Yangon-born Joint General Secretary of Islamic Religious Affairs Council, said in a reaction that the council was upset with the minister's use of the word 'associate citizens'.
"The minister meant we are not full Myanmar citizens, and it was an insult to our affection for our country. It's meant to hurt us and affect the real situation we are in. It is quite painful to hear," the 50-year-old told Myanmar Now.
On Apr. 3, the Union of Myanmar Islamic Religious Affair's Council, which comprises five Islamic associations, including the Islamic Religious Affairs Council, released a joint statement raising a formal objection to the remark and it called for an explanation.
Wunna Shwe said while the organisations do not question the position of the new government, they released a statement to prevent misunderstanding among the Buddhist-majority public over the minorities' status. 
"We felt we have no choice but to make a comment, as his remark can cause confusion about the status of our citizenship," he added.
The former government of President Thein Sein was accused of supporting the Ma Ba Tha by adopting its controversial race and religion laws, and of undermining the rights of Muslims, who are believed to make up at least five percent of Myanmar's population.
Minister Thura Aung Ko told VOA that the previous government had "over-promoted" Buddhism and added he soon planned to meet with leaders of the Sangha, Myanmar's state-backed monastic order, to discuss ways to rein in hate speech and promote inter-religious harmony.
When Myanmar Now contacted the Ministry of Religious and Cultural Affairs for comment, staff pointed to a clarification on its website, which states that the minister actually meant to use the words "some citizens and associate citizens" to refer to Muslim and Hindu communities.
Muslim politicians respond
Thura Aung Ko was a former brigadier-general and deputy minister for religious affairs under the previous administration of the army-backed Union Solidarity and Development Party (USDP). 
A former member of the USDP's Central Executive Committee, he and USDP chairman Thura Shwe Mann were removed from their roles during an internal USDP purge before the November 8 elections, which the NLD won in a landslide.
Yan Naing, a legal officer of the United National Congress, a Muslim party, said the NLD should be held accountable for the remarks of the minister because the NLD selected him for the post.
"The NLD has a responsibility. They assigned this post to a minister not from their party. We are awaiting an explanation on whether this remark is the NLD's doing. Will the NLD take responsibility? Will they take action against him?" said Yan Naing, a former political prisoner and former NLD member who campaigned for the party during the 2012 by-elections.
Ko Ni, a high-profile Muslim lawyer and the NLD's legal advisor, said Thura Aung Ko's remark did not represent the NLD's policies.
"Whether you are a citizen or not has nothing to do with religion. His remarks are not in accordance with the Constitution. As a union minister, he should have such knowledge. His comment has negative impacts on the NLD," he said.
Ko Ni added that he requested the NLD to issue a statement saying the minister's remarks do not reflect party policy.
Courtesy of Myanmar Now