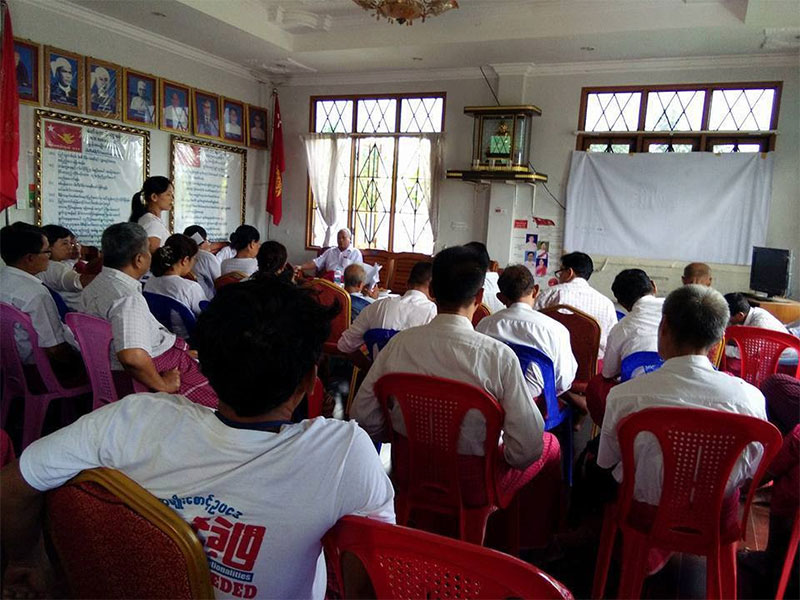 The Mon National Party, one of two primary ethnic Mon political parties, has appointed Nai Tin Aung as its vice-chairman (1). The decision came after secret ballots were cast during the party's central committee meeting, held at party headquarters on May 31.
Candidates for the vice-chair position, left vacant by NaiHtetLwin who now serves as minister to the Union-level Ethnic Affairs Ministry, included Nai Chit Oo, former ethnic Mon minister in the Karen State Hluttaw, and Nai Tin Aung, also known as Nai Tala Non.
"The central committee members voted for Nai Tin Aung of their own free will and to ensure joint leadership of the party. I accept this decision made by the central committee," said NaiLayihTamarh, General Secretary of the MNP, in an interview with MNA.
The Secretary added that MNP's work has stalled recently due to NaiHtetLwin's departure and the fact that the aging party leader, Nai Ngwe Thein, is based in distant Rangoon. The appointment of a new vice-chairman is hoped to jump start activities, he said.
Additionally, the party's 31-member central executive committee recently lost Nai Ye Zaw, who resigned. His position was filled by newcomer Min ZayarOo. Former vice-chairman NaiHtetLwin remains a member of the committee.
Despite changes, observers of Mon politics have noted the need for greater momentum among party leaders toward economic growth and social development programs in Mon State.
"The MNP does not think about developing civil society organizations and a national movement. We have not seen it implement any projects yet. The party will not gain public trust if it does not implement anything and only makes rhetorical promises," said Sayardaw Ashin Thiha, a regular commentator on Mon political movements.
The MNP was originally founded in 1988 as the Mon National Democratic Front (MNDF). In 2012, it registered as the Mon Democracy Party (MDP) and then changed to the current MNP in 2014. The party has 93 central committee members, 31 central executive committee members and over 70,000 members.
Courtesy BNI