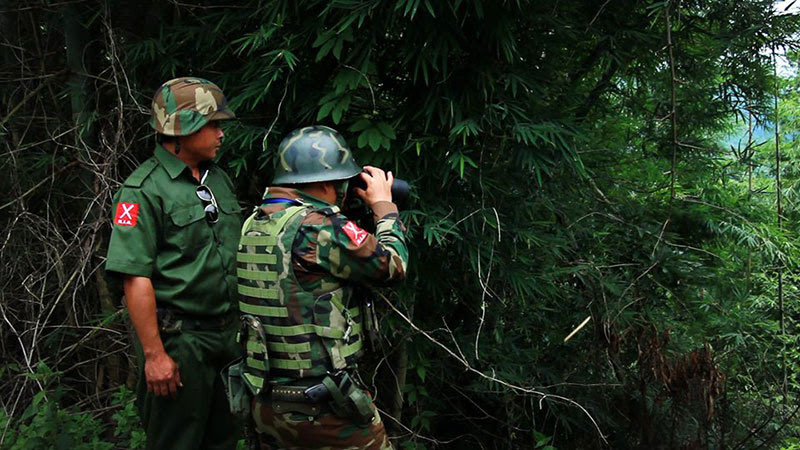 Over 200 local residents have been forced to flee from their homes after new offensives by the Myanmar Army against the Kachin Independence Army (KIA) broke out in Kachin State's Tanai Township.
U Htwal Aung from the Kachin Baptist Convention (KBC) said that fighting has been reported in Lordjar, Chaungzon, and SharapChaung.
Residents, some of whom were working in nearby gold mines at the time when the clashes started, have sought refuge in churches around Shaduzup village.
U Htwal Aung said: "There are around 50 refugees at our KBC Baptist church. There are over 20 refugees at the Roman Catholic Church. There are also many refugees at the other Baptist churches. In total, there may be over 200 refugees—all ethnic Kachin. Heavy weapons are being fired. We have been going to get them since the 31st [July]."
Tensions between KIA Brigade 2, Battalion 14 and the Myanmar Army have been high since the end of July, leading to clashes and the deployment of heavy weapons, said Lt-Gen Naw Buu, information officer for Kachin Independence Organisation (KIO).
"What's happening now is not a big battle. There have been mine blasts and the government [Myanmar Army] has been firing with 81mm and 60mm [guns]. A skirmish broke out in Lamongdu area at 9 am this morning [3 August]. It broke out with KIA Battalion 14 after the Myanmar Army advanced."
Starting on the 28 of July, the Myanmar Army launched heavy weapons into the area controlled by KIA Battalion 14 close to the gold mines. Residents said they heard heavy weapons being fired in the evening of 2 August.
A local said: "Lately, we can continuously hear the sound of heavy weapons [being used]. We hear them every minute or two. There are many gold mines in our area and even more Chinese and machines. They [Myanmar Army soldiers] seem to be launching offensives while pretending to be arresting Chinese."
In northern Shan State, fighting close to Hopong Mountain in Kutkai Township broke out on 28 July between KIA Brigade 6, Battalion 2 and battalions from the Myanmar Army Military Command Operation (MOC)-10. At the same time, 17 ethnic armed groups were converging in KIO controlled Maijayang in eastern Kachin State to discuss the peace process and the upcoming Union Peace Conference (also called 21st Century Panglong Conference). 
Courtesy BNI