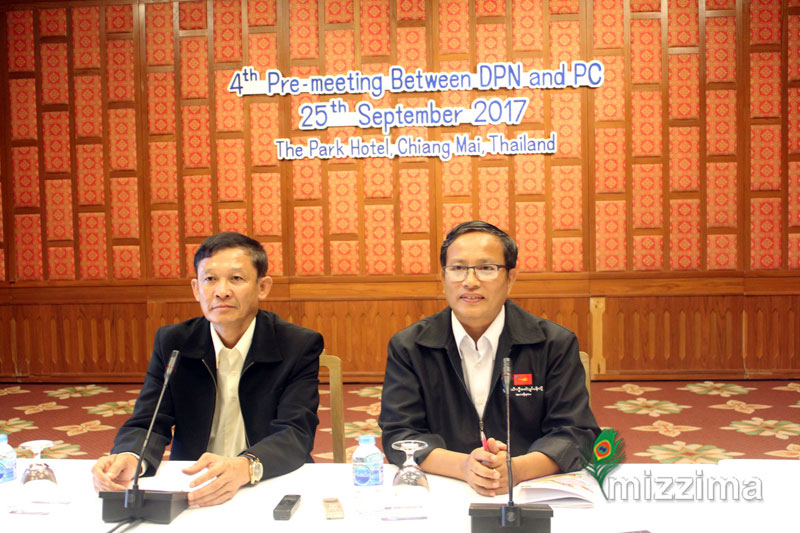 The Delegation for Political Negotiation (DPN) of United Nationalities Federal Council (UNFC) spokesman Nai Aung Ma Nge said that they would meet government's Peace Commission (PC) in Yangon in the first week of October for the seventh time, but it was unlikely to sign the Nationwide Ceasefire Agreement (NCA).
He was speaking in Chiang Mai, Thailand on September 25 after an informal meeting with the government's team in preparation for the official meeting.
"We have already said we are close to signing the NCA if we can agree on our 8-point proposal. After agreeing these 8 points, we can enter the agreement as mentioned in point number 9 but we are not yet certain on these 8 points. So, we are unlikely to sign the NCA on October 15 as we expected before," Nai Aung Ma Nge told reporters.
The government said in the past that all United Nationalities Federal Council (UNFC) members could sign on the second anniversary of the NCA which falls on October 15. Eight EAOs signed the NCA two years ago.
PC member Aung Soe said, "We reviewed the 8 points presented by them, and we will meet again in Yangon for the seventh official and formal meeting. At this formal meeting, we will discuss these points. In today's negotiations, we fixed the date for a formal meeting on October 6-7. From our side, we have to negotiate again (in our team) when we get back to Yangon tomorrow."
The meeting reviewed the 8-point proposal presented by DPN.
"In today's meeting, there are some points we want to modify, and finally we agreed on points number one to four, but our team has no authority to agree on points 5, 6, 7 and 8. We will take these unfinished points to Yangon." PC member Aung Soe said.
Nai Aung Ma Nge said the DPN proposed the presence of State Counsellor Aung San Suu Kyi at the next meeting with UNFC leaders.