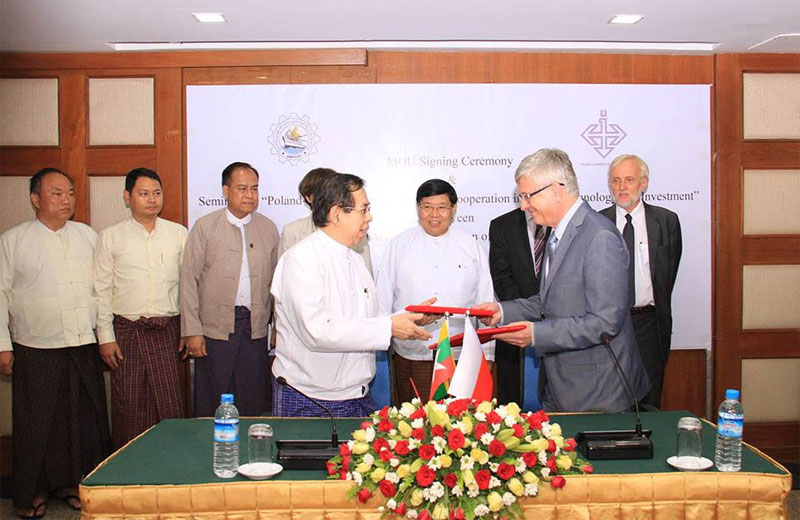 "You have come a long way", U Zaw Min Win, Vice President of the Union of Myanmar Federation of Chambers of Commerce (UMFCCI), pointed out at his welcome speech for polish business leaders in an office tower in Yangon yesterday.
It is not quite sure if he is referring to the nearly 4000 miles air distance from Poland to Myanmar or to the economic success of this European country. Poland's economy has grown continuously since its membership in the European Union (EU) in 2004. It was the only country in the EU that could keep this increase even during the world financial crisis in 2009.
Hoping to maintain this streak of success in the future, the Polish Chamber of Commerce signed a Memorandum of Understanding (MOU) together with the UMFCCI on the 28 April. Representatives from eleven polish companies from food, IT and machinery sectors attended the ceremony to seek better relationships with local businesses.
"We have created a good base for further development. It is a first step mission ever done in history", says Marek Kloczko, Vice President of the Polish Chamber of Commerce, as there were no business relations between Poland and Myanmar before.
Nevertheless, the signing of the MOU is just the very first step in building up business relations, as it is not a real contract with legal effect. Every foreign country that came to Myanmar for business since the country began to open up has signed an MOU. Only time will reveal which companies will succeed in Myanmar as Polish companies look now for local partners to connect with.
Michal Portalewski represented the Airon Green Energy Turbines, which develops wind generators, at the meeting, "They are especially suited for off-grid areas, we can electrify schools, hospitals, remote areas, agricultural areas", he says. "We are willing to enter the market with a strong partner to access these areas and to provide electricity and help your country develop. That is our idea for Myanmar," he continued.