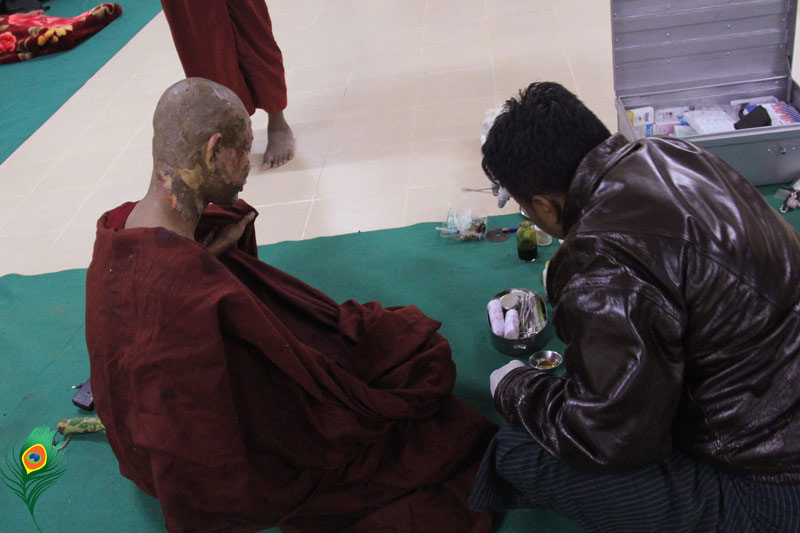 Police in Myanmar have rejected a lawsuit by monks who suffered phosphorus burns at the hands of officers when they protested against a controversial copper mine in 2012, a lawyer said March 24.
Two monks have been trying to sue the country's police chief and home minister after demonstrations against the China-backed Letpadaung mine near the central town of Monywa were violently suppressed by authorities.
They were among scores of protesters who received painful burns during the violence. Some needed medical treatment abroad.
A parliamentary report later found officers had deployed white phosphorus - an incendiary material commonly used on battlefields to create smoke cover - against monks and civilians.
"The police informed us yesterday that they will not accept the case because it goes against procedure," U Aung Thein, a lawyer who is working on the case alongside human rights group the Justice Trust, told AFP.
The monks had filed their claim earlier this month, he said, accusing the police of using illegal tactics.
"We want the government to know that they cannot hide or make this case disappear," he added. 
Myanmar, ruled for decades by a brutal junta until a quasi-civilian reformist government was installed in 2011, has seen waves of protests against land grabbing as disgruntled rural people test the new administration's commitment to freedom of expression.
The Letpadaung mine - part of a joint venture between Chinese firm Wanbao and military conglomerate Myanmar Economic Holdings - has been a regular source of unrest.
Dogged also by complaints of environmental damage and brutal police crackdowns, it is widely seen as a throwback to junta-era tactics.
In the most recent violence a female demonstrator was killed in December after police opened fire on a crowd trying to prevent Wanbao from erecting a fence on disputed land at the same mine.
Wanbao has denied human rights abuse allegations and said Myanmar stands to receive $140 million a year in tax revenues.
Yet concerns over the country's openness to investment from its giant northern neighbour - which gave crucial political support to the former junta - has spurred bouts of anti-China demonstrations in major towns. 
President U Thein Sein has vowed to put the rule of law at the heart of democratic reforms.
But critics fear a deluge of foreign money -- particularly into mining, agriculture and large infrastructure projects -- will warp tentative rights gains.
© AFP