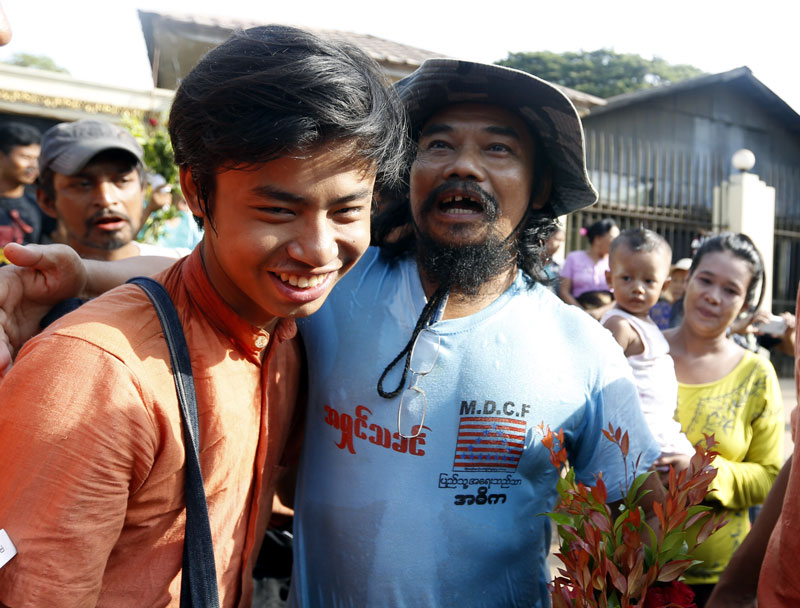 There was very good news for Myanmar citizens to mark this Myanmar New Year. President Htin Kyaw pardoned 83 prisoners in a bid to promote national reconciliation. The government has embarked on fulfilling the wishes not only of Myanmar citizens but also of the world.
Myanmar citizens and the world are monitoring the newly installed NLD-led government, elected by the citizens, to see what it will do to make desirable changes in accordance with the NLD's electoral slogan "It's time for change".
The first thing the new government did was to drop unfair charges against political activists including student activists. That move was welcomed by both the international community and the people of Myanmar. Now, the government has released political prisoners, and the move has drawn praise.
The issues related to political prisoners in Myanmar was an important subject for the UN General Assembly and the Human Rights Council in policy discussions related to Myanmar.
At the UN Human Rights Council in Geneva in March, many countries urged Myanmar to release all political prisoners immediately without exception. But Maung Wai, Myanmar's ambassador to the UN, officially said there were no political prisoners in Myanmar, just people who had violated existing laws so he could not accept the international community's request to release political prisoners. So the international community was particularly interested in how the new government would handle the issue.
Dropping charges against political activists and releasing political prisoners proves that the new government is willing to carry out reforms.But some observers have pointed out that there are still ethnic prisoners who have been unfairly detained.
It is one of the issues that the government must handle carefully. I believe that in accordance with the term "no political prisoner should remain in prison", the new government will continue to make efforts to release prisoners who have been detained under various unfair charges.
It is certain that those political prisoners who have been released can take part in the democratic transition of the country.
Another thing that the new government should do is to revoke the unfair laws that allow the arrest and detention of political activists. As long as these unfair laws exist, there can be new political prisoners in the country. I would like to urge the new government to remove existing unfair laws as soon as possible and establish the rule of law so that every citizen can be safe and secure and every political activist can express their views without being threatened.
Aung Myo Min is a human rights activist and Director of Equality Myanmar, a human rights organization working for the protection and promotion of human rights in the country.