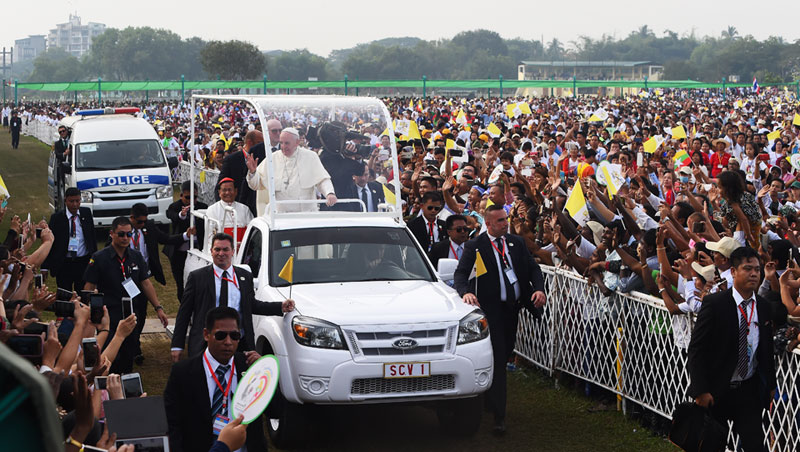 Pope Francis will lead an open-air mass today for some 200,000 Catholics in Myanmar, who have poured into Yangon for a papal visit.
Excitement has been building for months among the throngs of pilgrims from across the country expected to join the colourful celebration of Myanmar's ethnic diversity in the commercial capital.
The pope will wind through the crowds in a white 'popemobile' to greet his followers at close-quarters before conducting a ceremony due to start at 08:30 local time (02:00 GMT) on the third day of his visit.
This is the first ever papal visit to the country although there have been Catholics in Myanmar for over 500 years.
Today they number an estimated 700,000 -- just over one percent of the population -- and generally enjoy good relations with the Buddhist majority.
In the last three years, the Vatican has canonised Myanmar's first saint and named its first cardinal before full diplomatic ties were established in May this year.
Pilgrims arriving in Yangon for Wednesday's mass have been bedding down wherever they can -- even the graveyards of churches have turned into massive dormitories.
"I can't say enough how happy I am," Pauline Soe Thandar, 26, told AFP as she waited for her parents to arrive from out of town before heading to the stadium.
"I know the pope will share his loving kindness and valuable words to make all of us peaceful."
© AFP