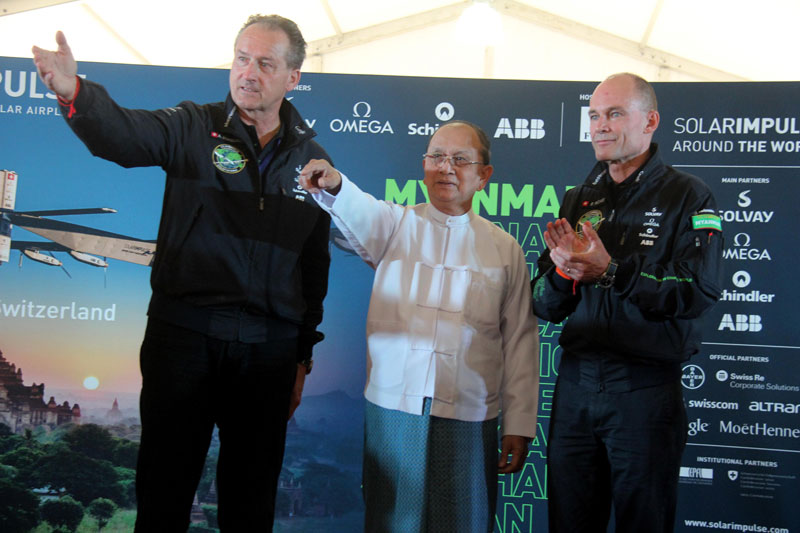 President U Thein Sein met the pilots of the Solar Impulse on the morning March 20 after the aircraft landed at Mandalay International Airport the night before.
Pilots Bertrand Piccard and Andre Borschberg have brought their "clean energy" message to Myanmar as they attempt to fly their solar-powered plane around the world.
Mr Piccard flew the latest leg of their epic journey, flying in from Varanasi, India and arriving at 7.51 pm the night before.
The crew says their visit to Myanmar provides an opportunity to reach out to the Myanmar government, NGOs, universities and schools to spread the message of clean technologies.
Solar Impulse 2 was met by dancers dressed in an elephant costume as it landed in Myanmar's second largest city Mandalay, completing the fourth leg of its landmark circumnavigation of the globe powered solely by the sun.
Pilot Piccard flew the fourth leg of the 12-part journey, taking over from fellow Swiss aviator Mr Borschberg.
"A moment I will remember: touch down in #Myanmar," Mr Piccard tweeted shortly after landing.
"It was fabulous to have my wife Michèle and my daughter Estelle by my side at the landing in #Mandalay," he added in a later post.
The Swiss adventurer had previously visited Myanmar in 1998 during another attempted round-the-world trip in the Breitling Orbiter 2 balloon. At the time Myanmar was still governed by an isolationist military junta.
The Solar Impulse team erected an enormous inflatable mobile hanger at Mandalay airport to house the plane during its stopover.
It is the first time the hanger has been used during the round-the-world trip.
The Solar Impulse team said they expected the aircraft to remain in Myanmar at least two days before heading to China's Chongqing for the next leg, pending favourable weather conditions.
The trip from Varanasi was expected to take around 20 hours, but strong tail winds pushed the plane up to record-breaking speeds.
"This flight broke a record in terms of speed going up to 117 knots pushed by tail winds," an update by the team on YouTube said.
The plane had stopped overnight in Varanasi after leaving Ahmedabad in Gujarat state, where the pilots became entangled in India's notorious bureaucracy, delaying its departure by five days.
The team behind Solar Impulse 2, which has more than 17,000 solar cells built into its wings, hopes to promote green energy with the circumnavigation attempt.
Ridiculed by the aviation industry when it was first unveiled, the venture has since been hailed around the world, including by UN chief Ban Ki-moon.
Muscat was the first of the 12 planned stops on the plane's maiden journey around the world from Abu Dhabi, with a total flight time of around 25 days spread over five months.
Additional reporting by AFP