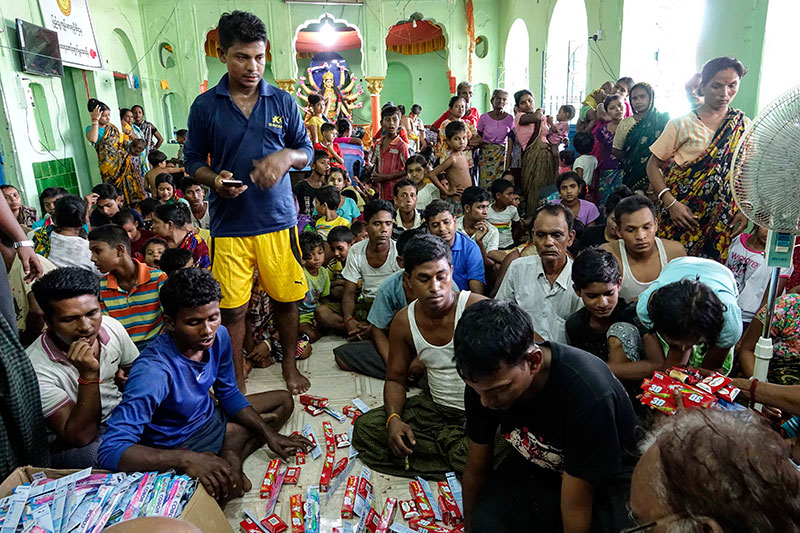 A press conference was held in Sittwe on September 5 regarding bringing back those who fled from their homes and villages after terrorist attacks erupted in northern Rakhine State. Almost all the villagers had to flee from their homes.
This press conference was organized and held by 'Western Border Rakhine National Territory Reconstruction Committee' (Provisional) and the committee briefed what they would do for local people to be able to stay in their areas in a safe and secure environment.
Rakhine historian Dr. Aye Chan said, "The current situation is so bad. The people dare not stay in their areas anymore. They are considering abandoning their places forever after fleeing from their homes repeatedly. We must consider providing them psychological security."
In the terrorist attacks, Maungdaw was hardest hit. Local people do not want to go back to their homes anymore so the northern Rakhine area may be lost to the terrorists. The organizers of the press conference explained the work and efforts to make these areas habitable again.
Dr. Aye Chan said, "The situation is good only in the urban areas of Buthidaung. The situation is so bad in rural areas. We cannot resolve this crisis as a short term solution. We must consider a long term solution for defending and maintaining these areas in our hands. We must build the consolidation, solidarity and unity of the whole of society for this purpose."
The committee reportedly adopted a detailed programme for providing psychological and physical assistance to local people in western border areas and providing assistance to local ethnic people for their secured livelihood, development of the socio-economic situation and territorial integrity, and finally demanding the legal rights entitled to them.