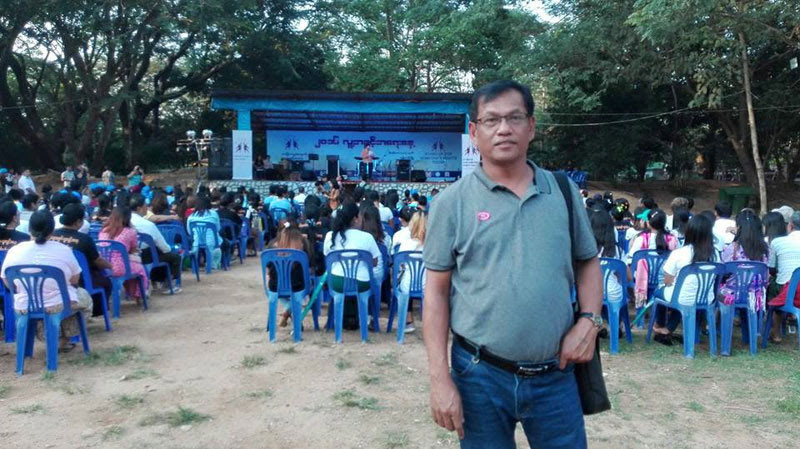 A prosecution witness named Captain Zaw Moe Aung was examined at the trial of Central Committee member of All Burma Students' Democratic Front (ABSDF),Yebaw Min Htay, who has been indicted under the Unlawful Associations Act.
This is the first examination of a prosecution witness in this case on February 16 at the trial of Yebaw Min Htay from ABSDF, a group which is a signatory of the Nationwide Ceasefire Agreement (NCA).
ABSDF Central Executive Committee Member Sali Yaw Aung said: "A prosecution witness was examined by asking him the process of arresting him on that day. A car carrying Yebaw Min Htay was stopped at the Seinlon checkpoint and they found him in the car. During a search, badges of the ABSDF were found in his possession. Then the Military Affairs Security (MAS) was immediately informed and MAS took over this case."
He added that the prosecution witness testified at the trial court that 150 badges of the ABSDF 10th Battalion, 150 badges of 11th Battalion, 70 badges of ABSDF (Northern Region), 370 badges of ABSDF and a Huawei mobile phone were found in the possession of the accused on that day.
Salai Yaw Aung said that these badges were issued by ABSDF HQ to battalions and units.
He added that when they met with State Counsellor Aung San Suu Kyi and Commander-in-Chief Senior General Min Aung Hlaing on January 23, they were told by the two leaders to take legal course in this case so that it would take time for the release of Yebaw Min Htay.
"We must defend this case as the law takes its legal course. I think it will take a long time and we must be patient. Finally the judgment will be pronounced. We cannot say yet at the moment what is right or wrong in this case," he went on.
Captain Thet Swe Lwin from the Bhamo-based Military Operations Command 21 indicted Yebaw Min Htay in this case as prosecutor and they submitted 10 prosecution witnesses to the court, it has been learnt.
February 16 was the third hearing in this case and Yebaw Min Htay's health was found in good shape on that day. The court has reportedly fixed March 1 for the next hearing.
Yebaw Min Htay was arrested on December 28, 2106 at Seinlon checkpoint on Bhamo-Lwejie highway and his case was registered under Section 17(1) of the Unlawful Associations Act for his alleged illegal contact and working for the Kachin Independence Organization (KIO).