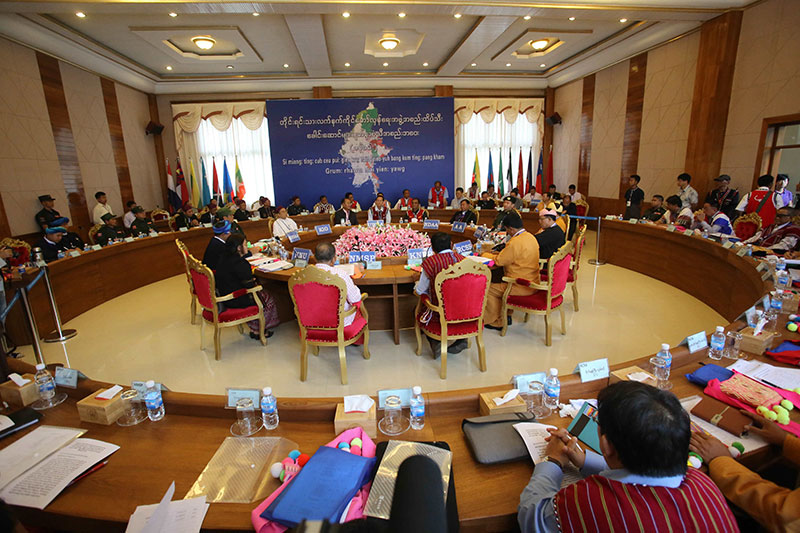 The New Mon State Party (NMSP) will not attend the summit meeting of ethnic armed organizations (EAOs) scheduled to be held in Pangkham, the general headquarters of United Wa State Party (UWSP).
NMSP Vice-Chairman Nai Hong Sar said that they received an invitation to attend the Pangkham summit of seven EAOs which are non-signatories of Nationwide Ceasefire Agreement (NCA)to be held on April 15 but they could not attend this meeting as they were preoccupied with other meetings.
"We received an invitation to attend the Pangkham summit but we cannot yet attend as it coincided with Thingyan water festival and we are not free at that time. After the Thingyan festival we will have our Central Committee meeting. So we cannot go yet there," Nai Hong Sar said.
He added that UNFC delegation led by him would go to the UWSP HQ for a meeting with them at an appropriate time.
Mizzima contacted Khoo Oo Reh from the Karenni National Progressive Party (KNPP) but he did not answer a question as to whether his party would attend this summit.
The Kachin Independence Organization (KIO) and Shan State Progressive Party (SSPP) attended the EAO summit held in February but they did not confirm whether they would attend this summit again or not when contacted.
Col. Pan Pha from SSPP said that he learned that they were invited to attend this Pangkham summit but he did not know whether SSPP would attend this meeting or not.
These two EAOs, KIO and SSPP, signed the Pangkham Summit Agreement but they agreed at the UNFC Central Executive Committee emergency meeting held in Chiang Mai, Thailand from April 3 to 5, not to leave the UNFC but continue to go along the NCA path.
Ta Pan Hla from T'ang National Liberation Army (TNLA) said recently to Mizzima that at the meeting which would be held on April 15 they would discuss forming a 'Political Dialogue Committee' which was agreed by seven EAOs at the last summit meeting held in February this year.
These seven EAOs are the UWSP, SSPP, KIO, TNLA, National Democratic Alliance Army (NDAA), Myanmar National Democratic Alliance Army-Kokang (MNDAA) and Arakan Army (AA).