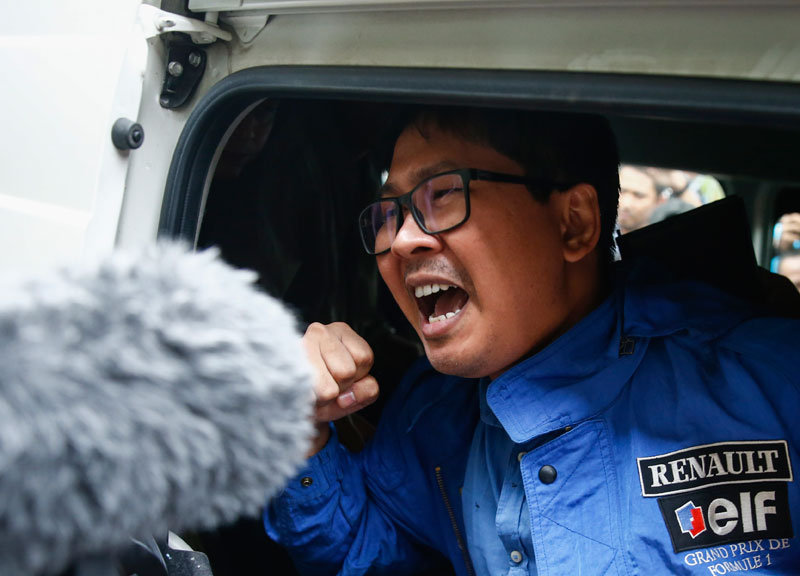 The Myanmar authorities must immediately release two journalists from the Reuters news agency who have been arbitrarily detained for investigating military abuses in Myanmar's Rakhine State, Amnesty International said.
The two journalists, Wa Lone and Kyaw Soe Oo, are due in court today. They had been investigating the recent military operations in Rakhine State when they were arrested on 12 December 2017.
"Wa Lone and Kyaw Soe Oo must be immediately and unconditionally released. They have done absolutely nothing but carrying out their legitimate work as journalists. This is clearly an attempt by the authorities to silence investigations into military violations and crimes against Rohingya in Rakhine State, and to scare other journalists away from doing the same," said James Gomez, Amnesty International's Director for Southeast Asia and the Pacific.
"These arrests have not happened in a vacuum.'
Reporters without Borders (RSF) have also called for the release of the two Journalists.
"None of the claims made by the authorities, in this case, seems to be credible," said Daniel Bastard, the head of RSF's Asia-Pacific desk. "The two journalists had the misfortune to take an interest in what is happening in Rakhine State, where 650,000 members of the Rohingya community have fled to neighbouring Bangladesh to escape the army's operations.
"What with the lack of transparency, the failure to respect proper legal procedure and the fabrication of evidence, everything suggests that Wa Lone and Kyaw Soe Oo are being used by the authorities as scapegoats in order to deter overly curious reporters."