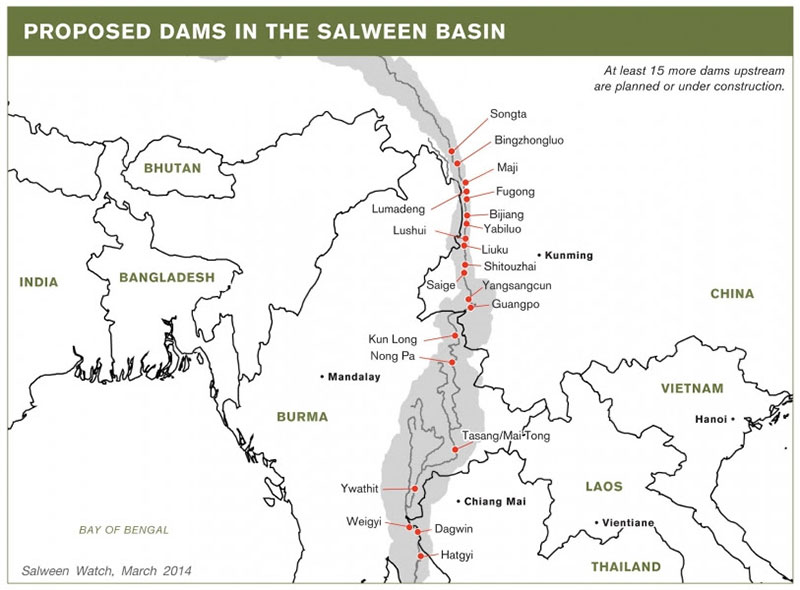 Two dozen Shan community groups have sent a letter to Myanmar State Counsellor Aung San Suu Kyi calling on her government to stop the construction of hydroelectric dam projects on the Thanlwin or Salween River.
The Myanmar government recently announced that it will proceed with dams on the Salween River, despite strong local opposition.
The letter was sent to coincide with State Counsellor Suu Kyi's five-day visit to China during which discussions will include hydropower projects that Beijing is financing or hoping to finance.
One project which the groups voice concern over is the 1,200 megawatt Naung Pha dam in nothern Shan State, to be built by China's state-owned Hydrochina Corporation. An estimated 90 percent of the power will be exported to China. Australia's Snowy Mountain Engineering Corporation (SMEC) is currently conducting the Environmental and Social Impact Assessment in this highly militarized area, adjoining the Wa Self-Administered Division.
Shan community groups have long protested and expressed concern about the Naung Pha dam and how it could affect local villagers, the environment, and the free flow of the river.
Representatives of the community groups plan to hold a press conference on August 23 at the Foreign Correspondent's Club of Thailand to voice their concerns.
(Additional reporting by BNI)