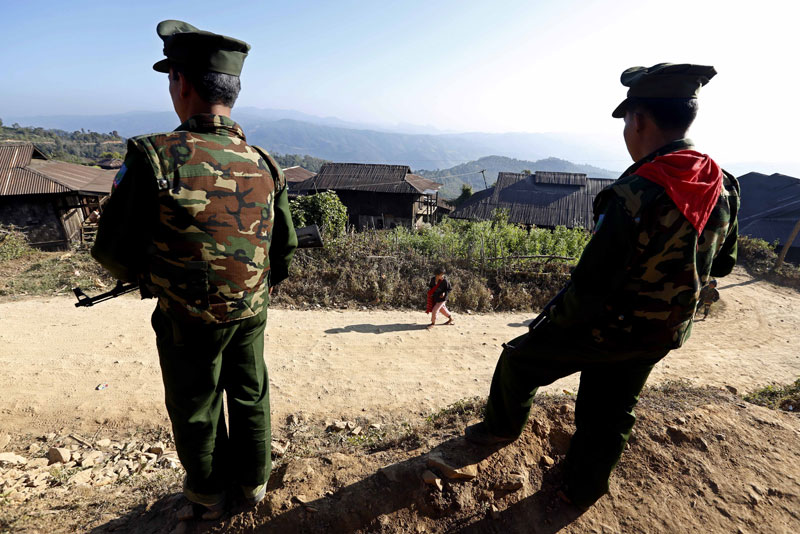 A Ta'ang soldier was killed in a clash between a Ta'ang National Liberation Army (TNLA) group and a combined force of Reunification Council of Shan State/Shan State Army (RCSS/SSA) and government troops.
RCSS and government troops fought a fierce battle with the TNLA on January 17 from 6 a.m. to 2 p.m. in Lwesar village, Kyaukme Township, Shan State and in which left one TNLA soldier dead and two wounded.
TNLA Information Department spokesperson Mai Aik Kyaw said, "We fought with RCSS troops first before 8 o'clock and then the government troops advanced to our positions. They fired both small arms and heavy weapons."
He said the government's Light Infantry Division No. 77 came in as a reinforcement unit and a combined force of RCSS and LID 77 clashed with the TNLA near Lwepaik village, Mai Ngau sub-township, at about 1 p.m.
He said the RCSS sustained casualties, but he did not know the exact number.
More than 300 local villagers fled from the battle after government troops fired small arms and heavy weapons on their village, he said.
He said the RCSS is a signatory of the Nationwide Ceasefire Agreement (NCA). The TNLA is a non-signatory of the NCA.
"The RCSS invaded our territory to loot us," he said. They fought us with government troops. It means a NCA signatory force fought a NCA non-signatory force by taking assistance from government troops," he added.
He told Mizzima that the RCSS was not operating in the area before but they entered during the second week of November 2015 after the RCSS signed the NCA. He said the area is still tense and their could be more clashes.
Mai Aik Kyaw said that RCSS and TNLA fought for the first time in November and December 2015 near Mengwi, Namkham Township.
Government troops and the TNLA have fought 15 times in January 2016, he said.