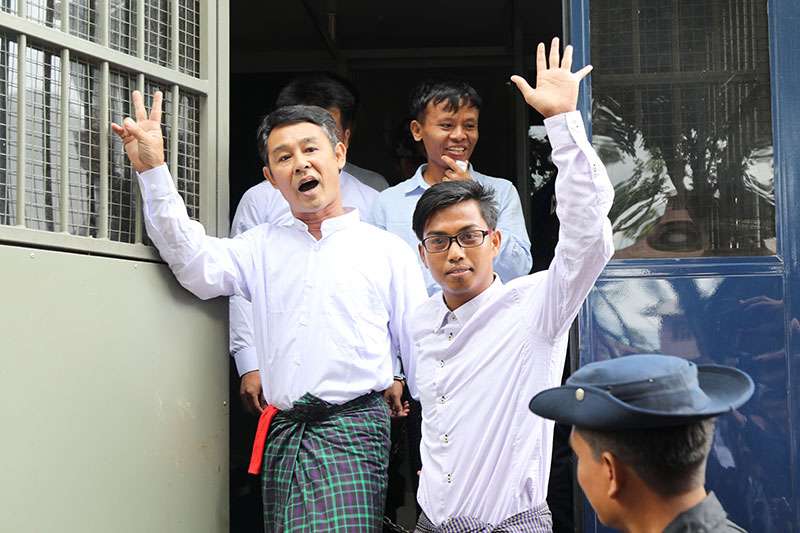 Three journalists and three other accused who are charged with cases under section 17(1) of the Unlawful Associations Act were produced before the court on Friday for the third time in Hsipaw.
They have been accused of attending an anti-narcotic drugs-burning ceremony held by the Ta'ang National Liberation Army (TNLA) in Namsan, the self-administration region in northern Shan State.
The reporters are Lawi Weng of Irrawaddy News, and Democratic Voice of Burma (DVB) reporters Aye Nai and Ko Pyae Phone Aung.
Speaking about their actions, accused Lawi Weng said that all reporters had the right to cover the news as the event they were covering was an anti-narcotic drugs ceremony held in a "white area".
"This town is called 'Myothit' where government staff, nurses and teachers live and work. And this ceremony was held at the government middle school. This ceremony was also attended by government staff. This is a white area, not disturbed area or conflict area as they claimed. Reporters do not need to ask for permission to cover this news. Everybody has the right to visit this place and the ceremony. This is our job," reporter Lawi Weng said.
Moreover, as the DVB reporter Aye Nai explained, they produced their national ID and journalist ID at the checkpoint on the outskirts of Lashio to military personnel and they were inspected by them on their way to this anti-narcotics ceremony.
DVB reporter Aye Nai said, "There are three main points in their charge sheet. We did not inform the military, secretary of the township administration, and the police station. But though we did not inform military, they asked us where we would go. We showed them our national ID and journalist ID and we gave them our visiting cards."
Advocate Maung Maung Win, who is representing two DVB reporters, said that the prosecution had the burden of proof on what directives, provisions and restrictions were violated by the accused as their main charge leveled against them is not taking permission from the institution concerned.
"My client reporters are accused of failing to take permission from the authorities concerned in covering this news. So they need to say which directives, or which restrictions were violated by my clients. The reporters did not take this permission as they did not need to do so. If there are restrictions, and they were notified in the daily papers, the case would be different."
In yesterday's hearing, the prosecutor Lt. Thet Naing Oo was examined and the reporters applied for bail. This application reportedly will be decided at the next hearing fixed on August 4.