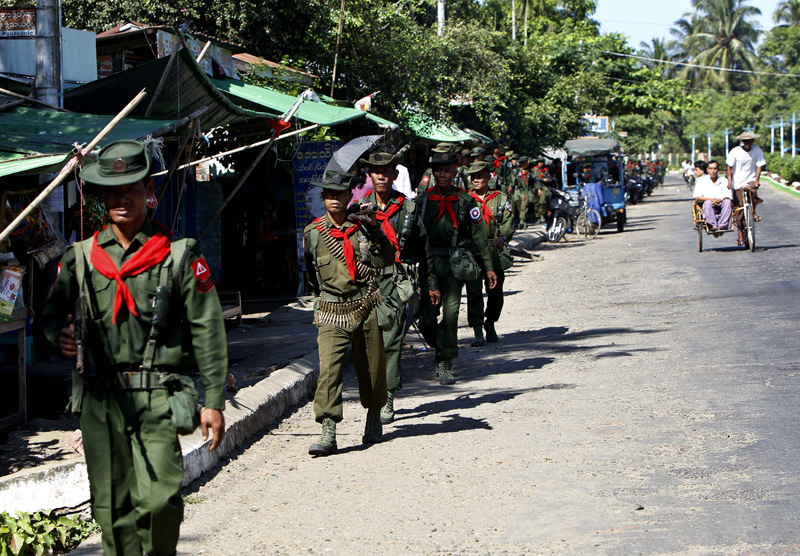 Chiang Mai (Mizzima) – The United Nationalities Federal Council (UNFC), an organization of ethnic leaders, said that the National Ceasefire Agreement (NCA) signed by eight ethnic armed organizations this week is incomplete and has failed to be an inclusive agreement.
Eight ethnic armed organizations and the Union Peacemaking Working Committee (UPWC) signed the NCA on October 15 and the Union Parliament ratified it this week.
UNFC Vice-Chairman Nai Hongsa said that was only a partial success because it excluded significant ethnic military organizations from signing the agreement.
The deal fell short when seven of the 15 armed groups invited declined to sign due to disagreements over who the process should include and ongoing distrust of Myanmar's semi-civilian government and the military.
The United Wa State Army, the largest and best equipped of the country's armed ethnic groups, the Shan State Army North and the Kachin Independence Army were among those who did not sign the ceasefire agreement.
"Our view is the NCA cannot build peace without an all-inclusive and nationwide ceasefire. So we will continue our negotiations with both the incumbent government and new government and work toward this," Nai Hongsa told reporters.
He said the UNFC would continue negotiations with the present government or the new government, which will be formed in March 2016.
UNFC General Secretary Khoo Oo Ral told reporters, "As far as we understand it…we see there will be more difficulties implementing this agreement."
"Both sides said this agreement would be presented to parliament for ratification only after it was signed by all ethnic armed organizations. And now it was signed only by some members of our group," he said.
He said he believed the National League for Democracy (NLD), which will form a new government, would work hard toward national reconciliation.
"Since this agreement is not all-inclusive and the NLD will take over the running of Parliament soon, they might make some compromises before taking over," he said.
"They will have their own policies on the peace process when they assume power, and they will have a majority in the parliament. The NLD has already said that they will consider all the remaining organizations in regard to national reconciliation."
He noted that the NCA has a 7-step roadmap in which there will be a union peace dialogue, a national-level dialogue and a political dialogue phase by phase.
There will be many questions about who will represent the different parties and who will take part in these dialogues, he said.
"We have not yet reached a consensus agreement in this regard. For instance, we proposed a tripartite dialogue but the tatmadaw (defense services) proposed a 5-party talk, and some said a 4-party, a 6-party, etc. You can see how confused the situation is."