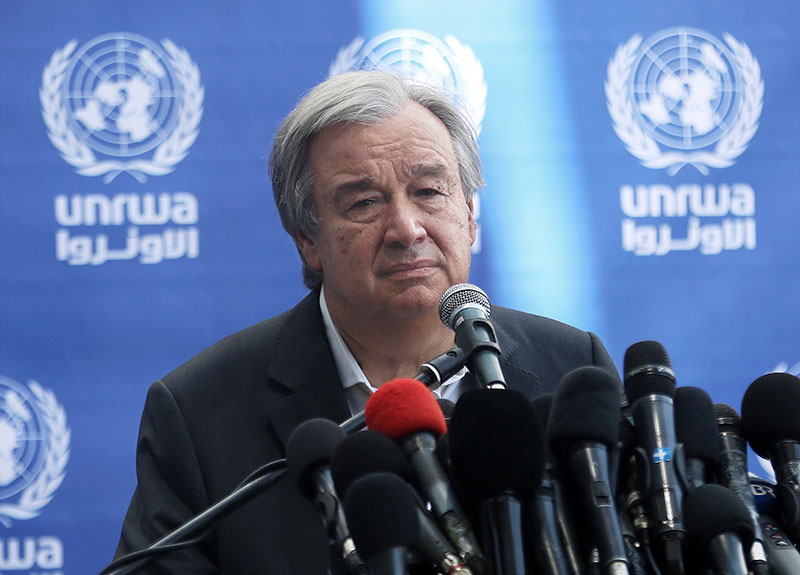 UN chief Antonio Guterres warned Friday of a looming humanitarian catastrophe in western Myanmar and urged security forces to show restraint after hundreds were reported dead in communal violence and thousands continued to flee.
"The secretary-general is deeply concerned by the reports of excesses during the security operations conducted by Myanmar's security forces in Rakhine State and urges restraint and calm to avoid a humanitarian catastrophe," said a UN spokesman.
Guterres recalled that it was the government's responsibility to provide security and allow aid agencies to reach those in need.
Backing up the UN chief's message, a United Nations human rights expert has expressed alarm at the deteriorating situation in Myanmar's Rakhine State, affecting not just the Rakhine and Muslim populations but also other communities. Tens of thousands of Rohingya Muslims are now reported to be fleeing towards Bangladesh.
"The humanitarian situation is deteriorating rapidly and I am concerned that many thousands of people are increasingly at risk of grave violations of their human rights," said the UN Special Rapporteur on the human rights situation in Myanmar, Yanghee Lee, according to a press release issued on September 1.
"The worsening cycle of violence is of grave concern and must be broken urgently."
Ms. Lee said the suffering of the Rohingya was particularly poignant this week, while the world's Muslim communities celebrated Eid al-Adha on 1 September but the Rohingya remained in a precarious situation, not knowing their future or the fate of their relatives.
Latest estimates from UN sources suggest more than 27,000 people have crossed into Bangladesh in the area around Cox's Bazar, while 20,000 more remain stranded between the two countries.  The number continues to grow.
The Special Rapporteur noted concerns over both the extremist attacks which followed the release of the final report by the Rakhine Advisory Commission, led by former UN Secretary-General Kofi Annan, and the major security operations undertaken in response to the attacks.
"I am concerned that these events will derail efforts to address the root causes of the systematic discrimination and recurrent violence in Rakhine State," said the Special Rapporteur.
"If human rights concerns are not properly addressed, and if people remain politically and economically marginalized, then northern Rakhine may provide fertile ground for radicalization, with people becoming increasingly vulnerable to recruitment by extremists," said Ms. Lee. "These concerns were raised by the Advisory Commission and I share them fully."
"I am saddened to receive reports that, while the authorities are helping Rakhine and other communities living in affected townships evacuate to safer locations, this assistance is not being extended to the Rohingya Muslims," she added.
The situation had worsened considerably since extremist attacks on August 25, with credible multiple sources reporting violations which, according to the UN, include Rohingyas being indiscriminately killed and injured by military gunfire, even while fleeing, and helicopters and rocket-propelled grenades being used against the civilian population.
Ms. Lee reminded the authorities of their human rights obligations to give equal protection to people from all communities, whether from attacks by extremists or excessive action from the security forces.  She has previously expressed concern over the military build-up in Rakhine State, urging the security forces to exercise restraint in all circumstances and to respect human rights.
She expressed her condemnation of attacks by the Arakan Rohingya Solidarity Army.
"I call on the Government to ensure the immediate provision of assistance to all affected communities in Rakhine State, and grant unfettered access to the United Nations to provide humanitarian assistance, including to address protection concerns, and to monitor the situation. Even before last Friday's attacks, access for humanitarian actors had been very limited in northern Rakhine, negatively impacting the support they provide."
This statement has been endorsed by the UN Special Rapporteur on freedom of religion or belief, Ahmed Shaheed, and the Special Rapporteur on minority issues, Fernand de Varennes.
The Myanmar army chief's office on Friday gave the updated death toll, sketching out the details of an insurgency that has escalated sharply. 
"Until August 30, a large number of terrorists carried out 52 waves of attacks on security forces.... in those attacks, 370 bodies of terrorists were found and nine others captured alive," a statement posted on Facebook said. 
Fifteen security forces and 14 civilians have also died in eight days of fighting, it added.
Additional reporting by AFP