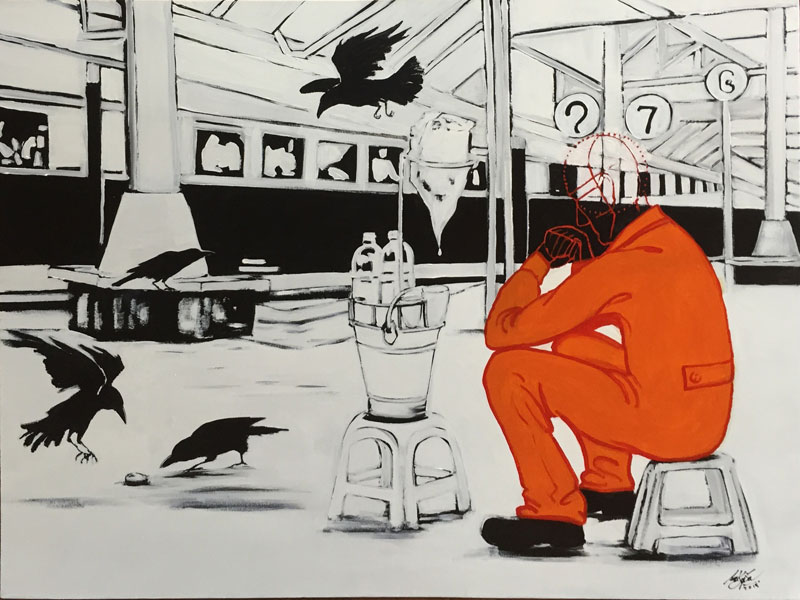 As Pyay Way saw the pictures of the flood areas in Myanmar stacked up in his Facebook news feed, he felt sad for the people's suffering. A gallery curator, he started to contact Myanmar artists while he was visiting Taiwan for an art exhibition. Within the initial eight days, he has gathered 115 modern art paintings from over 71 artists for a fundraising exhibition starting on 15 August in Nawaday Tharlar Art Gallery, Yangon.
He named it the "100% Art Exhibition." The two Myanmar artists joining his Taiwan trip, Than Kyaw Htay and Aung Kyi Soe, came up with the name as they felt "100% sorry for the people [suffering]" and the participating artists will donate 100% of the sales to the flood victims.
Through an on-going online pre-sale, Pyay Way has raised over US$15,000. He and the artists will send the donation to the local people they know in the flood-affected areas. He plans to invite more artists to join as he returns to Yangon. The paintings are priced between US$100 and US$1,500. 
Another famed gallery, Pansodan Scene, has organized a sale of books and paintings starting from 5 August. "We do as much as we can," the gallery owner, Aung Soe Min, said.
River Ayeyarwaddy Gallery and Myanmar Artist Organization (Central) also held exhibitions for three and five days to help the flood victims.
Ei Ei San contributed reporting. 
Event information
100% Art Exhibition, Nawaday Tharlar Art Gallery 
15 – 25 August 2015, 11:00 – 18:00
Address: Room No. 304, 20/B (Above Sony Showroom), Yaw Min Gyi Road (On the Park Royal Hotel Side), Dagon Township, Yangon 
Phone: 0943097918
Pansodan Scene
Address: 2nd Floor, No. 144, Pansodan Street (Middle Block), Corner of Maha Bandoola and Pansodan Streets, Kyauktada, Yangon
Phone: 095130846