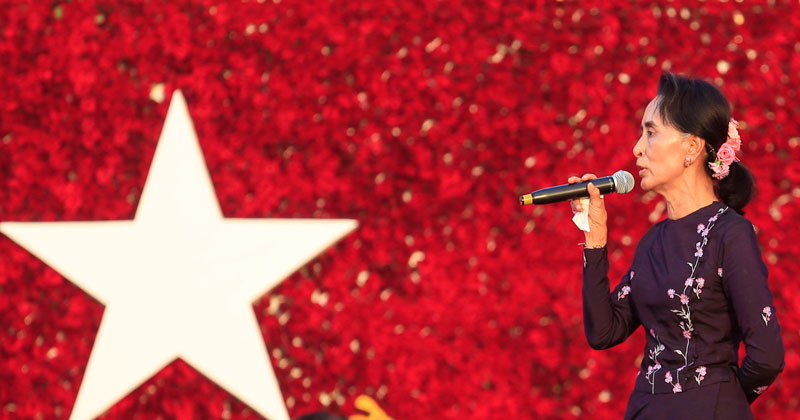 Myanmar opposition leader Aung San Suu Kyi told tens of thousands of supporters Sunday to be vigilant against election fraud during a huge show of strength a week before landmark elections.
The country heads to the polls next Sunday in what observers are hoping will be the fairest election for decades as the nation slowly shakes off almost a half-century of brutal military rule.
It will be the first nationwide election for 25 years to be contested by Suu Kyi's pro-democracy party, potentially tipping the balance of power away from the military and its ruling party allies for the first time in generations if the vote is free.
"The people's strength is our strength as well," Suu Kyi, 70, told a sea of supporters in eastern Yangon, her first major rally in the commercial hub and by far the largest gathering yet of her National League for Democracy (NLD) party. 
"We do not need to work with dirty ways," she added, to loud cheers and laughter.
"We will act until we win the correct way... We all need to be fully vigilant," she added.
Myanmar was run for decades by a brutal junta which jailed, killed and exiled dissidents while fixing elections or simply ignoring their results.
But the military ceded power to a quasi-civilian government in 2011, paving the way for this year's historic polls.
In recent weeks Nobel laureate Suu Kyi has campaigned across Myanmar, travelling from remote mountainous areas in the north to the southern delta and drawing large crowds along the way.  
But the ruling Union Solidarity and Development Party (USDP), many of whose many members swapped army uniforms for parliamentary seats after a flawed 2010 election, is also brimming with confidence.
The party, the former junta's political heir, has publicly declared it expects to win 75 percent of votes cast. 
- 'Mother Suu ' - 
The run-up to the polls has been marred by allegations of dirty tricks, complaints over the pre-poll preparations and concerns that significant minority groups are unrepresented and disenfranchised.
Sunday's rally is expected to be the last major NLD gathering as electioneering enters its final week, with campaigning ceasing at dawn on Friday. 
Tens of thousands streamed into an outdoor parade ground next to a Buddhist temple in an eastern district of Yangon. 
Roads to the ground were clogged with heavy traffic with some cars blasting campaign music, including a popular NLD song featuring local rappers.
Others made their way on foot, many decked in the party's red armbands, T-shirts, hats and flags sporting slogans like "Vote to change" and "Let's vote NLD for real change".
"I love mother Suu. I also want change. I hate this government," 62-year-old MyintMyit Kyi, a retired government official, told AFP.
"Our country will be changed only when she leads," she added.
"She is the best leader who can achieve the best for us," added Cho NweOo, a 50-year-old woman from south Dagon Township.
While the NLD is expected to make gains at the polls, Suu Kyi is barred by the constitution from becoming president. Nonetheless she has vowed to lead from behind the scenes if her party wins.
But under the junta-era constitution, a quarter of seats in parliament's upper and lower chamber are reserved for military appointees.
This means the USDP needs only around a third of the seats to retain control of the legislature, in combination with the army contingent.
For an outright majority in both houses of parliament, the NLD must take 67 percent of the contested seats. 
© AFP