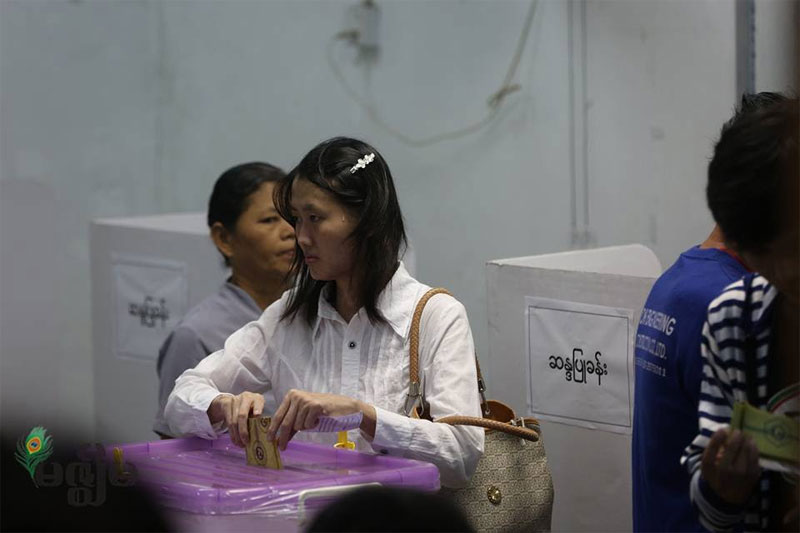 It will probably take days to count the millions of votes expected to be cast Sunday in Myanmar's historic election. 
But once the dust has settled, what is the most likely outcome?
Here is a list of potential scenarios.
1. Suu Kyi's opposition wins clear majority. This would be the dream scenario for Aung San Suu Kyi, a woman who was held for years under house arrest by a brutal junta that kept her confined, her allies imprisoned and the country impoverished.
An outright majority would give her National League for Democracy (NLD) party a much stronger footing in the jostling for who becomes president, a post that will decided by Myanmar's legislative chambers early next year.
To do that, the NLD need to win 67 percent of the 491 seats available (323 in the lower house, 168 in the upper).
In contrast, her rivals -- the army-backed USDP party -- need only win 33 percent of the seats. That's because under Myanmar's junta-crafted constitution, a quarter of legislative seats are reserved for military appointees who would be allied to the USDP.
Even if Suu Kyi wins she can't become president -- the constitution bars those with foreign born offspring from taking the top spot. It is a condition many believe was specifically crafted to stop Suu Kyi, who has two British sons.
An outright majority would help the NLD install a favourable president.
In remarks before the election the 70-year-old NLD leader vowed to rule from behind the scenes and be "above the president". 
But that would be unconstitutional and represent a "red line" to the army, according to independent analyst Richard Horsey.
"If she is above the president she is also above the commander in chief. That raises questions about how the military will respond," he added.
2. No clear majority on either side. If this happens Myanmar will enter an intense period of political horse-trading and alliance building. 
The NLD could take a majority in the lower house, but fail to seize control of the upper house.
Suu Kyi would then need to find potential coalition partners. Her most likely allies are from the parties representing Myanmar's ethnic minorities. 
Myanmar is a patchwork of more than 100 ethnic groups, who make up around 30 percent of the population. 
Ethnic parties will be looking for return favours to join any coalition and Suu Kyi would need to carefully consider who she reaches out to, aware that an alliance could collapse if expectations aren't met.
Equally the USDP could also look to build alliances with ethnic groups. But that is a much harder proposition for them given the fact that many ethnic groups have been fighting wars for decades against the country's military. 
3. The NLD is beaten, army-backed USDP wins. Few expect the NLD to receive a drubbing at the ballot box if the vote is free and fair. 
All across the campaign trail Suu Kyi has drawn large, jubilant crowds -- consistently bigger than anything the USDP has been able to muster. 
But with no independent exit polls and a dearth of election data, it is very difficult to measure whether Suu Kyi's popularity will in fact translate into votes and seats.
What we have is past precedent. In 1990 the NLD won an election with a huge landslide -- a vote that was simply ignored by the military who cracked down further.
In 2012, the NLD also won 43 out of the 45 available seats.
But the USDP and current president Thein Sein has had ample time to prepare for this election and has remained bullish throughout, portraying themselves as the only group that can safely continue Myanmar's democratic transition to stability and prosperity.
4. The worst case scenario: civil unrest. Given Myanmar's turbulent history and the military's track record of ignoring votes that don't go their way, a period of instability and even conflict cannot be ruled out. 
Such a scenario is much more likely if there are widespread allegations -- or proof -- of election fraud. 
Millions of Myanmar citizens now have a taste for democracy for the first time in generations. It is unlikely they would take a stolen election lying down. 
If the poll is fair, danger still lies in thwarted expectations if the NLD do not claim a majority.
The president and the military have insisted they will respect the election outcome. 
Only time will tell whether an institution with a track record of broken promises can keep this one.
© AFP