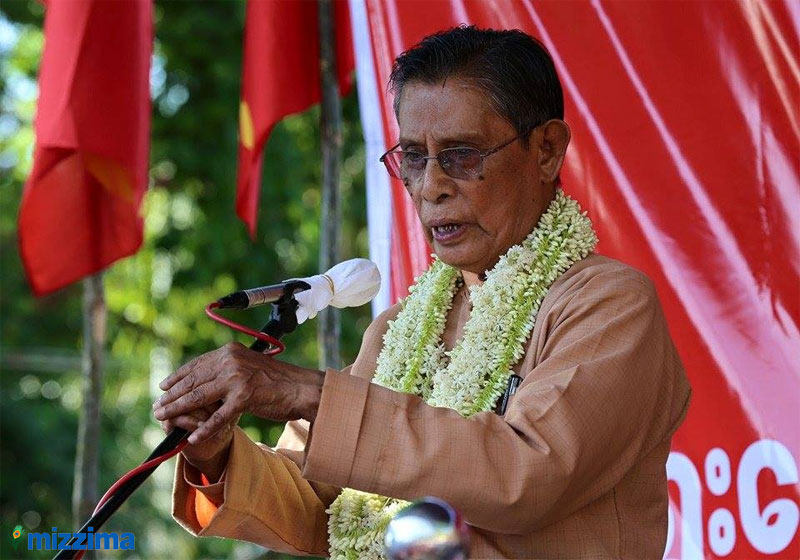 The National League for Democracy (NLD) has pledged to ethnic people that it will work for the development of a federal democracy with equal rights and autonomy, the party's Central Campaign Chairman U Tin Oo said last Thursday while he was in the town of Ye in Mon State.
"The NLD has given this strong promise since the 1995-96 Union Day anniversary," said U Tin Oo during a ceremony on presenting his party's candidates to the public.
He reminded the audience that 2015 marks 100 years since the birth of Bogyoke Aung San, who fought for independence by resisting colonialism and fascist rule.  U Tin Oo added that this year is very significant year in terms of politics. He urged the public to realize Aung San's aims if they want to pay back his debts.
"I earnestly would like to say that it is not enough to pay back his debt by only holding centennial anniversaries. It is the duty of all citizens to carry out the success of the democratic union of Myanmar, which he had aimed for," U Tin Oo said.
He added that the NLD would march towards a democratic union using peaceful and non-violent methods.
Thousands of people including NLD members from Ye town and villages inside the township attended the ceremony held at People's Square in Yangyiaung ward in Ye.
U Tin Oo attend the campaign rally held in front of the Strand Hotel in Mawlamyaing on October 7th and urged the public to vote without any fear.
The spry 88 year veteran NLD leader campaigned in Kyaikhto, Thaton, Mawlamyaing, Mudon, and Ye on October 7th and 8th.
Courtesy of BNI