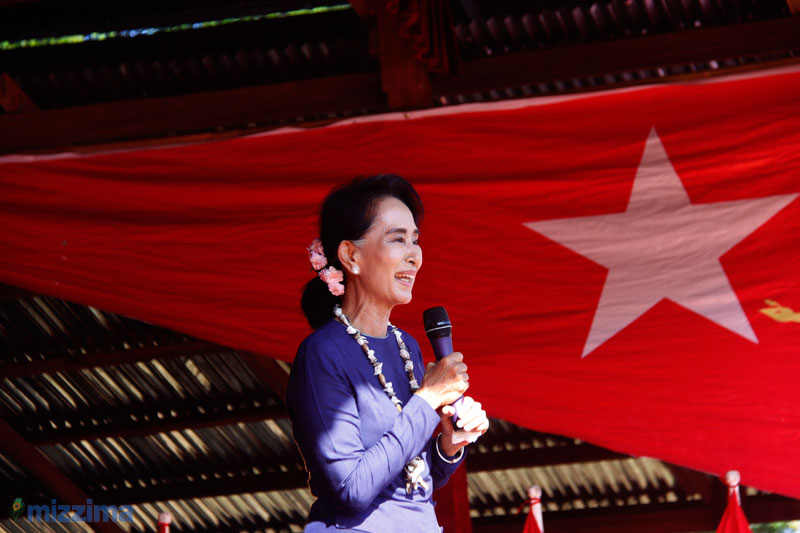 Daw Aung San Suu Kyi called for unity in volatile Rakhine state on Saturday in an impassioned election rally, tackling head-on bitter religious divisions between Buddhists and Muslims that have shaken the former junta-run nation. 
The opposition leader has faced international disappointment at her reluctance to speak out for marginalised Rohingya Muslims in the western state, but is also viewed with suspicion by Buddhist hardliners who see her as sympathetic to the minority. 
In a speech to hundreds of supporters in Thandwe town, Suu Kyi said it was critical that people nationwide could live "without discrimination based on race and religion". 
"All citizens in the union need to unite... great hatred and fear does not benefit our country," she said, repeating recent assertions that her political opponents had tried to use religion as a tool in campaigns for the November 8 polls.   
Myanmar's general elections are tipped to be the freest in generations for a nation that languished in poverty and isolation under almost half a century of military rule. 
Suu Kyi's National League for Democracy (NLD) -- contesting its first nationwide vote in 25 years -- is expected to shunt out the army-backed ruling party, which has overseen a quasi-civilian transition since junta rule ended in 2011. 
But there are rising fears that the polls could act as a flashpoint for religious intolerance that has festered in Myanmar since deadly unrest between Buddhists and Muslims swept Rakhine in 2012, later spreading to other parts of the country. 
- 'No equal rights' -  
Radical monks have surged in prominence in recent years, preaching a message that Muslims threaten the very fabric of Buddhist-majority Myanmar. 
In Thandwe, the gateway to the country's most popular tourist beach resorts, a wave of anti-Muslim rioting in 2013 killed at least six and left a legacy of fear. 
Those anxieties were on display at the rally Saturday where Suu Kyi took questions from both Buddhists and Muslims. 
Asked by a Muslim man how the NLD would prevent religious discrimination, the veteran activist said a government under her party would prioritise the rule of law, a common response from the Nobel laureate. 
But she slammed a Buddhist asking her to respond to rumours that her party would usher in a Muslim take-over of the country, saying the very question risked "inciting racial or religious conflict". 
Suu Kyi, 70, is in Rakhine for the first time in over a decade and will stop at one more rural coastal town, Gwa, before driving to the central delta region Sunday. 
She has been flanked by a large security contingent in Rakhine over concerns for her safety in the combustible region. 
Last month world powers warned that religious tensions could spark "conflict" in Myanmar ahead of the elections. 
Suu Kyi herself has faced accusations of bowing to religious hardliners. 
Her party has fielded no Muslim candidates for the polls -- part of a wider loss of political representation for a minority that makes up around five percent of the population. 
Most of the 140,000 people displaced by the 2012 violence are Muslims -- they remain trapped in camps or have attempted to escape on rickety boats in a desperate exodus from Myanmar that has swelled in recent years. 
But both Buddhist and Muslim communities are affected by hardship in Rakhine, one of Myanmar's least developed regions. 
"There are many conflicts because we have no equal rights. But we will get equal rights if the NLD wins," said Muslim taxi driver Soe Moe Aung in Thandwe, adding everyone was a "friend" irrespective of religion. 
(AFP)