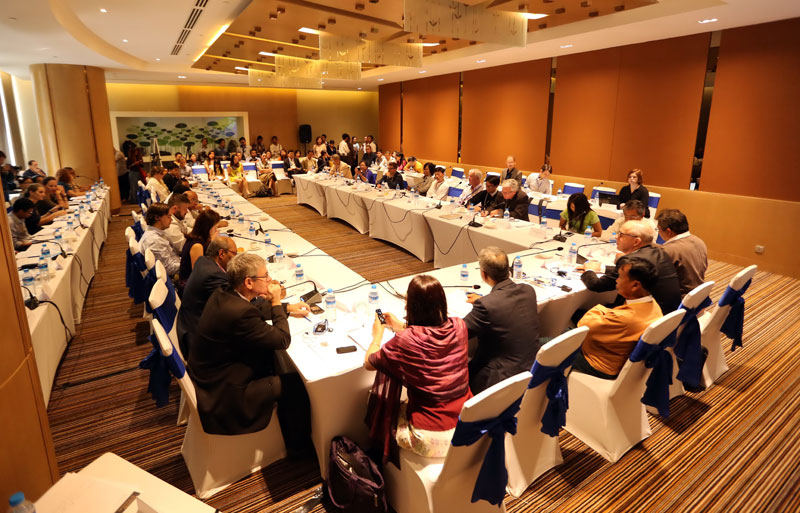 Although reforms made by the outgoing Union Solidarity and Development Party improved press freedom in Myanmar – most notably by abolishing pre-publication censorship and granting licences to daily newspapers in 2012 – there's no doubting that much, much more needs to be achieved. According to the New York-based Committee to Protect Journalists' Freedom Index of 2015, Myanmar is the ninth most censored nation in the world.
With the first democratically elected government in 50 years poised to take over the reins on April 1, the country's media industry is eager – and expectant – that further relaxations will be granted. However a certain level of anxiety exists as to the details of such reforms, and how soon they can be implemented. The National League for Democracy has an overflowing plate of competing priorities to attend to, which may leave the country's journalists and media house owners champing at the bit.
Policy Dialogue on Media Development in Myanmar
Mizzima Media Group and Action Aid Myanmar took the initiative of getting the ball rolling by jointly organising a Policy Dialogue on Media Development in Myanmar on 21 February. The who's who of the country's media industry gathered at Yangon's Novotel Max Hotel to discuss ideas about how to move forward, with the aim of being able to convey to the new government the type of support they require to thrive. It may have been the first time that editors and CEOS from the country's four powerhouse publications – The Myanmar Times, DVB, The Irrawaddy and Mizzima – met in a formal setting to discuss their needs as one. Also present were ambassadors, the general secretary of the Myanmar Press Council and representatives from UNESCO, along with senior personnel from rights, advocacy and research groups. U Aung Shin, a member of the Central Committee of the National League for Democracy (NLD), who is also considered the party's media expert, was also present to take part in discussions and field a flurry of questions. The only vacant seat in the house belonged to the Ministry of Information's Permanent Secretary U Tint Swe.
"We were informed yesterday that U Tint Swe was unable to attend so we requested another ministry representative to be present. Unfortunately that hasn't happened," explained the forum's moderator on the day.
When U Thiha Saw, General Secretary of the Myanmar Press Council, asked the NLD's Central Committee member U Aung Shin to address rumours circulating about the dismantling of the Ministry of Information and the privatisation of state-run media enterprises, he replied somewhat drily: "As you mentioned, no one from the ministry is here. We were supposed to share the load of explaining things. As there is no ministry representative here, I will take on the job."
He went on to say that "whether the NLD will retain the Ministry Of Information is not something that the CEC has said anything explicitly about. My personal opinion is that there are parts of the ministry that we will keep."
"In terms of MRTV and other state-run broadcasters, as well as state-owned print media such as The Global New Light of Myanmar and The Mirror, Daw Aung San Suu Kyi has said very clearly that they need to be privatised. However publishing houses cannot be immediately dismantled. We must ensure that there is no monopoly, but it will take time to really change things."
U Aung Shin added that the principles of accountability and responsibility are very important to the NLD and that it will "issue press releases and announcements in accordance with Myanmar's democratic status."
He concluded by expressing confidence that the NLD will be able to help bring about higher standards of media professionalism in Myanmar.
Privatisating state-run media
However, not everyone in the room agreed that privatisating state-run media is the right step forward for Myanmar. U Thiha Saw countered the proposal with his preferred alternative: turning them into public companies.
"My suggestion to the NLD is to please not privatise state-owned media. Make each a public company and sell shares to the public. Then let them survive in the market. The likes of MRTV should be turned into public service broadcasters that are funded through taxpayers' money."
He said he supported NLD's policy of encouraging strongly independent media but urged the party to reconsider its plans – a sentiment echoed by Mr Gautam Mukhopadhaya, Ambassador of India to Myanmar.
"Similar questions about media privatisation were asked when the Soviet Union collapsed. In my view, privatisation is not the whole answer – it's also about encouraging competition and breaking down monopolies. In India, we have a state-owned media broadcaster, but it also has ethnic language services," he pointed out.
Chief Executive Officer of The Myanmar Times, Tony Child, expressed similar reservations.
"I would say that we need to be careful about the process of media privatisation because the NLD won 80 percent of the vote. Being British, I'd point to the BBC as a model of being neither private nor government run."
U Toe Zaw Latt, Country Bureau Chief of DVB Multimedia Group expressed scepticism that state-run broadcasters will simply go with the flow of privatisation schemes.
He said Myanmar's advertisement expenditure was worth US$38.6 million in 2009 – by 2013 it was valued at US$151.7 million. Those in charge don't want to let it go, he said.
"Donations to broadcasters in Burma are very dodgy and licences can be transferred – those who owned the licences were those closest to the government," he added.
Cross ownership
He said that cross-ownership is an issue of deep concern.
"Myawaddy, for example, has both print and broadcasting licences and the rules do not apply universally. The government can switch broadcasters on and off: Cherry FM was switched off because it was close to U Thura Shwe Mann," he said. The Ministry of Information stepped in and attempted to stop Cherry FM, after U Thura Shwe Mann was ousted from his party's co-chair position. But the radio station was allowed to continue after a public outcry over its closure.
U Kyaw Zwa Moe, editor of the English language edition of The Irrawaddy, simply called for quick action.
"The NLD should not drag its feet in handling the issue of state media. There is no need for state-owned media enterprises: they've given us nothing but propaganda and misinformation since the 1960s."
Naturally, abolishing state-run media is necessary for Myanmar to be truly democratic; and there are also serious financial considerations at play for those competing for market share. As Glen Swason, Country Coordinator of International Media Support (IMS) pointed out, "state-owned media has received susbsidised operating budgets and gets all its revenue from the state. It also has superior circulation. Funeral announcements and other notices are not considered 'proper' unless they are printed in state media – for example, death notices are printed to alert those who wish to contest inheritances."
Uneven playing field
The uneven playing field between state-owned and private media outlets is a source of great frustration for many, including U Thiha Saw, who spent nine years working for the state-run Working Peoples' Daily before being forced to resign in 1988 and went on to found Myanmar's first daily English language newspaper 15 years later. Myanma Freedom Daily's operations came to an abrupt halt just seven months after it printed its first issue in October 2013 due to a lack of advertising revenue, he said. The media veteran wasn't alone in underestimating the challenges of running a profitable media venture in the 'new Myanmar' – over a dozen other newspapers have come and gone since the draconian registration laws were relaxed. Many others are struggling to stay afloat.
"A great concern for me is that a lot of media houses are losing money. It's becoming increasingly difficult to make money. If the government wants to support the media, they need to do something about the current tax situation and look for other incentives," said Mr Child.
However, Mr Swanson pointed to findings in the extensive report of International Media Support (IMS) on media development indicators in Myanmar that was carried out in collaboration with UNESCO, research institutes and academics. It found that both government-run and private newspapers have their shortcomings.
"The general public perceives state media as fairly adequate – specifically for getting weather forecasts and which general so-and-so attended a meeting. There is also a perception that state media casts the government in a positive light and doesn't cover serious issues affecting people's lives, such as land grabbing. Private media is sometimes perceived as being sensationalist in order to sell copies and make better profits, as well being biased towards the business interests of the owner," he said.
Until financial pressures ease up for the private media sector, it seems unlikely that these negative perceptions will change.
The push for legal reform
Another item high on everyone's agenda was the need to create a free and robust media industry via much-needed legal and regulatory reforms.
Swedish Ambassador to Myanmar Mr Staffan Herrstrom, who is also a former journalist, praised Myanmar for "coming a long way in regaining its press freedoms in a remarkably short period of time."
He emphasised that Myanmar's legal framework should protect the independence of the media and prohibit all forms of censorship that remain.
"An independent media regulator that is free of government control is vital. The media is a fundamental part of democracy – placing restrictions on journalists and silencing independent media prevents the free flow of information," he said in his opening address.
Mr Shihab Uddin Ahamad, Country Director of Action Aid Myanmar concurred.
"We have learnt from developing countries around the world that restricting the media leads to destablisation. In a country's journey to democracy, the media plays a vital role. It is fundamental to political life because it helps us to be better informed and fosters criticism and debate. The media also helps ensure that political power is checked and decision makers are held accountable. The media is crucial to every society that wants to flourish. And it is extremely important in the context of Myanmar, which spent decades under military rule. Media is the medium to bring a democratic culture back."
Yin Yadanar Thein from the international human rights group Article 19, which promotes freedom of expression and information, called for an urgent review of several laws, including the Official Secrets Act, the News Media Law, the Printing and Publishing Law, as well as laws relating to sedition, obscenity and defamation. She highlighted the need for religious defamation to be a civil, rather than criminal offence.
"The constitution needs to be amended in relation to freedom of expression. It has some provisions to protect freedom of expression, but it must be expressed as a constitutional right and be in line with international norms. There are also a lot of contradictions [in the constitution] that need to be removed. There are journalists in prison or facing trial – they must be released immediately. Myanmar needs to adopt a law for the protection of journalists," she said.
"We want to keep driving home that legal reforms have not kept pace with the political change that has taken place. We want the NLD to really take this into consideration," said Mr Swanson of IMS.
Myanmar compared to others in the region
However, Mr Child countered that in comparison with its regional neighbours, Myanmar has taken great strides in media freedoms and that maintaining a certain amount of perspective is warranted.
"We ought to be careful of judging Myanmar too quickly – in Southeast Asia media freedom is going backwards – just look at Malaysia and Singapore. Myanmar may emerge as a beacon of freedom of expression in the region," he said.
The Irrawaddy's U Kyaw Zwa Moe appeared unwilling to take heed of Mr Child's advice. He said he believes that Myanmar's antiquated laws silence the press more than anything else, while acknowledging that change won't happen overnight.
"As we all know, in Myanmar it's the laws that are the biggest problem – and not just the laws affecting the media industry. We have a lot of challenges ahead of us. Although the NLD won the election, they are struggling to change the constitution. Reforming media laws will be our biggest challenge," he said.
U Thiha Saw took things one step further by suggesting that the sheer number of laws in need of reform require a different – and simple – solution.
"The NLD needs to change hundreds of laws – this can't be done in a few months. Its first job should be to pay attention to the judiciary rather than abolishing laws. Myanmar's government has been improved, with greater independence given to those in key positions, but the judiciary remains under the influence of the government. Please let it become independent."
He said that when the country's media council called for the release of imprisoned journalists; "three times in fact – we were told that President U Thein Sein would wait for the judicial process to be completed. And then he 'forgot' when it was over."
"I believe that my recommendations will make the NLD's task much easier. I think the honeymoon period will be brief. This is a very sensitive time," said the former political prisoner.