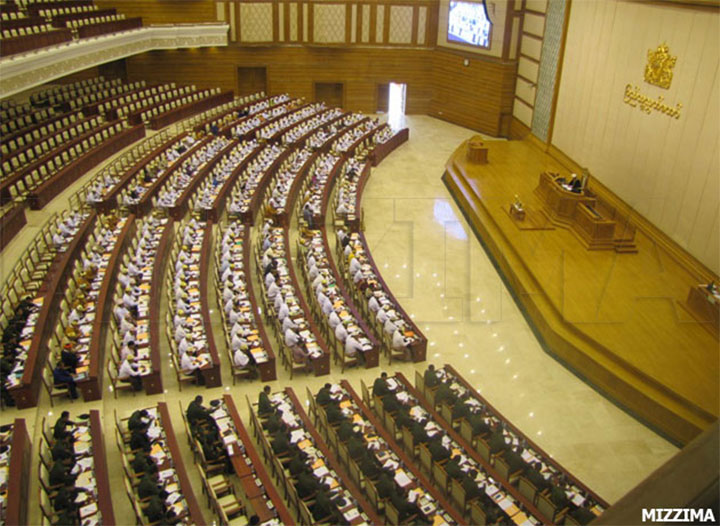 Lawmakers in Myanmar's Upper House on Wednesday debated proposed amendments to a controversial section of the 2013 Telecommunications Act.
A total of 14 MPs weighed in on changes to the section, known as Article 66(d), which provides prison terms of up to three years for anyone convicted of online defamation, among other offenses carried out through a telecommunications network.
Many of the MPs said it should be scrapped in full, while others supported a more watered down version. 
"The provision does not meet democratic and human rights norms. It is also prohibiting public criticism. So this provision should be annulled totally," said Okkar Min, an MP representing Thanintharyi region's No. 8 constituency.  
Most of the lawmakers who supported a complete annulment were from the NLD, which came to power last year after Aung San SuuKyi led the party to election victory in 2015.
The party has been under pressure to change the law as cases have mounted under its watch. Critics say there were only seven under the previous administration of President Thein Sein, compared to 69 under the NLD.
Among those cases, the NLD has filed six of the complaints, while members of the public are responsible for eight involving online criticism of Aung San Suu Kyi, Myanmar's de facto leader and State Counsellor. The military is behind seven.
Posts on Facebook have been the source of most cases. The defendants are a mix of ordinary civilians, writers and members of the media. A total of 18 journalists are facing court proceedings, research shows.
The proposed amendments allow for bail and for the elimination of third-party filing, meaning members of the public could not, for instance, bring a case against someone for insulting Aung San Suu Kyi or army chief Min Aung Hlaing.
Yet critics say the measures fall short of real progress while eliminating the power of the Ministry of Transport and Telecommunications to approve complaints and ceding that right to the police.
The criticism cut both ways, however, revealing ongoing tensions between the civilian and military establishments as Myanmar transitions to democracy. 
One military MP – 25 percent of parliamentary seats are filled by the army as dictated by the 2008 constitution it drafted – said in the debate on Wednesday that the amendments went too far. 
He argued that they should not include bail for Article 66(d) or for other sections of the same Article that deal with breaking into telecommunications networks, spreading computer viruses, and online theft.
 "These provisions are necessary to take action against intruders into government networks," he said, referring to Article 66(a). 
The 2013 law was passed to regulate Myanmar's emerging telecommunications sector, which grew rapidly after two foreign firms entered the market as part of political and economic reforms launched in 2011.
Maung Saung kha, a poet who spent six months in jail after being charged with Article 66(d) in 2015, said granting bail won't stem the tide of cases.
"In this situation, authorities and influential people may use Article 66(d) to protect themselves from accusations. So granting bail is not enough for the amendment of this Article. This mere amendment cannot reduce prosecutions and arrests under this law.
Courtesy of Myanmar Now