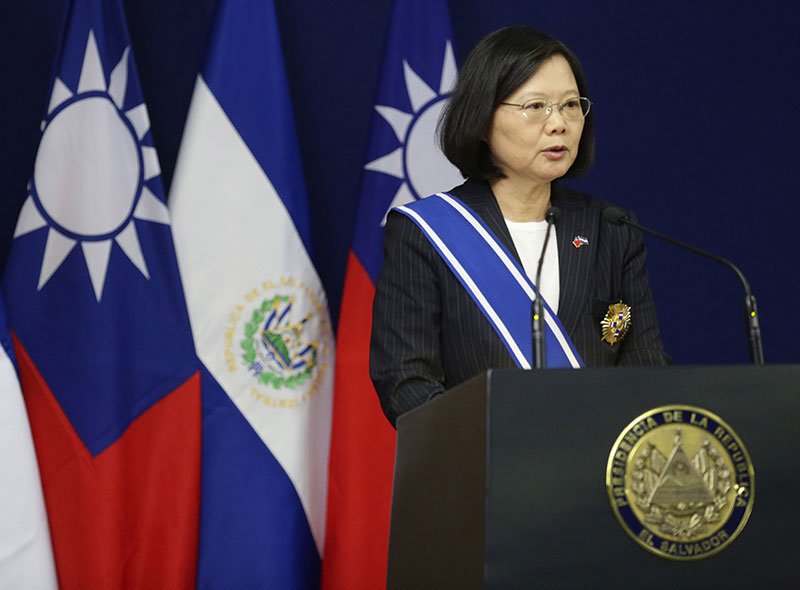 China is running out of patience with Donald Trump's stance on Taiwan, state media said Monday, and will "take the gloves off" if he keeps challenging the "One China" policy.
Over the weekend the US president-elect told the Wall Street Journal the longstanding policy was up for negotiation, in his latest comment on the issue.
Trump had already irked China by accepting a congratulatory phone call from Taiwanese President Tsai Ing-Wen after he won the presidential election. This upended decades of diplomatic precedent in which the US avoided direct public communication with the island's leader.
So far Beijing has remained cool in the face of the billionaire politician's willingness to probe one of the country's most sensitive issues. The foreign ministry has issued muted responses reminding him of the importance of maintaining good relations between the world's two largest economies.
But on Saturday, after his latest comments, the ministry warned Trump the One China policy was non-negotiable.
The state-owned China Daily said in an editorial Monday that Trump "will seldom be given the benefit of the doubt twice, because doing the same thing for a third time shows intent".
The Taiwan issue is a  "Pandora's box of lethal potential", it added.
While Trump has been given the benefit of the doubt so far, it said, if he is "determined to use this gambit on taking office, a period of fierce, damaging interactions will be unavoidable as Beijing will have no choice but to take off the gloves."
Trump has threatened to get tough with what he sees as unfair Chinese trade practises and suggested that the One China policy could become a bargaining chip in this.
"Everything is under negotiation, including One China," he told the Wall Street Journal in the interview published Friday.
Beijing considers Taiwan to be a breakaway province to be brought back within its fold, by force if necessary.
The United States switched diplomatic recognition from Taipei to Beijing in 1979.
Beijing first warned Trump on the issue in December after he said he did not see why Washington must "be bound by a One China policy unless we make a deal with China having to do with other things, including trade".
But he has less leverage than he might think, warned the Global Times, a nationalistic tabloid thought to have close ties to hawkish elements of the ruling Communist Party.
China will "mercilessly combat those who advocate Taiwan's independence", it said in an editorial Monday.
If Trump chooses to use the island as a bargaining chip, it added, it "may be sacrificed as a result of this despicable strategy".
Taiwan's President Tsai Ing-wen made two stops in the US this month while in transit to diplomatic allies in Central America, despite Beijing's objections.
On her return to the island Sunday she said its "new direction" of diplomacy was clear.
"We must all continue to work to let Taiwan be seen, to let Taiwan make its contribution to the world."
© AFP