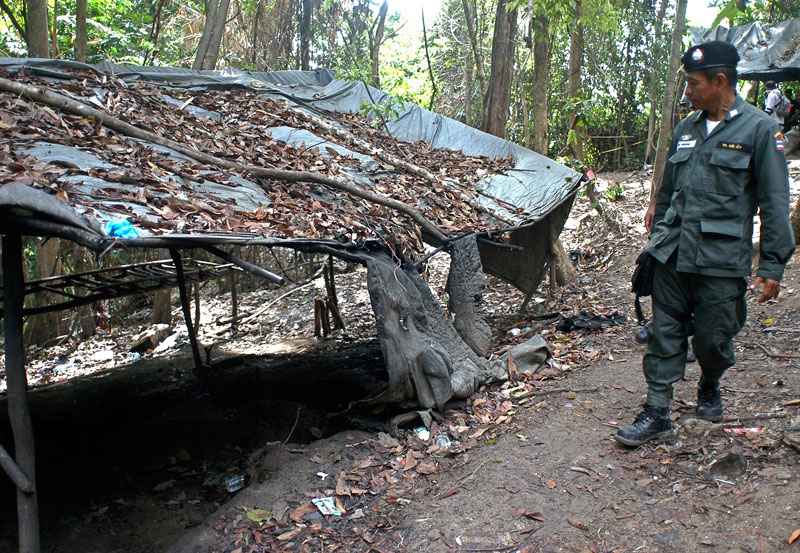 Harrowing details have emerged of a slave trade camp in southern Thailand as bodies continue to be exhumed amid stories of blackmail and beatings.
A press release from Freeland on May 5 has revealed details of the internal workings of a slave trade that lulls hopeful Rohingya into boat rides from Sittwe to detention camps in Thailand and slavery in Malaysia.
According to the release, syndicate leaders would arrive in Sittwe IDP camps and recruit 300-400 Rohingya promising the group jobs; once enough people had been recruited the boats would depart to the port of Ranong in southern Thailand where the groups would be smuggled to Songhkla near the Malaysian border.
On arrival, the group would be split in two; "Section 1" members who had family who knew of their whereabouts, these people would then be forced to contact friends or family members to procure the equivalent of 3 million MMK in exchange for their freedom.
While, "Section 2" had no family members or friends who they could raise funds from and would be sold off to Malaysian farmers for roughly 1 million MMK.
Those held in long-term detention were subject to beatings, illness and in some cases death; Freeland is currently working with police to contact family members of victims to identify the remains discovered at the camps.
"What is impressive about this case is that it started with local police –not specialized federal cops—and these local police reached out immediately for technical assistance and cooperation, which led to quick progress," remarked Steven Galster, Director of Freeland.
Banking details discovered by Freeland revealed that the trafficking/ kidnapping syndicate was a multi million-dollar operation; phone records eventually revealed that Myanmar national Soe Anwar Naing and several politicians from southern Thailand were responsible.
"While a lot has been said about Thailand's performance battling human trafficking, this case demonstrates their capacity to take on transnational syndicates when they want to, and the ability to admit to past mistakes," he added, referring to past denials about Rohingya people being trafficked into Thailand, offering some hope for the future.
The operation is believed to have been running for three years with the possibility of trafficking beginning five years ago, the timing of the operations fit roughly to an outbreak of violence in Rahkine state in 2012 where inter-communal violence between Rohingya Muslims and Arakanese Buddhists was rife around the state.
The violence left many displaced and many dead, in Sittwe over 75,000 Rohingya IDPs are forced to call decrepit camps home, living in fear of further violence amidst the spread of hate speech and fear mongering around the rest of Myanmar.