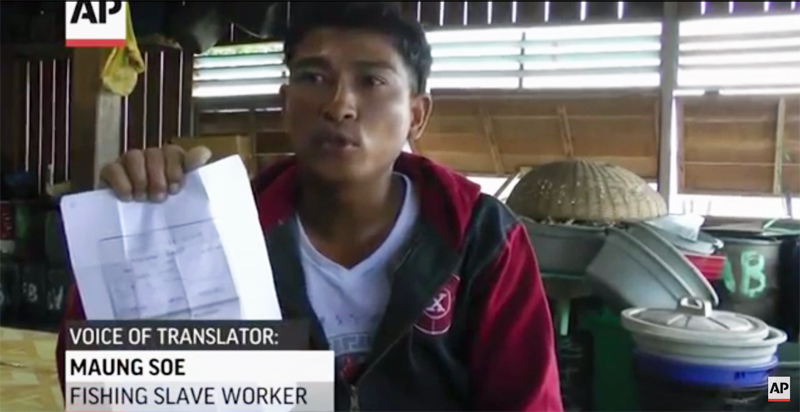 Officials from Myanmar, Thailand and Indonesia are travelling to remote islands in eastern Indonesia to investigate how thousands of foreign fishermen were abused and forced into catching seafood that could end up in the United States, Europe and elsewhere, according to The Associated Press on April 2.
A week after The Associated Press published a story about slavery in the seafood industry — including video of men locked in a cage — delegations from Thailand and Indonesia visited the island village of Benjina. A government team from Myanmar is also scheduled to tour the area next week to try to determine how many of its citizens are stuck there and what can be done to bring them home.
None of this is new, according to migrant worker NGOs covering the issue. 
Rebuffing a comment made by the deputy chief of the International Organization for Migration to the press that "no one seemed to be aware of the problem," migrants activist Andy Hall said it was well known in migrant rights and seafarer union circles for some time. 
"I myself, when advising the Myanmar government in 2013, assisted in the return of some 20 or so trafficked fisherman from these islands. IOM have been working on the issue with other related organisations for a long time too," Mr Hall said in a post on Facebook.
The high-profile AP report, and the embarrassment it has caused, appears to have prompted action. 
The visits by the officials reflect how the problem stretches across several countries, and how difficult it has been to resolve. The migrant workers lured or even kidnapped into fishing are usually from Myanmar, one of the poorest countries in the world, along with Cambodia, Laos and impoverished areas of Thailand. 
They are brought from Thailand to fishing boats in Indonesia, where many say they are beaten, made to work long hours with little or no pay, and prevented from leaving. Their catch is then shipped back to Thailand, where it enters global markets, the AP story documented.
In Thailand, the Labour Ministry is stepping up its efforts to deal with human trafficking issues as Prime Minister Gen Prayuth Chan-ocha is poised to declare trafficking as a national agenda item in need of urgent attention. 
Additional reporting from Bangkok Post