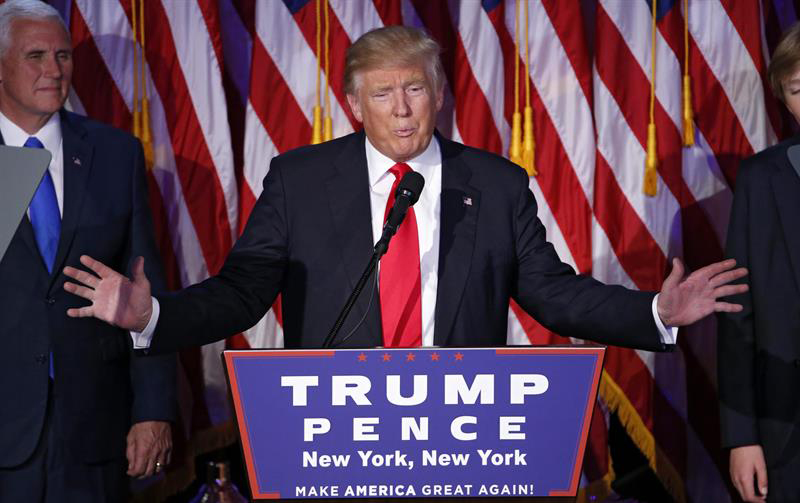 US Ambassador to Myanmar Mr Scot Marciel indicates the victory of Donald Trump in the US election is unlikely to signal major change in US-Myanmar policy.
Speaking at an Election Day Watch Party held yesterday morning, Mr Marciel said the party was "an opportunity to celebrate democracy and elections which are an essential part of democracy."
The Election Day Watch Party was held from 8:00 until 11:00 am, with the US Ambassador briefly addressing guests including Yangon Chief Minister Phyo Min Thein and the media. 
Speaking before the final results were in, Mr Marciel said tens of millions of Americans had voted in the election which saw Mr Trump standing against Democratic candidate Mrs Hillary Clinton in a tight race.
He said it was wonderful that Myanmar had had its own elections a year ago, one that saw Aung San Suu Kyi gain power. He stressed how good it was to celebrate how democracy had been brought to Myanmar.
The US Ambassador told Mizzima that both the Republican and Democratic parties in his country have shown strong support for democracy in Myanmar. But he added they will have to wait and see once the new government takes up office in Washington.
In a stunning upset, Republican contender Trump beat Clinton in the November 8 US presidential elections. The victory reverberated around the world with markets tanking and a slew of commentators chipping in on what this "upset" could mean for the US and the world.
Trump received congratulations from a range of leaders around the world including the Russian and Chinese governments, as well as right-wing leaders in Europe.