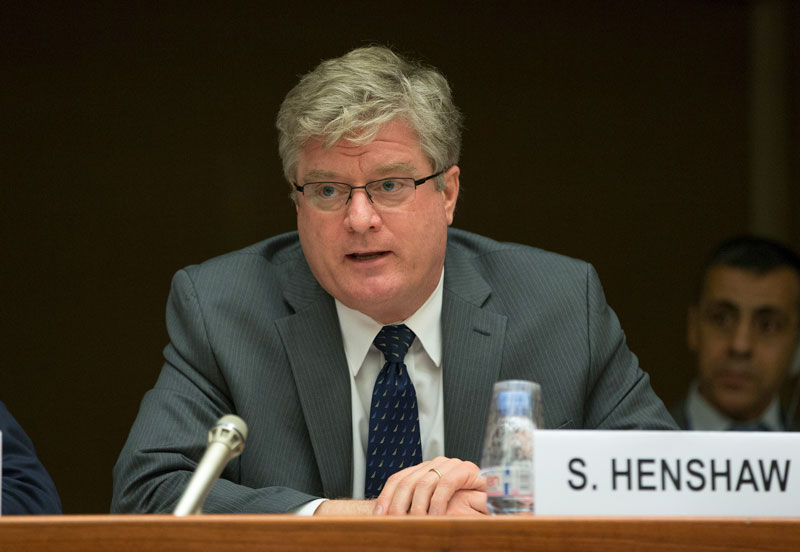 In the latest attempt at a diplomatic solution to the Rohingya crisis, the United States is sending a delegation comprising top officials to visit Myanmar and Bangladesh.
The Department of State said Acting Assistant Secretary of State for the Bureau of Population, Refugees, and Migration Simon Henshaw will lead a delegation to Myanmar and Bangladesh from Oct 29 to Nov 4.
Deputy Assistant Secretary Scott Busby of the Bureau of Democracy, Human Rights, and Labor, Acting Deputy Assistant Secretary Tom Vajda of the Bureau of South and Central Asian Affairs, and Office Director Patricia Mahoney of the Bureau of East Asian and Pacific Affairs will accompany the acting assistant secretary.
They will discuss ways to address the humanitarian and human rights concerns stemming from the violence in Rakhine State and improve the supplies of humanitarian assistance to displaced persons in Myanmar, Bangladesh, and the region.
The visit follows a phone call Secretary of State Rex Tillerson had made to Myanmar's army chief urging him to address the situation and take back Rohingyas who have fled to Bangladesh.
US Ambassador in Dhaka Marcia Bernicat on Saturday told bdnews24.com they would continue to exert pressure on Myanmar to resolve the crisis.
Over half a million Rohingyas have taken shelter in Bangladesh fleeing 'ethnic cleansing' in Rakhine State in a month since Aug 25.
A senior official at the foreign ministry said the delegation will come to Bangladesh after their visit to Myanmar first.
According to the State Department, the delegation will meet with the stakeholders to discuss the US and international responses to the ongoing crisis and to explore durable solutions.
In Myanmar, the delegation will meet the diplomatic community, senior government officials, and the UN, international, and NGO partners.
They will discuss the current state of the crisis, promote protection for persons affected by the violence and accountability for reported human rights abuses.
They also will urge unhindered humanitarian access to affected communities in Rakhine State, and press for the establishment of protection mechanisms to enable individuals to return in safety and with dignity voluntarily.
In Bangladesh, the delegation will meet senior government officials, donors, and humanitarian agencies to discuss efforts to improve conditions for the significant influx of refugees into Bangladesh to efficiently meet life-saving needs.
They will also visit affected Cox's Bazar district to hear the stories of the people who have fled, assess the impact of the emergency humanitarian response, identify gaps in assistance, and advise on ways to improve the delivery of humanitarian aid.
Courtesy bdnews24.com