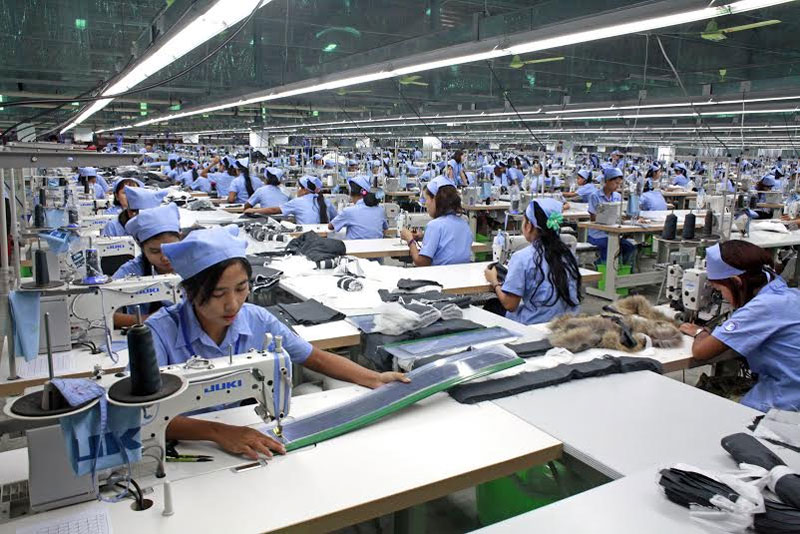 Foreign clothing companies are licking their lips as they seek to set up shop in Myanmar, Asia's new investment opportunity. Since President U Thein Sein's government came into power in 2011, there has been a drive to encourage foreign companies to set up a manufacturing base in the country to help pump life into the economy, bring much needed employment, and to introduce and upgrade expertise. On the face of it, foreign clothing manufacturers can help provide a win-win situation, where the companies make money and workers and the country benefit.
In theory. The garment sector may be "in the starting blocks" and "showing real potential," as the head of the German fashion association, Thomas Ballweg, recently told DPA news service, but the events of May Day last week were a reminder that all is not well, despite efforts by the government and business players to talk up the industry. On that holiday for workers, the number of protesters on the streets in Yangon calling for a minimum wage was only in the hundreds, but they echoed a growing theme among those working on the factory floor making garments – pay and conditions leave a lot to be desired.
Raising your voice, however, may have a price. Anger has been voiced by some workers over the detention of two trade union leaders, Naing Htay Lwin and Myo Min Min, who work in garment factories in Yangon. Myo Min Min is the chairperson of the Garment Factory Workers Organisation in Shwepyithar, and Naing Htay Lwin works for the Ford Glory Garment Factory. The two men helped spearhead a protest over pay and working conditions in their factories. As they highlighted, an average garment worker gets paid only 43 US cents [K430] an hour. To make ends meet, the workers typically have to do two days overtime, meaning they often work a full seven days a week. Workers have demanded an increase of US$1 a day so that they can better support their families.
However, both men were arrested for organising protests calling for a pay rise of $1 a day. They were picked up for protesting without permission, and their supporters say they were also falsely accused of advocating violence during protests. They remain in Insein Prison awaiting a trial that could put them in prison for up to three years. The garment workers continue their protests calling for a pay rise and the release of their protest leaders.
It is not all bad news. As we point out in a story in this issue of Mizzima Weekly, Myanmar could gain from the bad vibes in Bangladesh over deaths in a garment factory collapse and poor working conditions, and also from China's move up the value-added scale. In addition, efforts are being made by such organizations as Smart Myanmar, an EU initiative, to help improve conditions and workers rights with the collaboration of local garment factories, who reportedly are showing a willingness to listen. As Ballweg of the German fashion association says, Myanmar may currently be where Bangladesh was 10 years ago but could see things develop three times as quickly in these modern times.
Nevertheless, is Myanmar going to end up as a sweatshop? Few would dispute that it is better to provide employment at home than have people migrate to Thailand, Malaysia or further afield in search of work. Of that, there is no doubt. The challenge is what form of development the garment sector will we see, given the efforts of NGOs, the EU initiative, and the companies themselves? Judging by the efforts and calls of two incarcerated union leaders, there is still a big chasm to leap.
---
This Article first appeared in the May 14, 2015 edition of Mizzima Weekly.
Mizzima Weekly is available in print in Yangon through Innwa Bookstore and through online subscription at www.mzineplus.com