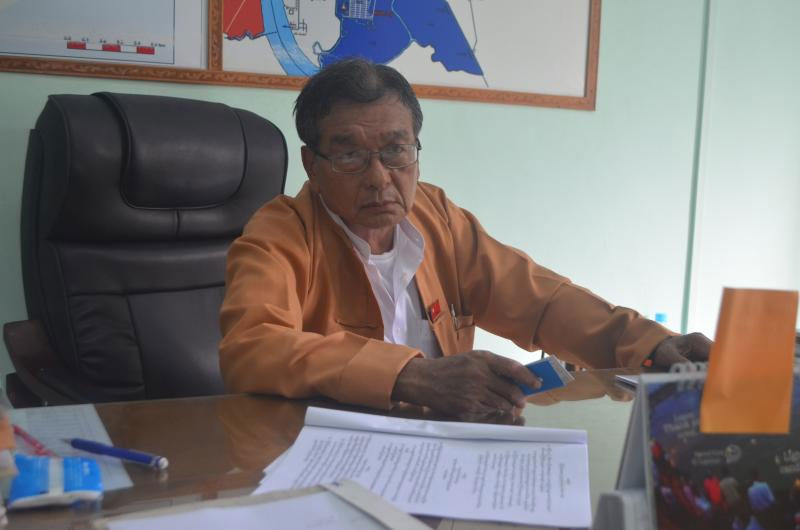 Ba Hein, 72, is the Minister for Agriculture, Livestock, Natural Resources for Ayeyawaddy Region. He joined the National League for Democracy (NLD) as an agricultural advisor after retiring from his position as deputy manager at the Agricultural and Irrigation Department of Yangon Region after 28 years of service.
 Ba Hein contested a Lower House seat in Kyaunggon Township in Ayeyawaddy Region in the 2015 General Elections but lost. The NLD, nonetheless, appointed him to become agriculture minister in Myanmar's most productive rice-growing region, where millions of subsistence farmers depend on their annual paddy harvest and fishing.
In an interview, he told Myanmar Now about his plans to help the farming sector develop during the coming years.
Question: What steps has your regional government taken to boost agricultural development so far?
Answer: We are now creating irrigation channels to pump water from creeks or rivers to rice cultivation areas. Although we have a limited budget, we will try our best to develop irrigation, land resources and productivity. The development of the irrigation system could allow for triple-crop cultivation that includes corn and sesame, while the areas could grow only a double crop of rice and beans before.
We will make plans to improve the socio-economic conditions of farmers and landless labourers and fishermen in the region. After fishery permits were issued to companies in 1998, small-scale local fishermen could no longer afford the license fees. It has caused a monopoly in this industry. So, I will ask local fishermen to form cooperatives and we will issue license to each group with an auction price ranging from K500,000 to K 2,000,000 (between US$450 to $1800).
Q: Do you have plans to restore Ayeyawaddy Region's reputation as the nation's 'rice bowl'?
A: No, we did not set (production) targets for this yet. Instead, we prefer promoting various other high-yield crops and diversification of products. For example, the cultivation of tapioca (a starch product from cassava) can be increased to 600,000 acres. High-yield tapioca produces about 16,500 kg  (16.24 ton) per acre. If we could plant 600,000 acres of land with it, we can allocate 3 or 4 acres to each of 100,000 farmers. So, the variety of export items would increase and make more profits to the country.
Q: What is the distribution of landownership in the region like?
A: In the agricultural sector of Ayeyawaddy Region over 50 percent of farmers own only about three acres of paddy. So, it indicates an unbalanced distribution of farmland.
While wealthy businessmen are purchasing a large number of fishing ponds and farms by offering attractive prices, the small-scale farmers are losing their property. As a result, the social inequality is big in Ayeyawaddy Region and the 'rice bowl' of our country is generating a large number of migrant workers.
Q: Is there a labour shortage in Ayeyawaddy Region because of migration?
A: Ayeyawaddy region has, surprisingly, seen labour migration, although it has rich resources such as water, land and a supportive environment. Based on my experience here, it can be concluded that these resources were not utilised effectively and harmoniously. This area has three types of livelihoods: farmers, landless labourers and fishermen. We can see the majority of locals in Pantanaw Township for example are fishermen, as this township has the largest number of waterways.
In some villages, young people of 75 percent of the households have migrated to other areas or neighbouring countries. Moreover, the previous governments permitted fishing zones through auction system that has impacted fishermen with little capital, but favoured big investors.
Q: How does labour shortage impact the agriculture sector?
A: Labour shortage has had a lot of impact on the agricultural sector. During planting season, we have to broadcast seeds as we could not grow nursery paddy plants because transplanting seedling requires too much labour. So the amount of paddy seeds needed for each acre has increased.
During harvest season, we have some losses as we could not harvest the crops in time because of a lack of labour. Although agricultural machines can address labour shortages, few farmers can afford to buy these machines and the demand for these machines is very high. So we cannot harvest the crops in time. Farming is related to weather and we cannot take a break, like in a factory.
Q: What has the government done to address labour shortages?
A: The Industrial Farming and Cooperatives Department, under the previous government, arranged a hire or purchase system for agricultural machinery. But we cannot fulfil all the demand as our country lacks enough budget for this.
Q: There are many brands of chemical fertilisers on the market. What do you think about reports that some are substandard?
A: Yes, counterfeit fertilisers might be spread in the market. But I have instructed agricultural department of our region to take action against such low-quality fertilisers and to ensure enforcement on the rules and regulations on the use of seeds, fertilisers and pesticides. Some business firms from neighbouring countries are exporting counterfeit agricultural inputs in collaboration with unethical local brokers. Naïve farmers have fallen victims to these greedy persons.
Q: Can farmers' cooperatives help farmers solve labour shortage and access to machinery?
A: These organisations would need funding for such programmes and search and gather labourers from across the country.
Q: How can farmers get better prices for their crops?
A: Getting a good price for crops depends on the export sector. Myanmar farmers need to have competence in production, quality and knowledge of markets of the crops. Only then can Myanmar paddy reach the global rice market. As Myanmar farmers lack sufficient capital for agriculture, they cannot produce quality rice for global market. For now, Myanmar's rice production and quality for export will remain low. Moreover, the Union Government should adopt a good rice policy to help farmers get reasonable price.
Q:  Natural resources are also under your authority, how will you handle for example deforestation and illegal logging in western and northern parts of Ayeyawaddy Region?
A: These are wider issues. Law enforcement plays a vital role in these matters. I think Ayeyawaddy Region has large-scale deforestation. We have compiled information on this issue. We learned about the illegal export of forest products to Bangladesh. Wild elephants have lost their habitats due to deforestation. Forest was cleared when a highway from Pathein and Mawtin was constructed. Since then, habitats of elephants were lost. We need to adopt a national-level policy to handle these issues as regional governments have no sufficient authority to bring it under control.
Q: Which parts of Ayayawady Region suffer most from deforestation?
A: The lower parts of western Ayeyawady Region are likely to suffer these impacts most seriously. We are now collecting data on the situation. Although I do not blame on the previous government, we are the first to try take steps to solve these problems and we need time.
Courtesy Myanmar Now