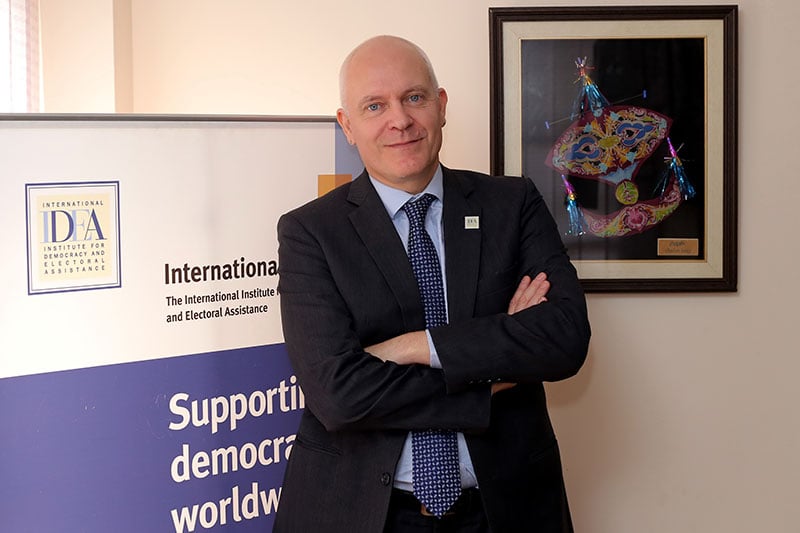 Mark McDowell was a career diplomat for 20 years with the Canadian Foreign Service, where he made a name for himself as a pioneer in e-diplomacy. Defying the strictures of government bureaucracy, he pushed use of the internet and social media to engage with foreign publics and bring about cultural exchange.
Mark brought his web-savvy and unconventional approach to public diplomacy to Myanmar, where he was installed in 2013 as Canada's first resident ambassador. As Facebook "likes" on the embassy's Facebook page soared into the lakhs, Mark helped put on a Canada-Myanmar chinlone (caneball) festival in Mandalay in 2014 and starred in a longyi-tying tutorial on Youtube.
Mark's engagement with Myanmar goes back to his time as head of the political section at the Canadian embassy in Bangkok, making frequent trips to Myanmar from 2003-7.
In September of last year, Mark took extended leave from the diplomatic corps and took up the job hunt, eventually landing the role of country director for the International Institute for Democracy and Electoral Assistance (IDEA), an international organization known for its support for the electoral process in Myanmar.
Mizzima talks with Mark about life after diplomacy,the benefits of wearing the Burmese longyi, the upcoming by-elections, and why he remains an optimist about Myanmar.
Q: As Canada's first resident ambassador, you were at the frontline of the West's re-engagement with a previously sanctioned country. What were the highs and lows of diplomatic life in transition-era Myanmar?
A:I spent most of my career in Asia, and I always dreamed of being posted in Myanmar. It came a lot sooner than I thought. Canada opening a new embassy anywhere is very rare.
Canada used to pride itself on having the toughest sanctions in the world in Myanmar. Before, there were no relations at all—no trade, no development cooperation, and few people-to-people ties. We had no network here. The challenge was starting absolutely from scratch, although in many ways that was fun.
I've always been an optimist about Myanmar, even in times when I was wrong, like in 2007, but it was a surprise to all of us how fast the democratization process moved. The embassies were always struggling to adjust their policies.The elections came off relatively clean and efficient, delivering a decisive result and a clean transition of power.
The highs were being able to participate in these dramatic events, supporting grassroots organizations. Being an election observer was probably the highlight. The lows were the problems dealing with headquarters. People would ask, what's it like dealing with this military government? Actually, my relations with the former government were good, as with the new government. They were flexible and open to advice and foreign contact.
In Ottawa, some people didn't realize how fast things were moving. They were still thinking of Myanmar ten years ago. The desk officers in Canada were up to date, but it was hard to convince other people higher up.
Then there were the typical problems of dealing with a huge bureaucracy that had no idea what things were like on the ground. In Yangon in 2013, there were electricity shortages, no wifi, and the banking system didn't work. Our headquarters seemed to expect things to be like Switzerland, or Canada.
Q: What makes you an optimist here?
A:People are by nature optimistic or pessimistic. But, my formative experiences in Myanmar were during visits in 2005-6, when there was a mini thaw. I was lucky to meet certain people recently released from prison, like Ma Thida and Ko KoGyi. I found them very inspiring.
While I was here in 2009 doing a research project, the growth of civil society in the aftermath of Cyclone Nargis [in 2008]—in spite of the crackdown following the Saffron Revolution—made me more optimistic in the long-term, as I recognized the resilience of civil society here.
When the opening came in 2010-11, it came as a surprise to everyone. We'd be lying if we said that we saw it coming. But, at least by 2012, I was quite confident that the government was sincere about this process of opening.
Q: It's now almost a year into the term of the National Lead for Democracy-led government. Are you still as optimistic as you were after the 2015 general election?
A:Yes, I would say so. There was such euphoria in 2015 around the election. It's natural that there's a sense of anticlimax, as the government gets down to the messy business of running the country. We knew that was coming.
The last few months have not been very good, but I've seen much worse setbacks in my 15 years [living and visiting] here. We said in 2013 that the path ahead was going to be a bumpy one—two steps forward, one step back—but the longer term trajectory of the country is still a good one. If you look at five or ten years ago, this place has been absolutely transformed. We shouldn't be overwhelmed by setbacks.
Q: You're known as a pioneer in e-diplomacy. The Canadian embassy's Facebook page now has more than 360,000 page likes. What prompted such strategies?
A:We were starting late, and from scratch, with small budgets. The only way we could compete with other embassies for the attention of the Myanmar people was through cyberspace. We spent a lot of our time in having an interesting presence on social media, and learning more about what our audience was interested in.
We had more than 300,000 Facebook followers by the time I left the embassy, which made us easily number two among embassies here, after the United States, when we're by no means the second biggest or richest embassy. Engagement from our followers was very enthusiastic. The strategy was really vindicated.
Q: While ambassador, you helped organise achinlone festival and conducted a Youtube longyi-tying tutorial. Elevating such everyday staples of Burmese culture is an unconventional approach to public diplomacy. What motivated it?
A:We were well known at the embassy for having "longyi Fridays" [staff were encouraged to wear the Burmese traditional sarong, or longyi]. We now have it at IDEA. Although it's fantastic that Myanmar is democratizing and opening economically to the world, the thing that makes Myanmar so fascinating and unique is that it has preserved its unusual traditional culture. Part of that is, unfortunately, because it was so cut off.
My worry is that, in the rush towards modernization, Myanmar may lose some of the things that make it so beautiful. I personally wanted to show that Westerners valued such traditional culture. Longyi Fridays became a symbol online [via Facebook] of how the Canadian embassy was closer to the ground. This was easier to achieve as a smaller embassy.
Apart from the tremendous practical benefits of wearing a longyi, it's also a way to interact and start chatting with people. My wife became famous for always taking the bus in Yangon, which she enjoyed because it was a way for her to meet ordinary people, and understand their interest and worries, and to not live an isolated diplomatic life.
Q: You'd been in the Canadian foreign service for 20 years. What made you leave and enter an international organization like IDEA? How has the transition been?
A:I am by nature someone who likes to try different things, and age 50 is maybe the last time in which to try something new. It was interesting to job hunt after 25 years. It's not good to get too comfortable in what you're doing—that's a sign to push yourself and move onto something else.
I also wanted to stay on in Myanmar. It's like I've been watching a soap opera or sitcom for many years; I want to watch another year or two of this show. Leaving in 2016 would not have been good timing. There's more opportunity to contribute to change here in Myanmar, than if I'd gone back to headquarters in Ottawa.
I chose IDEA because I liked the size of the organization. It's more flexible and nimble than the Canadian department of foreign affairs. In a lot of ways, I can see results much more quickly. I really enjoy spending 90 percent of my time on work, rather than negotiating with a complicated bureaucracy.
When you work at an embassy, it's like you're crew on an enormous ship. It's hard to change direction. But working for an international organization like ours, with a total of 200 staff around the world, we can respond much more quickly to requests, and have a lot more autonomy. I feel quite at home in this world.
Also, I think I've been an ambassador in the most interesting country. So,going on to a job at headquarters would have been a terrible anticlimax.
A lot of people think that diplomats live a very different life to everyone else, wearing nice clothes, going to cocktail parties, and moving only in high circles. For some people, that's true, and some ambassadors around the world are addicted to that status: having a driver and staff, and being called "your excellency." I don't particularly miss that. I still see my old ambassador friends—I haven't been cut off at all.
Q: What do you hope to achieve in your work with IDEA in Myanmar?
A:One thing I miss about being ambassador is the wide scope of the job, but the part that I was always most interested in was democratic transition. IDEA is really focused on supporting this.
The organization is best known here for its support to the Union Election Commission (UEC). It was a key player in helping the UEC deliver free and fair elections in 2015. We keep an office in Nay Pyi Taw, providing technical office to the UEC. Our focus now is on the by-elections [scheduled for 1 April]. Our staff will be conducting training alongside the UEC over the next two weeks in 22 townships [where the by-elections will be held]. We'll also continue to work with the UEC on electoral reform in the lead up to the next general election in 2020.
Later on this year, we'll be working directly with parliament—particularly the parliamentary accounts committee—delivering technical assistance. We also plan to work on constitution-building. Although most people think the subject is very sensitive here, there's actually a great appetite, not only in civil society but also in government and among actors in the peace process, to learn more about constitution-building. We're responding to requests for workshops on the subject.
Q: How significant do you consider the upcoming by-elections to be?
A:They won't change the balance of power, with only 19 parliamentary seats to be contested. By-elections are always an interesting way to take the temperature of the electorate, but, from our point of view, they are interesting as a test of the quality of the elections that the UEC is able to deliver, with an eye towards 2020. The by-elections represent a valuable experiment, to see what still needs fixing and improving.
We are working closely with the UEC on issues like voter education, and with political parties on matters such as clean election campaigning. The 2015 elections were well received by international observers, but the UEC has made a commitment to making them even cleaner and better in 2020.
Q: What is your favourite place in Myanmar?
A:I do really love the Shwedagon, especially at nighttime. I live very close to it. Every time a visitor comes to town, you've got to take them to the Shwedagon—but I never tire of it. There's something new to see every time.
Q: Do you still consider Toronto home?
A:Yes. I'm a loyal Torontonian. But, I've been posted in Bangkok, Taiwan, and Beijing, and my kids are equally at home in Asia as they are in Toronto. They're halfway.
You can follow Mark McDowell on [email protected]