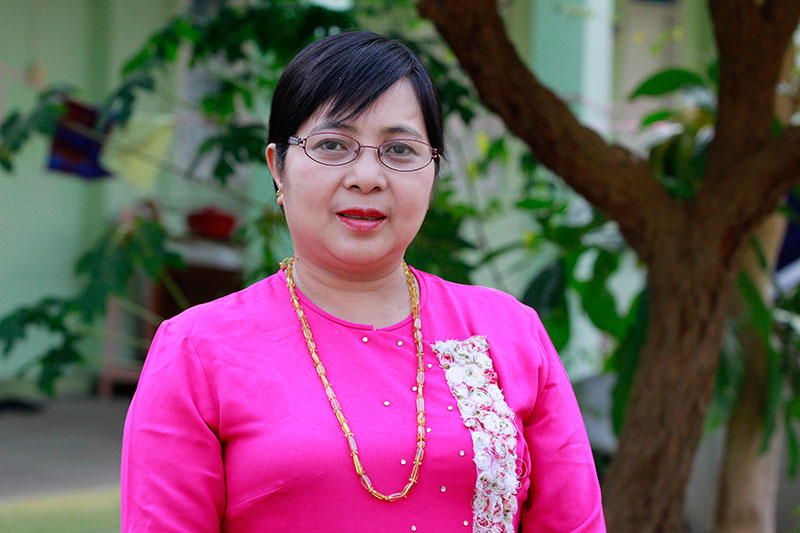 Myanmar is in a period of democratic transition after the 2015 General Election. The new citizen government led this democratic state since April 2016. It was a historic moment for Myanmar to have a people's leader after several decades of the dictatorship era. Although, several transformational changes in the new citizen led government era have been in the making, there are a variety of challenges and human rights violation issues still remain.  
In relation to its culture and practices, the country is predominantly male dominant and social and cultural norms are deeply rooted in society. This is one of the factors that hampered women in being able to participate in politics and to get access to resources rights. Other women's practical barriers, such as being financially dependent on spouses, limited mobility and security, balancing of household chores and community related wors and lack of support from family members and society, are issues that still remain. 
Regarding women's participation in public and political life, women's participation in public and political life in Myanmar remains low. Women are notably absent from formal national and subnational governance systems and from decision-making and leadership within many ethnic communities. However, there is an increased number of women as MPs, chief ministers, state/region ministers and ethnic affairs ministers after the 2015 general election. In the 2015 general election, altogether 151 women were elected as MPs and they are serving as ethnic affairs ministers and in the Union Assembly and state and region parliaments. Women MPs represent about 13.7 % (67 out of 591) of the elected seats and 10.7% of all seats (69 out of 757) at the Union Assembly. Women MPs comprise about 12.5% (79 out of 630) of elected seats and 9.5% (81 out of 851) of all MPs at the state and region parliament level. There are five women ethnic affairs ministers elected and it represents 17.2% of all elected ethnic affairs ministers (5 out of 29) at the state or region. 
Members of Parliaments in Myanmar (2016)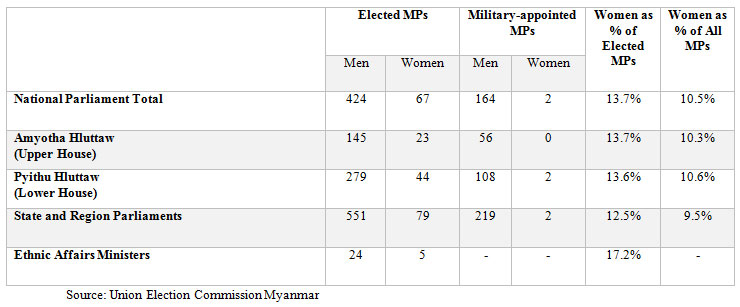 The most significant improvement is the election of the first female speaker of the Mon State Hluttaw and also a women deputy Speaker of the Kayin State Hluttaw. Altogether 17 women MPs are serving at the Yangon Region Hluttaw with highest numbers. During the previous term, there were no women MPs in Sagaing Region Hluttaw and Mon State Hluttaw, however, at present there are 13 women MPs at Sagaing Region Hluttaw and five women MPs at Mon State Hluttaw. However there are no elected and appointed women MPs in the parliaments in Kayah, Chin, or Rakhine.  
Barriers and challenges for women entering into politics
In April 2016, the NLD-led government took power as the result of the 2015 elections, and the expectations of people in Myanmar about the newly-formed civilian-led government reached very high to change politics, the economy and social life. But, under the given political setting, it is still difficult to move forward and to fulfill their wish. As Myanmar has been governed under military-led government for a long time, most of the people do not really understand the separation of power and function of political institutions.
On the other hand, newly-elected MPs have challenges not just in dealing with existing administrative and judicial branches but also in dealing with their constituents to realize their demands.  The Military institution is still untouchable. According to the 2008 Constitution, only 75% of parliamentary members are directly elected by the people. In this situation, the capacity of MPs is quite critical to strengthen the Parliament (legislative institution).
There is a lack of a clear understanding on the specific role of the executive and legislative body, and MPs are facing some difficulty to cooperate with the executive body. There is a lack of collaboration among government departments and among parliament committees. Again, there is no clear function of Ministers and MPs at the Region and State parliament. Most of them have a lack of gender awareness so sometimes women MP face gender discrimination. Although the executive body accepted the voice of the MP at the meeting, however, they neglected to take action. Because of lack of transparency of regulations and procedure in Governmental offices and budget allocation, therefore there is a bit of a delay and barriers in the reform process.
On the other hand, due to a lack of awareness of current political affairs, being weak in a clear understanding of the MP role, lack of support by the parliament office, weakness in MP support services, most of MP could not perform their role effectively. Only the Minister is changing at the Ministry and the rest of the government officials remain the same and they have already engaged with previous mechanisms. So they are still resisting the reform process for their personal interest and lack the political will to reform. That is why MPs could not implement the effective mechanisms for checks and balance to the executive and judiciary branch yet. 
At one of the women exchange workshops, women MPs from Region and State parliament discussed some points of their experiences on gender discrimination at the parliament and executive body such as lack of respect and appreciation, lack of empowerment and promotion, rejection of their suggestion, discrimination due to being a women MP and being a young age, negligence of their discussion points at the meeting, because of all this women are behind men although their qualifications are the same. According to their discussion, the voices of women MPs are still neglected at the parliaments while asking question, and giving suggestions Young women MPs also do not get the space equal to men.
Therefore, to overcome these challenges, the role of women MPs is very crucial in the reform process and they need to improve their performance as change agents representing the peoples.
Ways to move forward
There is a need to improve the political will to improve women participation in politics in political parties and parliaments. Adopting quotas or other constitutional frameworks to enhance women's participation can be cumbersome and require exceptional time and resources. In addressing the lack of women's political participation, there is a need to support a bill for reserved seats for women in parliament. On the other hand, political parties need to develop gender-sensitive policy and guidelines to increase women's participation in the leadership role, and candidate list.
Furthermore, we should be aware of the obligation of parliaments to adopt the government's budget, and to allocate more resources to gender issues. It will be also effective if parliamentarians, both men and women, mentor and support women running for office, and use their influence to continually raise women's issues and gender issues in the public dialogue.
MPs should also try to establish women's caucuses, and supporting women in engaging with the media to develop a positive image of women in leadership roles.
It is also essential to conduct a diverse capacity-building programme for women MPs and potential women candidates with the coordination and cooperation among professional institutions, CSOs and research institutions.  Then they all could able to build the alliance and network to improve their performances in gender issues and other matters at parliaments and their constituency. 
MPs need to encourage young women to take an interest in running for office, and work with women to encourage them to enter local leadership roles. MPs need to be working with young women to get them interested in government service from a young age.  
Shwe Shwe Sein Latt is a female member of parliament