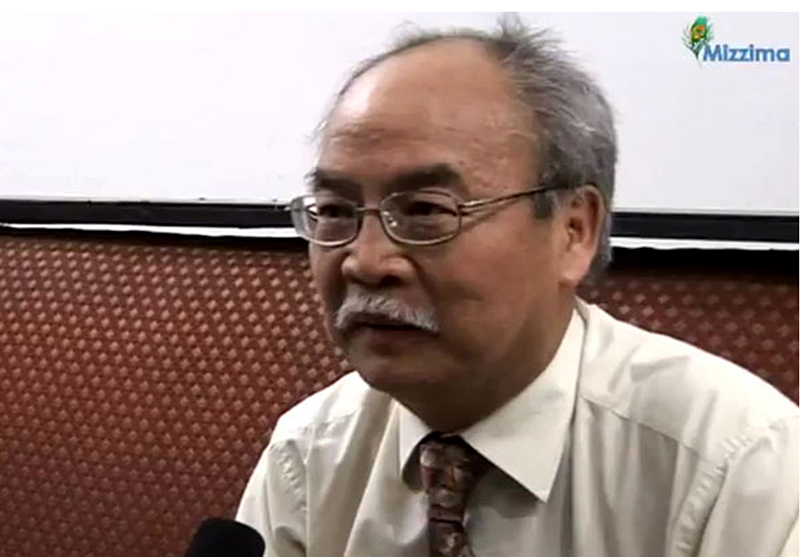 Controversy recently surrounded what appeared to be a block on Harn Yawnghwe, founder of the Euro-Burma Organization, from entering Myanmar.  
Harn Yawnghwe has been active in negotiations between ethnic armed groups and the Myanmar government and the Military. 
In a press conference on June 21, U Zaw Htay, Director General of Myanmar President's office, said that there is no visa ban on Harn Yawnghwe who is the youngest son of Sao Shwe Thaik,the first president of Myanmar. 
U Zaw Htay explained the press conference at the President's Office in Nay Pyi Taw that the former government provided Harn Yawnghwe with a Multiple Visa when he represented Euro-Burma Office (EBO) and co-operated with Myanmar Peace Center. However, there is no contract with EBO for the peacemaking process now. Therefore, the government no longer provides him with multiple visas, but he is allowed to get in and out of the country with a social visa, and it has already been confirmed with embassies.
Mizzima contacted Harn Yawnghwe to ask him where things stand. 
Do you know what came out of this press conference? Has there been progress? 
I am glad to learn from U Zaw Htay, the Director-General of the President's Office, that I am not banned from entering Myanmar. However, he mistakenly believes that I had a contract with the previous government through the Myanmar Peace Center. 
I was not working for either the MPC or the Government of U Thein Sein. I was working independently to facilitate negotiations between the ethnic armed organizations and the government at the request of ethnic leaders and Minister Aung Min. As a facilitator, I could not accept any contract or renumeration from either side. 
At their request, I first introduced the Minister to leaders of the CNF, KIO, KNPP, KNU and RCSS in November 2011. The first ever ceasefire agreement with the RCSS was signed in December 2011. Fourteen other bi-lateral ceasefires followed. The Nationwide Ceasefire Agreement was signed in October 2015 and the first Union Peace Conference was held in January 2016. Two other peace conferences - 21st Century Panglong, were held by the current government in August 2016 and May 2017. 
While I have been deeply involved in the peace negotiations from 2011, I have rarely participated in official ceremonies. I was never at any of the three peace conferences. My role is more of an informal nature ensuring that different protagonists are still talking to each other in spite of differences and seeking political solutions instead of resorting to force. I talk to ethnic leaders, government negotiators (then and now), Tatmadaw officials, political party and community leaders, and civil society to ensure that everybody is informed and can participate actively in defining the future of the country.
What is the government saying?
The government is saying that since I am not contracted by the government, I cannot get a multiple-entry business visa. I can only get a one-entry social visa which is designed to enable people born in Burma to visit their relatives, not work in Myanmar. If I were contracted by the government, I could not do my job. None of the leaders would trust me. 
U Zaw Htay is implying that since I am not contracted, I am no longer needed or involved in the peace process. This is not true. Even during the Thein Sein administration, we worked informally with senior NLD officials including DASSK to enable them to understand the peace process better. The NLD participated in the series of informal workshops for all stakeholders that we facilitated over a 7-month period in 2015 to define a framework for the current Union Peace Conferences. We have provided and are still providing training for NLD MPs and government officials on federalism which is a key component of the peace negotiations. We also meet on a regular basis with both sides to review the process and advise them on necessary adjustments to keep the talks on track. A multiple-entry business visa is, therefore, essential.
Could you offer us some brief details of how you initially found out about the visa problem and what steps you took to try to remedy the situation?
Last year, after the MPC was discontinued, I applied for a multiple-entry business visa through the Myanmar Embassy in Ottawa. I picked up the visa at the embassy in Bangkok. There was no problem. This year, I applied to renew the visa on 24 April at the Embassy in Ottawa. Although they initially expected to facilitate the visa within 2 weeks, I did not hear anything. After repeated inquiry, the Embassy on 1 June said that they had not been given permission by Naypyitaw to issue me a visa. 
Did the Myanmar authorities respond to your request?
After hearing various reports last year that the State Counsellor and Dr Tin Myo Win, her Chief Negotiator, were not happy with my advice to ethnic armed organizations, I requested a meeting with both of them. Dr TMW refused and she did not respond. 
After returning from exile in 2011, I tried to meet DASSK. I met with the late U Win Tin from the NLD and it was agreed that I should meet DASSK. She was too busy. Next, Minister Aung Min in 2012 requested that I brief DASSK about the peace process. He personally called her spokesperson. The meeting did not happen. In 2014, the current Tourism Minister U Ohn Maung, who was the 1990 Member of Parliament from Yawnghwe (Nyaung Shwe), tried to arrange for me to meet DASSK. U Tin Oo, the NLD patron, assisted but the meeting did not take place. I finally met her twice in 2015 as an advisor to KNU Chair Saw Mutu Sae Poe. 
After the elections in 2015, we offered to conduct a review of U Thein Sein's peace process for the NLD in preparation for its coming to power. It was not accepted. But we are continuing to informally assist government, political party and ethnic negotiators.
What steps do you plan to take now?
I was waiting for clarification from the government. Now that U Zaw Htay has clarified that I am not on a blacklist, I will re-apply in the future for a multiple-entry business visa. I will also ask to meet with the State Counsellor and the Commander-in-Chief.