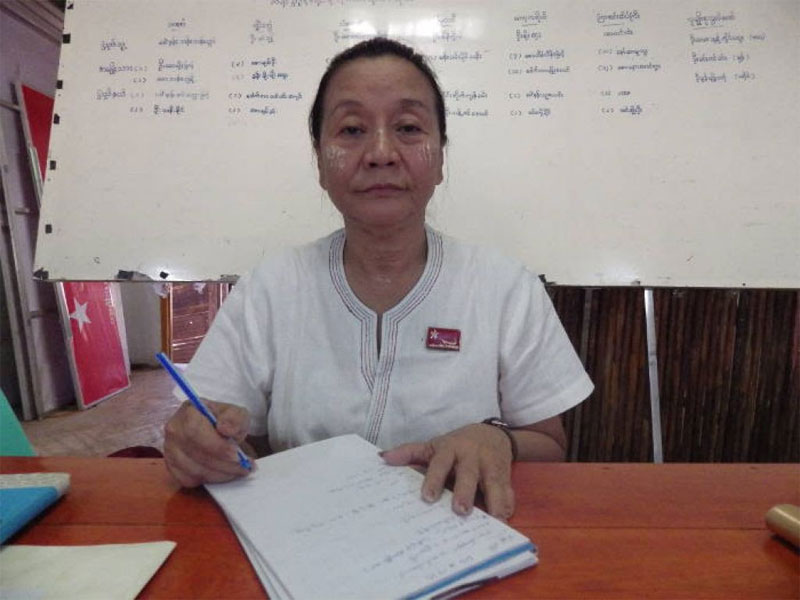 BNI Election News room interviewed Nan Khin Htwe Myint, a National League for Democracy (NLD) candidate that won a seat in Karen State Parliament in Hpa-an Constituency No 1. She is also a member of the NLD central executive committee.
Q: Now that you have won what do you plan to do during your five years in office?
A: First I need to study what's happening before making plans for the upcoming five-year parliamentary term. We have to first review what they (previous MPs) have accomplished. Once I take office I can determine exactly what I will pursue. Currently, we don't know what is happening in Parliament. We've already established our party policies for education, health, and economic (sectors), but need more time to study the situation.
Q: What are the challenges you will experience as a new candidate entering Parliament for the first time?
A: The public thinks that all their wishes will be fulfilled ending the oppression that they experience once the NLD enters Parliament. They don't understand the complexity of the current political situation. They want their confiscated land returned immediately and for all the political prisoners to be released from prison. It's not so difficult for us to rectify the situation affecting prisoners of conscience. As far as the confiscated land, which is a contentious issue (for Karen State), this will be a real challenge for our party and I worry they won't be realistic about what can be achieved at this time given the current political situation.
Q: What are your main priorities and actual needs for Karen State?
A: What we really want is lasting peace and to amend the 2008 Constitution. These are our main policies. Many things can be carried out based on these [policies]. If start working on them one at a time nothing will be accomplished after five years. We need to take care of what's happening in front of our eyes. What are the greatest difficulties that we face? For example, if villagers say achieving peace is a fundamental [issue], we will handle this first. But as far as solving issues, some can be done in the short term and others will take much longer.
Q: As a female MP what will you do to protect the rights of women?
A: Women play a different role in society than was accepted in the past. In order to develop politically (in Karen State and Myanmar), women's involvement is important. In a family, the mother is the closest to the children. For her children to grow up and develop into responsible members of society the mother must have the necessary qualifications We plan to work hard to help women attain these qualities so they can rear their offspring as best as possible.
Q: Only seven out of 33 female candidates won in Karen State. What affect will this have for advocating for the rights of women?
A: All six female candidates from our party won in the election. Sometimes people want to take advantage during a crisis. We didn't accept unqualified female candidates. Only qualified female candidates won. No matter how many people run in the election, unqualified people will always lose.
Q: What's your view that none of the ethnic parties were elected in Karen State? Will this affect the representation of ethnic populations in Parliament?
A: Consider this, for example, the Shan people have parties like the SNLD (Shan Nationalities League for Democracy) that have been working for a stronger democracy. The public supports them as they're beneficial to their own people. If we had strong parties like that here in Karen State the public would support them too, but we don't. We're not worried because the ethnic people in the NLD are standing strongly together. We will never betray the ethnic people. We will always fight for their rights.
Q: What's your view on the election? Was it free and fair?
A: We worked hard to have this election so it would be fair. We had to visit each home to remind residents to check the voter list. We also encouraged those not included in the voter list to take the steps to ensure their name would be added. I really want to thank the teachers. They worked hard so it would be fair.
Courtesy BNI