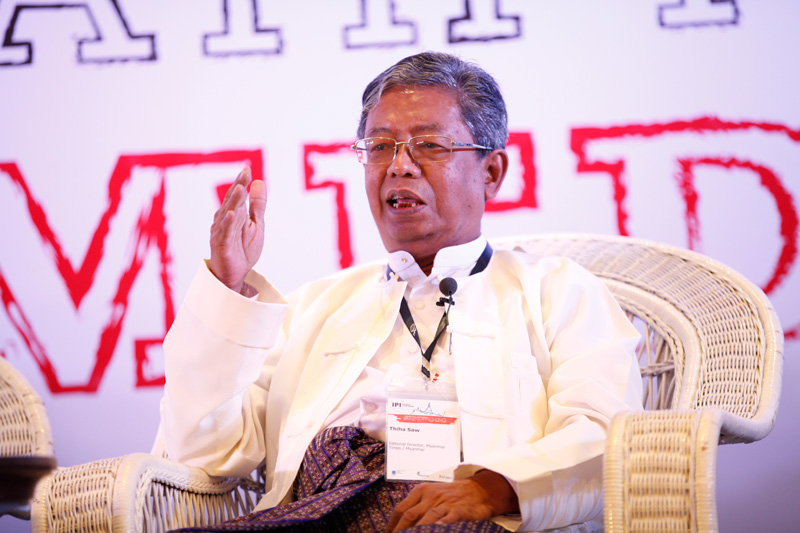 Veteran journalist U Thiha Saw, is a member of Myanmar's Press Council (Interim) and is the editorial director of Myanmar Consolidated Media, publisher of the Myanmar Times. He was interviewed by Mizzima's Min Min.
What is your opinion about press freedom in Myanmar? 
Before 2012, it was very bad. In 2012, they lifted some restrictions. There are considerable improvements. I say there are improvements because Myanmar used to rank below 170th on the [Reporters Without Borders] press freedom index but last year it ranked 144th. So we can say that we have greater press freedom than in the past. But journalists have been arrested, sued and imprisoned in our country. We have less freedom if compared with many other countries in the world. In Southeast Asia we may be above average in press freedom. But in the world, we have very limited press freedom.
What are the main challenges to press freedom in Myanmar? 
There are many challenges. Our country has news media laws but they have not been applied effectively. Journalists are being sued mostly by the use of procedural laws, secrecy laws, defamation laws and Section 505 of the Penal Code. They are a challenge to press freedom. The next challenge is related to media ownership. 
Who owns media? Does the state or organisations or parties own it?
The situation related to media ownership can pose a challenge to press freedom. There is also the quality of our journalists. If the quality of our journalists was higher, our country would be able to exercise greater press freedom.
Which laws can support journalists?
I am not sure that "support" is the right word. The News Media Law drafted by the Press Council can protect and help journalists. It also mentions the right to access to information. Although the law has already been drafted, the procedural laws have not been drafted. So, journalists are yet to enjoy the benefits provided by that law.
Following the arrest of some journalists in the crackdown at Letpadan on March 10, the Myanmar Journalists Network said it will boycott the International Press Institute event in Yangon this month that is due to be addressed by President U Thein Sein and Information Minister U Ye Htut. What's your opinion about this boycott decision?
It's up to the journalists who are members of the Myanmar Journalists Network. But the International Press Institute event is not directly related to the government. It is an international congress of media organisations. It will be attended by news media organisations from about 110 countries.
The congress will be attended by international journalists who will talk about press freedom. Myanmar journalists should attend this event. Our country is still trying to achieve press freedom and our journalists should hold discussions with journalists from other countries about finding a solution. In the congress they will discuss how other countries have handled incidents in which journalists were arrested, tortured and killed. The situations that can cause hatred should also be discussed.
The government says journalists lack qualifications. What is your response?
For 40 or 50 years, there has been no opportunity to formally study journalism in Myanmar. There is a need for such journalism courses but it is not the fault of journalists that they are not available. It is due to situations related to Myanmar's politics and economics and the education system.
The government has today (March 18) in parliament revoked the Public Service Media bill. Why do you think this happened?
The Press Council and many media organisations raised objections to the bill because its objective is to transform the state-run media and newspapers into what the government calls public service media. We objected to this move because a democratic country should not have state-run newspapers. We think there should not be state-run media and newspapers. After discussions, the bill was revoked.
Is there anything else you would like to say?
I have a message for journalists as the country prepares for the referendum on constitutional reform and the general election. Although journalists will be busy this year I want them to be careful and to improve the quality of their work.
---
This Article first appeared in the March 26, 2015 edition of Mizzima Weekly.
Mizzima Weekly is available in print in Yangon through Innwa Bookstore and through online subscription at www.mzineplus.com