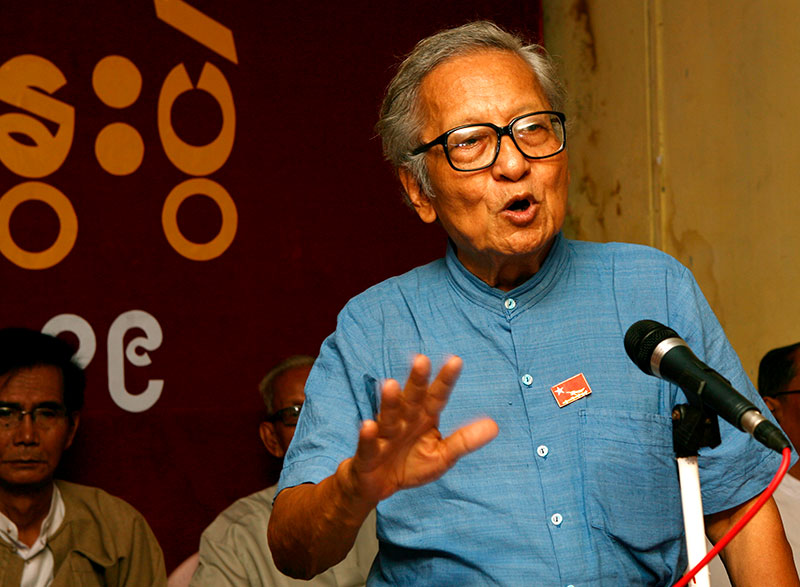 History was made this Thingyan New Year, but it largely went unnoticed. For the first time in decades a prisoner amnesty was announced, but none of those released were political prisoners. Previously, political prisoners have always been included in mass prisoner releases.
Almost 200 political prisoners were left in jail, some of them convicted, some not even convicted, still awaiting trial.
A few days later, on the third anniversary of the death of NLD founder U Win Tin, thousands of people in Myanmar and around the world wore blue shirts as part of a day of solidarity calling for the release of all political prisoners.  U Win Tin was one of Myanmar's longest serving political prisoners, describing his time in jail from 1989 until 2008 as "living in hell". He famously pledged to wear a blue shirt, the same colour shirt he had to wear in prison, until all political prisoners in the country were released.
Twenty-four human rights organisations from around the world, including the Assistance Association for Political Prisoners Burma, Amnesty International, and Burma Campaign UK, issued a joint statement calling for the immediate release of all individuals detained or imprisoned on fabricated, politically motivated charges, and for the establishment of an independent and effective prisoner review mechanism to bring about an end to arbitrary arrests and detentions in Myanmar.
In 2013, then President Thein Sein announced the establishment of the Committee for Scrutinizing the Remaining Prisoners of Conscience "to scrutinize the remaining political prisoners serving their terms in prisons throughout the country so as to grant them liberty". However, this committee never functioned independently, and the release of political prisoners was still at the whim of the government. Today there is no functioning review committee, and the decision on whether or not to release a political prisoner is at the whim of State Counsellor Daw Aung San Suu Kyi. 
As the number of political prisoners gradually increases, repressive laws which arbitrarily restrict the rights to freedom of expression, association and peaceful assembly remain in place. Both sides of the government, civilians and military, continue to use repressive laws to intimidate, arrest and jail human rights defenders, other peaceful activists, and members of ethnic minorities. 
Rather than having a 'bonfire of the bills', moving speedily to repeal repressive laws in one parliamentary bill, the government has chosen an agonizingly slow individual review process. This process is overseen by Shwe Mann, a former general against whom there are accusations of war crimes. The review process does not appear to be based on international human rights law or standards. Even laws which have been revised, such as the assembly law, fall short of basic human rights standards.
The need for a new and independent mechanism is urgent. To detain people of their liberty for political reasons is unacceptable. It is incompatible with the public statements in support of human rights made by Daw Aung San Suu Kyi and the National League for Democracy. Yet that is what Daw Aung San Suu Kyi and her government are doing. They have the power to release political prisoners, but have decided to keep them in jail. The argument that they are in jail for criminal, not political reasons is the same argument used by former dictator Than Shwe. It holds no credibility.
Even Lahpai Gam, whom the UN has stated is being held arbitrarily in violation of international law, has been kept in jail. How is this compatible with pledges to prioritise the rule of law?
The new committee must review the cases of all those who may have been charged or deprived of their liberty simply for the peaceful exercise of their human rights or as a result of unfair, politically motivated trials. All those charged or detained solely for the peaceful exercise of their rights should be immediately and unconditionally released and all charges against them dropped.
The committee must also review all laws used to arrest, prosecute and punish political prisoners and prisoners of conscience, and recommend to Parliament the repeal or amendment of all such laws to bring them into line with international human rights law and standards. It also needs to make recommendations to authorities to end the misuse of laws to target people for political reasons. 
A system of proper support for former political prisoners and their families needs to be established. Lives have been destroyed, the state has a responsibility to those affected. 
If the NLD-led government agrees to the establishment of such a committee, it will go a long way to start to address the political prisoner crisis faced by Myanmar. Keeping political prisoners in jail puts the NLD government in the same league as governments in countries like Iran, China, Saudi Arabia and Azerbaijan.
The continued detention of political prisoners is more than a human rights problem, or a political and legal problem for the government of Myanmar. Those detained, and their families, pay a huge personal price. There is no place for political prisoners in a country which wants to be a genuine democracy one day.
---
Mark Farmaner is Director of Burma Campaign UK
Twitter:@MarkFarmaner