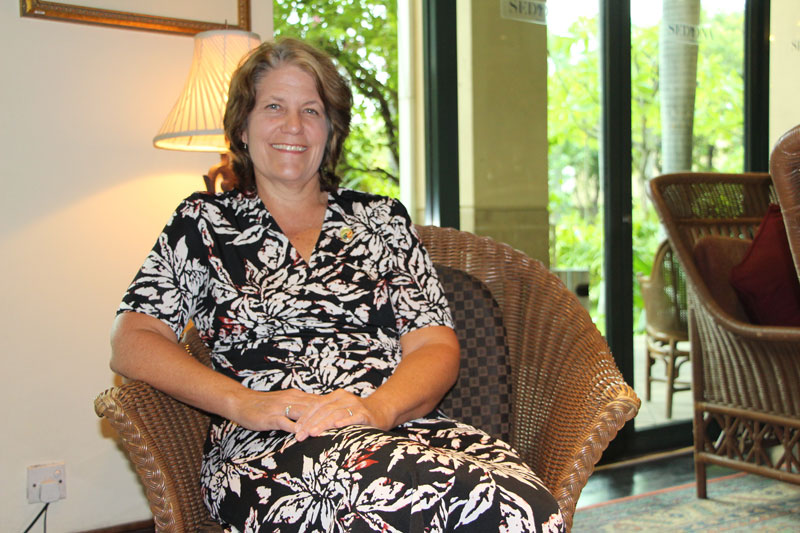 Since 2013, the Peace Corps, a U.S. government initiative to support developing nations, has been conducting a series of assessments to better evaluate the optimum way it can support Myanmar's transition. As a result, the Peace Corps is preparing to officially open a local office in Yangon in February 2016. 
Mizzima Weekly's Mark Yang met with Ms Penny Fields, the country director of the Peace Corps in Myanmar to discuss plans. 
When will the Peace Corps start its operations in Myanmar? 
We have already sort of began our launch. I have been here since February this year with a small team, two American staff. We started to hire local Myanmar staff. Setting up the office to work with our partners in government. On a local level, making contacts. What we are hoping is that we would like our first group of volunteers to be on the ground in February 2016.
In which areas will the Peace Corps work in Myanmar? 
During our assessment and initial conversation when we were invited to come here, the Peace Corps only comes when invited; we tried to work in the areas where we were asked to work. The government asked us to focus on education and health first, sort of public health education. So we're looking at that as well. 
Which areas will the Peace Corps move into?
It depends on local needs, what the people of Myanmar want. I think there are many areas that we could work together.
Could you elaborate more about the Peace Corps? 
The Peace Corps was founded in 1961 by President John F. Kennedy. Our three goals are, one, to help interested countries in meeting their need for trained men and women, two, to help promote a better understanding of Americans on the part of the people served and, three, to help promote a better understanding of other people on the part of Americans. For us to learn about your culture and for Peace Corps volunteers to share American culture with your country. We have worked in lots of different technical areas over 54 years. Now we focus really on six technical areas. Education is the major one. Health, agriculture, environment, community economic development and youth development. Those are our six focus areas, but those cover a lot of different activities. 
Which South East Asian countries is the Peace Corps helping? 
We are working in a number of ASEAN countries. In Cambodia, we are working in education and health. In Indonesia, we are working in education. In Thailand, we have worked for more than 50 years. Thailand is the first country the Peace Corps worked in. We work in many different areas, youth development, education, community, economic development, and various programs there. In the Philippines, we have worked in many different areas: coastal marine, fisheries, HIV prevention. In China, we have English education volunteers. 
Is the Peace Corps only helping developing countries? 
The Peace Corps helps in capacity building. In the early days of the Peace Corps, we worked with developing countries only. When countries reaches a certain level of capacity, then that country makes their own determination of where we work. 
What do the Peace Corps volunteers do in addition to helping their host countries? 
Peace Corps volunteers are learning their host country's culture and taking that knowledge back home. Because I would say, for our people, we have a real need in the United States to be exposed to learning about our world neighbours. The world is shrinking as a global community. There have been 230,000 Americans who have served as Peace Corps volunteers. When they come home, they really are domestic ambassadors of our country's civil services. There will be no better ambassadors for our country's services. The real mission of the Peace Corps is ultimately to promote world peace and friendship. It's hugely beneficial to both the United States and the host countries.
How do volunteers share their knowledge when they're back in the United States? 
There are so many ways. First, I would say, technology changes the Peace Corps experience. Now, they don't have to wait until they go home. Now, they're blogging. By using Facebook, they are sharing their stories, photographs and information of their countries of service. There are many other ways like talking with friends and families. Sometimes, volunteers do presentations at public schools. Often, our volunteers join the Peace Corps interest groups like the Peace Corps Alumni groups. 
February 2016 is very close. Have you already made detailed work plans for Myanmar? 
Yes, we have done a lot of planning. The first thing we did is a programmatic assessment. We have two assessment teams which came to Myanmar in 2013 and 2014. We visited Nay Pyi Taw to meet with the relevant ministries, and we visited some regions in some states and divisions of Myanmar. From those visits, we found it would be most effective for us to start with education. Then, we prepared our report and a proposal to work in the educational field. The Ministry of National Planning and Economics is our counterpart ministry. As it is for education, we prepared a proposal for the Ministry of Education. This week, I'm hoping to meet with the permanent secretary of the Ministry of Education to go in to further details. That's where we are at now. 
In which other areas, will the Peace Corps help in Myanmar? 
It would be health and education because that's what your government asked for initially. We have talked with the Ministry of Health. They have a lot of very good ideas, and we talk about the ways we can collaborate. There are so many opportunities. The difficulties with health is there are so many different needs which people have like nutrition, maternal child health, malaria prevention, dengue fever, water sanitation, etc.
Are the Ministry of Health and the Ministry of Education helpful?
Yes, I think we are enjoying a good relationship. It's a difficult time in Myanmar now. Everyone is very busy. There's a lot going on here with the coming election. I wouldn't call them "not helpful". I'm meeting with the ministries this week. I think we are going to enjoy a good collaboration.
How do you look at Myanmar's transitional process for the time being? 
I am pretty new to Myanmar. So, I am starting to learn it. But, it's an exciting time. Like any transitions, pain is growing. That's for sure. But to me, it seems like there are so many opportunities for the people of Myanmar. It's historic. I feel really honoured and excited to be able to be here at this time to witness the history. I'm very enthralled. 
If the transition process turns back, would the Peace Corps leave Myanmar? 
I'm an optimist. But, it's hard to predict. the Peace Corps is very committed to the people of Myanmar. I'm going to remain hopeful and optimistic. There's going to be progress. 
In which situations, do the Peace Corps leave its host country? 
The really important thing is the security of our volunteers. We need to be confident about our volunteers' security. The reason we have to leave a country is, in most cases, safety and security issues. 
What is the "Myanmar Journey" for the Peace Corps in the years ahead? 
As Myanmar is in transition, it would be a learning experience. It's going to be challenging. We're going to have to be patient. We're going to have to be very open, and our volunteers have to be pioneers. That's really what they are. Peace Corps volunteers are pioneers who are very open and adventurous people. We're going to enjoy the adventure of Myanmar.
How many years you have been with the Peace Corps?
I have a life-long love affair with the Peace Corps. I have come and gone from the Peace Corps as a volunteer. I've just been back for four years, but cumulatively, I have about 13 years of experience with the Peace Corps. 
How long will your love affair with the Peace Corps last? 
Particularly, for the people who work as volunteers with the Peace Corps, it's a life-long love affair. The Peace Corps gave me much when I was quite young. I have learnt so much from the Peace Corps, such a life-transforming experience. Now, I will be in Myanmar. That I carry with me as my own career. It has a major impact on me. So I don't think I need to end my love affair with the Peace Corps.
---
This Article first appeared in the August 13, 2015 edition of Mizzima Weekly.
Mizzima Weekly is available in print in Yangon through Innwa Bookstore and through online subscription at www.mzineplus.com