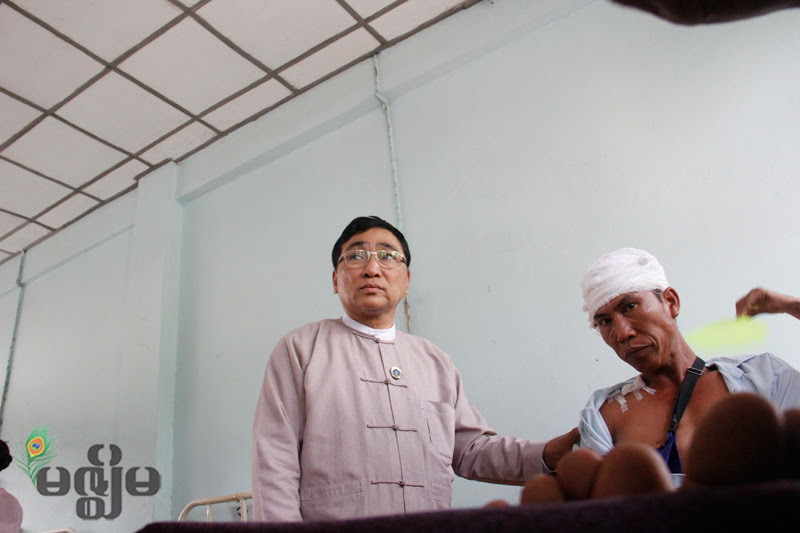 The new Minister of Ministry of Social Welfare, Relief and Resettlement, Dr. Win Myat Aye has a lot of work on his hands. Myanmar has languished in the doldrums due to decades of military misrule. Although the previous government of President Thein Sein did make efforts to improve the social conditions of the people, the new National League for Democracy-led government is finding it is having to pick up the pieces and systematically develop the plans and programmes.
As a doctor and pediatrician, Social Welfare Minister Win Myat Aye has a thorough understanding of his ministry's field. In the following interview with Mizzima, he talks about the tough challenges his ministry faces and their outreach for youth and the aged.
Please can you tell us about the work of your ministry?
In fact it is social work. The name of our ministry is Social Welfare, Relief and Resettlement. The works being done by our Social Welfare Department under our ministry is very tough. It concerns with the work from cradle to death. There is a saying '1,000 days after birth' which means from embryo to 1,000 days after birth. This is the highest stage of development of an infant. If we can provide the best care to these infants, we will get the best next generation for our society. They will become wise men and women, they will become smart people and they will become reliable people for the country.
We have a traditional childcare system in our country. We have plans and schemes for that. We have programmes for that. We carry out these programmes. In this social work and social care work, we have to provide care during pregnancy too. And we provide care after giving birth too, both prenatal and postnatal. We provide care to the newly-born babies. These are social care and prevention work. And we provide healthcare services too. We give suggestions of how to live, how to eat and how to do, etc. but they must have money to follow our suggestions. We need to do this work on a nationwide scale. In our social care and prevention programme, we will provide support at each stage, during pregnancy and until the child attains two years of age. We provide assistance at each stage. This programme is our social care and prevention programme. This is just in the beginning stage. We are doing this programme as a nationwide scheme for the children.
And then these babies will grow up. After reaching their teenage years they need to know about themselves and must know how to advance to the useful and valuable adult stage from youth. We will have to help them in this stage.
And then we have youth sector. The youths in our country are really smart. If we can train them and nurture them systematically they can do more for our country. For systematic bringing up of our youth I am leading in drawing up our youth policy. We have to do health, education and sports for them in cooperation with other ministries. In this work our ministry is playing the leading role.
We have carried out this work stage by stage and now we have completed about 50 percent of them. We have drawn up a youth policy. We tell youth to take part in the formulation of this youth policy and to take a leading role in this work. In this entire process, youth lead, youth participate and do everything. To make this youth policy the state policy of Myanmar and all ministries concerned need to work together. Our ministry is leading in this work too.
As for the elderly people, we have a plan for care of the aged. In the elderly people there are two categories, one is abled though aged and aged but disabled. So there are two types of care for aged people for each category. As for the aged but abled, we have a plan to let them show their capabilities and abilities in society though they are over 65. And as for the aged who are disabled, we have training programmes for them. We trained people to provide care for aged people who are disabled. In this way we can create job opportunities too. After completing this training, the trainees will be given government jobs and private jobs too. They will become professionals and trained care providers for the aged.
As for these aged people, we have already drafted an Aged People Law and this needs only to be passed by parliament.  In this law, social pension and rights of the aged are included. Let me roughly say youth have their youth rights and aged people have their rights for aged people. After being passed by parliament, we will implement these laws.  
And there are more things we are carrying out. Apart from care for aged, we have a social protection scheme from cradle to death as I have said to you before. We have started to execute this plan systematically. These are our plans and programmes. There will be policies and laws later for these plans and programmes.
Does your ministry have a plan for earthquake preparedness in cities in Myanmar?
Earthquakes are an unpredictable natural disaster. We can forecast storms but earthquake cannot be forecast. But there are buildings which can withstand earthquakes. In Myanmar too, we have such buildings in the past but not many. We do not have many such buildings which follow the earthquake-proof building codes. When we build such earthquake-proof buildings, we need to ask the Ministry of Construction for their suggestions and recommendations. We have to consult and cooperate with them in building these buildings.
Does your ministry have plans to help orphans?
In the 100-day plan of our ministry, we are working for street children, child beggars, unprotected children, unprotected aged and unprotected differently-abled persons. So we are working for these children including street children or stray children. We have a plan for them. We can see such children in many big cities in our country. We are working for them as a priority in Mandalay and Yangon in the 100-day plan. This is the broad issue and we need to work together with many others so that we held meetings with the Region governments. And we are cooperating with these Region-level governments. We included work for them in our 100-day plan. We include these children or stray children, child beggars and orphans in our 100-day plan.
It is important to formulate the method to execute this plan. We will formulate this method during this 100-day period. And then we will run this method in executing this plan on a trial basis.
The work for formulating this method has been 60-70% completed. We will make field visits in blocks and streets in cooperation with Region Governments to study the situation on the ground. We will study the situation of the generations of these children. In Yangon too, we have discussed with the Yangon Region cabinet and Chief Minister. We have discussed with the Social Affairs Minister in this Region Government. We have already explained to them what we would do and what is our plan. We are continuing field surveys and visits in all blocks. Upon completion of all of this work, we will execute the plan with a formulated method.
What can your ministry do for the children who cannot afford schooling, possibly operating in cooperation with charity organizations? The number of these children is said to be high.  
There are two types of plans for these children. The first one is the students who will be okay when they are provided assistance by our ministry. They can be enrolled at the schools with our assistance. But another type is suitable only to be provided informal education. Our ministry has plans for both of them. I mean we will provide assistance which will be fit for them.
There are many organizations which are doing informal education. At the same time, it seems I'm just talking. Since our staff strength is very low and we cannot get involved in this work by ourselves, this work is hard for us to implement in practice. What we should do is to work with social organizations that are doing practical work in this field. They are very smart and capable. We are trying to get connections with them. We are trying to cooperate with them. We laid down policy for doing this with such organizations. Our policy is very simple. It is how to serve the people best. This is our most important policy. In this way only can we work all the jobs that I said. We are doing this work as a priority. People may see our ministry is working in cooperation with outside organizations and private organizations. This work is being covered by the media too.
The interview in Myanmar language can be viewed here: https://www.facebook.com/MizzimaDaily/videos/1209392149095688/