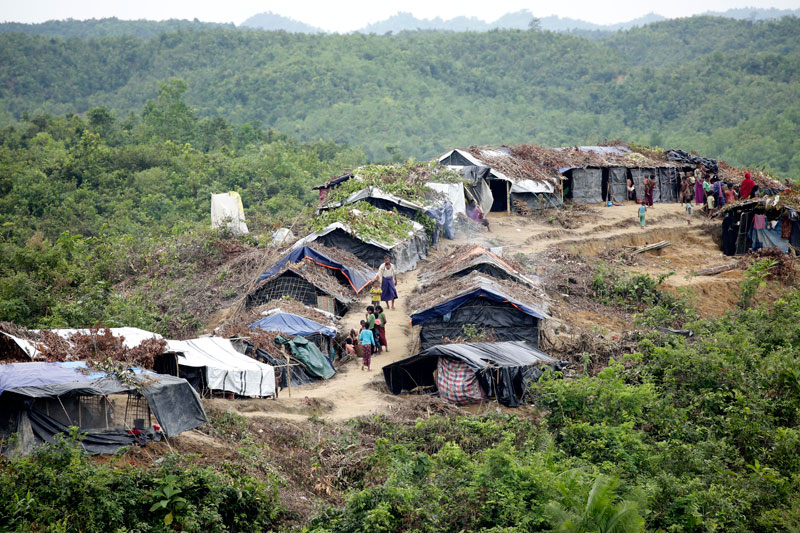 Bangladesh's home minister said Thursday he will travel to Myanmar on October 23 for talks on the crisis that has seen more than half a million Rohingya refugees cross into his country in just six weeks.
Asaduzzaman Khan confirmed the dates of his visit as the United Nations said at least 14,000 new refugees had entered Bangladesh from Myanmar in the past two days after a brief lull in arrivals.
"We'll ask them to take action so that no more people from this community from Myanmar enter Bangladesh," said Khan of the crisis, which has strained ties between the two neighbours.
"We'll also ask them to take back those who've already come in."
Khan said the talks would also cover border security including along the Naf river, which acts as a frontier between Bangladesh and Myanmar's troubled Rakhine state.
Nearly a million Rohingya refugees are now crowded into packed refugee camps near the border where most live in desperate conditions with limited access to food, clean water or proper sanitation.
Bangladesh said earlier this month that a senior Myanmar minister had agreed during a visit to Dhaka to set up a working group to discuss taking back the Rohingya, a Muslim minority.
But no details were given, and experts have questioned the likelihood of the refugees being able to return to mainly Buddhist Myanmar any time soon.
Myanmar leader Aung San Suu Kyi said last month that her country would take back "verified" refugees.
This would be done according to criteria agreed in 1993, when tens of thousands of Rohingya were repatriated, she said.
© AFP