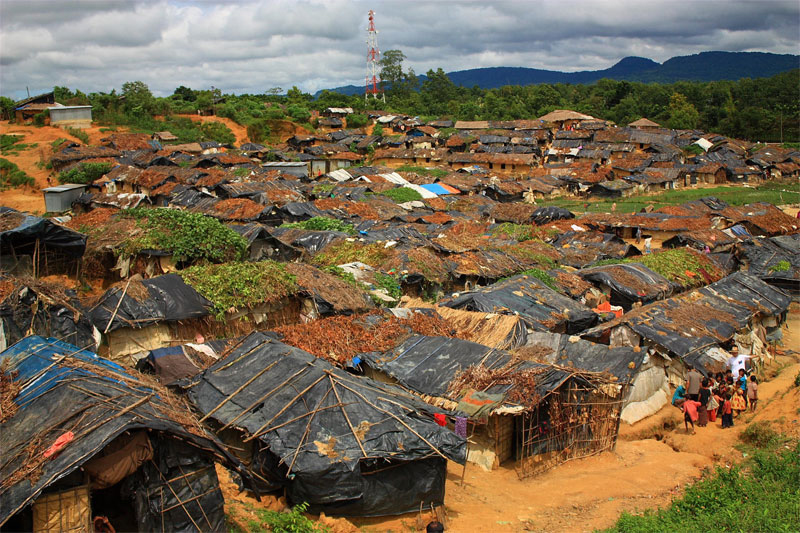 Bangladesh authorities have been keeping Rohingyas in the country under strict surveillance following the recent killing of nine police personnel in Rakhine state of Myanmar, officials said. 
"Our law enforcement agencies have strengthened their vigilance in border areas to avert any unwanted incident," Cox's Bazaar Police Chief Shyamol Kanti Nath told Mizzima by mobile phone on Tuesday.
He also said at present there is no problem in border areas between Bangladesh and Myanmar.
Another police official, who visited the border area on Monday, said law enforcement agencies are watching both registered and unregistered Rohingyas closely.
Currently, nearly 33,000 registered Rohingyas are staying at two refugee camps-- one at Nayapara in Teknafupazila and another at Kutupalong of Ukhiaupazila under Cox's Bazar.
Talking to Mizzima, an official of the office of Relief and Rohingya Refugee Repatriation Commissioner (RRRC) in Cox's Bazar said 19,231 registered Rohingyas are staying at Nayapara camp while the remaining 13,727 are living in Kutupalong.
The RRRC office under the disaster management and relief ministry of Bangladesh has been overseeing food, medical treatment and accommodation of the refugees with the assistance of various local and foreign agencies.
"The overall situation in the refugee camps is now normal," a senior government official, familiar with the Rohingya issue, told Mizzima.
Around 300,000 unregistered Rohingya are also staying illegally in different parts of the country's southeastern Cox's Bazaar district, according to local media reports. 
"We're now maintaining a friendly relationship with Myanmar," a senior official of the Ministry of Foreign Affairs of Bangladesh told Mizzima on Tuesday.
Bangladesh authorities are in constant touch with their Myanmar counterparts and providing help as requested, the official said.
Meanwhile, the Bangladesh government has unequivocally condemned the coordinated attacks on border guard police posts in Rakhine state on October 10.
"We underscore the need for arresting perpetrators and for a due judicial process to bring them to justice," the Ministry of Foreign Affairs of Bangladesh said in a statement in Dhaka last Sunday.
Bangladesh is a responsible neighbour and had sealed the borders with Myanmar in the early hours of 10th October to deny perpetrators easy escape, it added.
"Bangladesh apprehended two Muslims of Rakhine State and handed them over to the authorities of Myanmar within a day," the foreign ministry noted.
Bangladesh follows a 'zero tolerance' policy towards violent extremism and terrorism of any form and manifestation. 
The ministry also said Bangladesh conducted a number of operations against Arakan Army and other ethnic armed groups originating from Myanmar in recent times to help Myanmar.  
Bangladesh returned two Tatmadaw members rescued from Arakan Army captivity last year, according to the statement. 
"Bangladesh will continue to assist Myanmar in this time of need," the ministry said, adding that Bangladesh believes that cooperation in these areas could be best realised under a legal framework which Bangladesh has been stressing over two years. 
Such institutionalised cooperation is needed to comprehensively address all aspects of insecurity, from drug to human trafficking to gun running to civil commotion and internal disturbances to insurgency, it added.
Many Rohingya fled Myanmar when, in 1982, General Ne Win's government enacted the Burmese nationality law, which denied them citizenship.