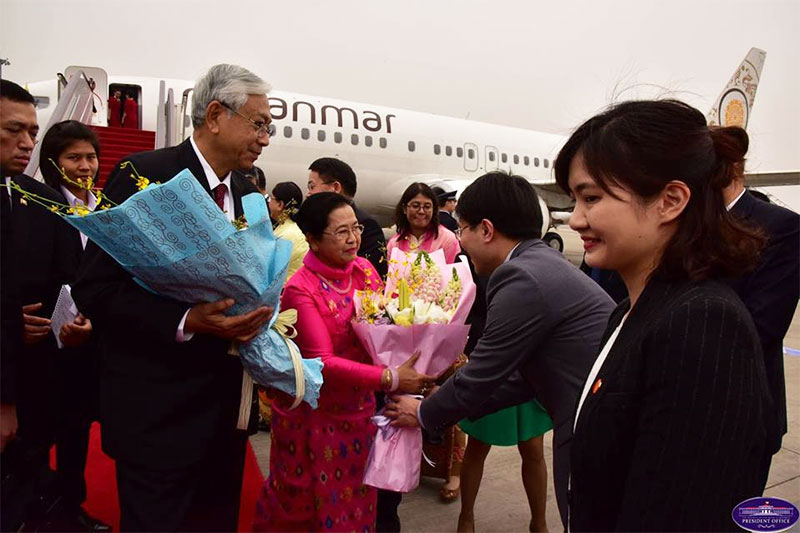 Economic cooperation and border management will be high on the Myanmar president's agenda as he makes his first visit to China amid an economic slowdown at home and increased fighting with armed ethnic groups, Chinese analysts said.
Myanmar President U Htin Kyaw left Naypyitw for Beijing on Thursday for a six-day visit to China. The visit is aimed at enhancing mutual understanding and promoting friendly relations and cooperation between Myanmar and China, according to the Xinhua News Agency.
Experts pointed out that U Htin Kyaw's visit to China symbolises an era of rapid development for the Sino-Myanmar relations.
"Although the government that took office in March 2016 has proposed a set of economic policies, they failed to achieve their goals as expected. On the contrary, foreign investment, especially from the US and Europe, has been declining. Therefore, during this visit, Myanmar's president may intend to seek more cooperation with China in bilateral trade and investment to ease economic pressures," Zhu Zhenming, a professor at the Yunnan Academy of Social Sciences, told the Global Times.
The amount of foreign direct investment approved between April and December 2016 stood at about $3.5 billion, down 28 percent from the same period a year before. The full-year amount through March 2017 is likely to show the first year-on-year decline in four years, the Financial Times reported in January, citing Myanmar's Directorate of Investment and Company Administration.
China's investment reached $2.8 billion this fiscal year 2016-2017, down by nearly $500 million compared with the previous year. However, China still ranks first overall in total foreign investment, with $18.53 billion since 1988, the commission said.
Border concerns
Experts noted that joint cooperation in border management will be a hot issue, along with discussions on the Belt and Road initiative, the Myitsone dam project, the Sino-Myanmar oil pipeline, and the construction of a deep-sea port in Kyaukphyu.
"Cross-border crimes, including drug-trafficking, human trafficking and telecom fraud, have been sharply rising in recent years. The two countries will discuss how to better fight against cross-border crimes and safeguard border peace," said Zhu.
A total of 370 Chinese nationals suspected of involvement in telecom fraud were transferred to the public security bureau of Southwest China's Yunnan Province by authorities of Myanmar's Wa State on Sunday following a joint crackdown. And according to a report published by the office of the National Narcotics Control Commission under the Ministry of Public Security in March, Southeast Asia's Golden Triangle remains the main source of heroin and methamphetamine in China and about 44,333 hectares of opium poppy were cultivated in northern Myanmar during the 2015-16 growing season, an increase of 3.7 percent from the previous year.
The report said that cross-border drug trafficking occurred continuously and frequently. Cartels from provinces like Southwest China's Sichuan and Guizhou provinces and countries like Myanmar played a particularly big role in drug trafficking.
Zhu added that severe armed conflicts that broke out in November 2016 in northern Myanmar have been threatening the stability of the Sino-Myanmar border. Myanmar may also ask China to play a role as a constructive mediator, providing support for peace talks among the parties concerned.
U Htin Kyaw arrived in Sichuan Province on Thursday. He was reportedly received at the airport by Sichuan vice governor Yang Hongbo.
In recent years, Myanmar has deepened economic and trade cooperation with Sichuan and the president's visit might be related to the purchase of the Joint Fighter-17 (JF-17) Thunder (also named FC-1 Xiaolong), Liu Yun, an analyst on Myanmar issues, told the Global Times. Myanmar's Air Force has confirmed that the purchase of JF-17 fighter jets was approved.
This report has been republished courtesy of Global Times