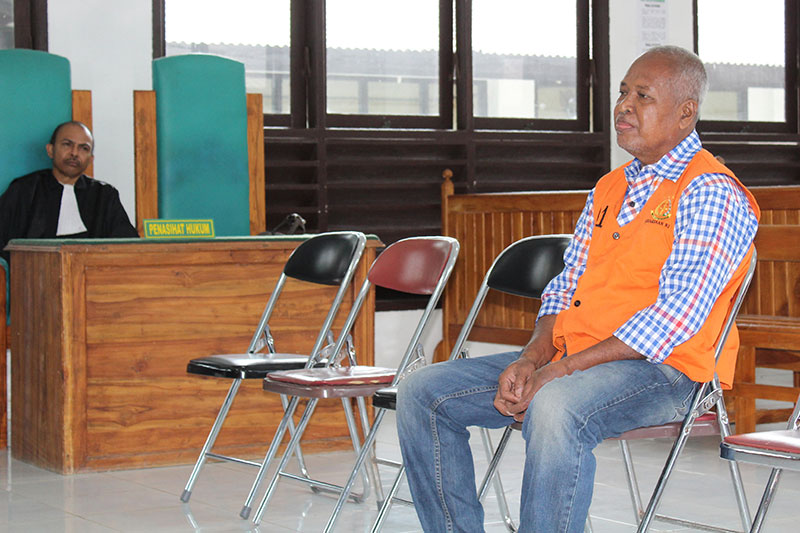 A suspected Indonesian people-smuggling kingpin went on trial Wednesday accused of organising an illegal migrant boat journey in a case that sparked a diplomatic row with Australia.
Abraham Louhenapessy, commonly known as "Captain Bram", is allegedly a notorious figure in the illicit trade that involves sending boatloads of migrants from Indonesia, a staging post on long-established people-smuggling routes, typically to Australia.
Australian officials say he has been involved in sending boatloads of migrants from Indonesia to the country as far back as 1999. He has been arrested several times in Indonesia but has only ever served one brief jail term.
In the latest case, Louhenapessy appeared in court on the eastern island of Rote for allegedly buying a boat and helping to find a crew for a voyage intended to take 65 migrants to New Zealand in 2015.
He faces up to 10 years in jail if found guilty of breaking laws designed to stop people-smuggling.
However the boat, carrying Sri Lankan, Bangladeshi and Myanmar migrants, was stopped by the Australian navy as it passed through Australian waters and the passengers and crew were sent back to Indonesia in rickety vessels. 
The crew claimed they were paid about $30,000 to turn back, angering Indonesian officials who worried that it could encourage an increase in people-smuggling attempts. Australia refused to comment on the claims.
Australia turns migrant boats back to Indonesia when it is safe to do so. The tough policy was introduced to stem the flow of migrants arriving on the country's shores, but it has long angered Indonesian officials.
It is thought the migrants involved in the latest case were seeking to reach New Zealand since the policies had closed off the route to Australia.
Prosecutor Alexander Sele told the court that Louhenapessy provided the boat in exchange for a payment of 1.5 billion rupiah ($112,000) from the alleged mastermind of the scheme, a man called Vishvanathan Thineskumar.
"Aside from finding and providing a fishing boat, the defendant also ordered (his subordinate) Mansyur to recruit a captain... to sail the boat and a crew," said Sele.
Louhenapessy does not deny the charges, his lawyer said.
The captain and crew from the boat were caught and jailed in Indonesia in January last year after being found guilty on people-smuggling charges.
© AFP