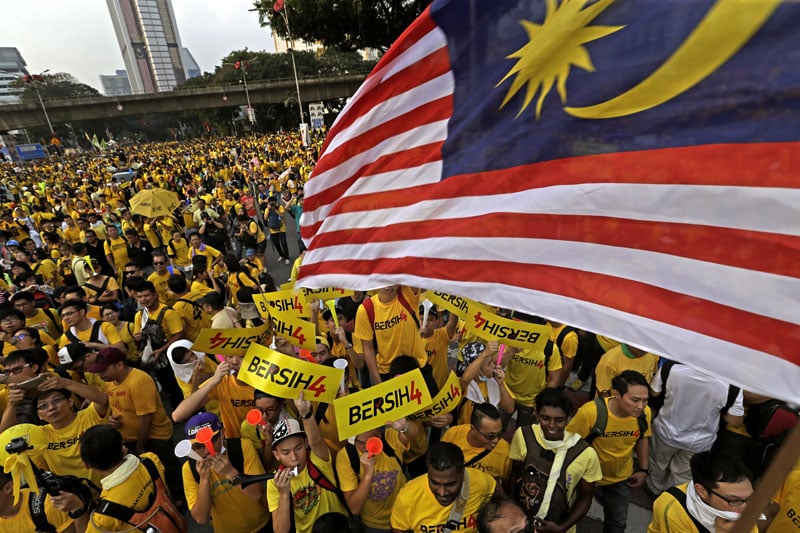 Tens of thousands of Malaysians streamed into central Kuala Lumpur on Saturday to call for the prime minister's ouster over corruption allegations and demand broader reforms, spurning warnings by police who have declared the rally illegal. 
The capital's historic heart was jammed by massive crowds, most of them in the banned yellow t-shirts of Malaysia's reform movement, amid a carnival atmosphere of political speeches, musical performances, deafening vuvuzelas and selfie-taking. 
But they were prohibited from entering Independence Square for a planned overnight occupation of the area, with access blocked by security barriers manned by a large police presence. 
Members of Prime Minister Najib Razak's cabinet have admitted he received nearly $700 million in mysterious deposits into his personal bank accounts starting in 2013. 
The revelation, brought to light by the Wall Street Journal last month, has angered many Malaysians, including members of Najib's ruling party, already fed up with recurring government graft scandals. 
"I have a six month old baby. I want her to grow in a democratic and corruption-free country," said yellow-clad businessman Ng Chong Yee. 
"We need to let the government know we are angry. If we sit at home, they will not realise this." 
- Escalating tensions - 
Previous rallies organised by the civil-society movement Bersih have ended in clashes with police, most recently in 2012. 
Bersih was first formed to press for reform of an electoral system it says is biased, propping up the ruling Barisan Nasional (National Front) coalition despite its flagging voter support. 
Malaysian media outlets estimated the crowds at up to 80,000. 
There were no incidents reported as of early Saturday afternoon and rally-goers were so far respecting the security cordon around the square. 
Najib called the rally disrespectful towards Monday's National Day. 
"Are they that shallow and poor in their patriotism and love for their motherland?" he was quoted saying Saturday by state-run Bernama news agency. 
Local media reported seeing trucks with water cannon being deployed earlier in the day. Police seen by AFP were not in riot gear. 
Smaller gatherings also were reported in the cities of Kuching and Kota Kinabalu on Borneo island.  
Rally organisers and opposition leaders said they intended to stay on the capital's streets overnight. 
"The government of Malaysia should listen to the concerns of its people," Transparency International's  Chairman Jose Ugaz said in a statement Saturday, urging authorities not to crack down on the demonstrators. 
Najib's cabinet ministers say the money transfers were "political donations" from unidentified Middle Eastern sources and there was nothing improper, but no further details have been given. 
The accounts have been closed and the fate of the money has not been explained. 
Najib calls the graft allegations a "conspiracy" by unnamed opponents to topple him. 
But the official explanations have been widely mocked. 
Influential retired former premier Mahathir Mohamad, who warns that Najib is leading the country down a dead end, has called the "political donations" claim "absurd". 
- Status of investigations unclear - 
Najib recently sacked officials or absorbed into his cabinet parliamentarians who were probing the matter, leaving the status of investigations unclear. 
The premier had already been under pressure over months of allegations that huge sums had disappeared from deals involving heavily-indebted state investment company 1Malaysia Development Berhad (1MDB), which Najib launched in 2009. 
Recent reports also have detailed alleged multi-million dollar overseas investments by Najib family members. 
Najib and 1MDB vehemently deny wrongdoing. 
The 58-year-old ruling regime already was losing voter support over its authoritarian tactics and recurring scandals. 
After taking power in 2009, Najib sought to halt this, vowing to end corruption, authoritarianism, and to reform a system of controversial race-based preferences for the Muslim ethnic Malays who are the multi-racial country's majority group. 
But those initiatives are either stalled or have been reversed by Najib as the ruling coalition falls back on its conservative rural Malay base to stay in power. 
Many Malaysians are angry over a new consumption tax they blame for causing prices to spike. 
The ringgit currency also has slid to 17-year lows, with investors rattled by the Najib funding fiasco and fears the global economic turbulence will harm Malaysian growth. 
"Our economy is in dire straits and people are suffering with rising costs. The country is at a critical stage," said demonstrator Alias Salleh, 52. 
"I pray every day to Allah that (the ruling coalition) will fall." 
Most political analysts expect Najib and his government to ride out the turmoil, however, owing to its control over key institutions such as the police and judiciary.
© AFP