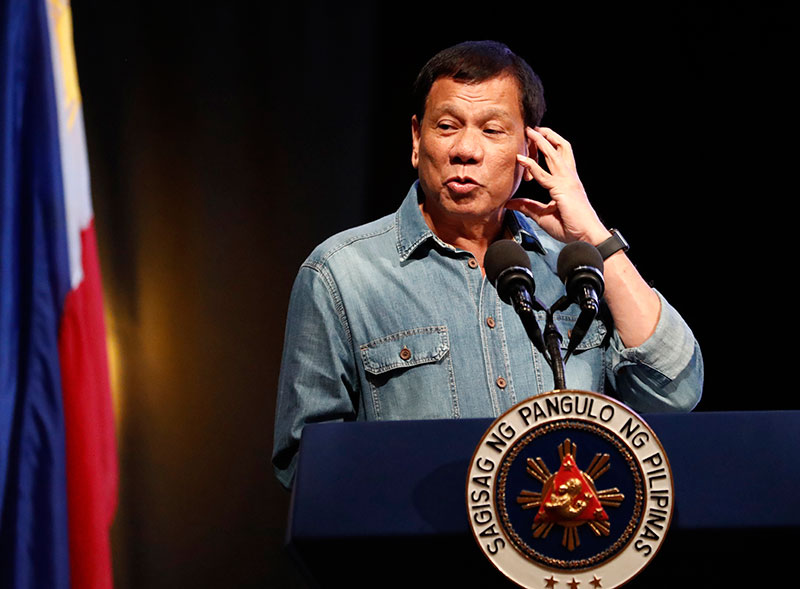 Philippine President Rodrigo Duterte will pay an official visit to Myanmar and Thailand on March 19 to 22, a government spokesman announced on Thursday. 
Foreign Assistant Secretary Charles Jose told a news conference at the presidential palace that Duterte will visit Myanmar on March 19 to 20, and Thailand on March 20 to 22. 
"These visits are part of (Duterte's) introductory visits to countries in Southeast Asia," Jose said, adding that the two countries are the only remaining countries that Duterte has not visited in the region since he took office in June last year. 
In Myanmar, Duterte will hold talks with Myanmar President U Htin Kyaw and other high level government officials, including State Counsellor Aung San Suu Kyi and Commander-in-Chief of the Defense Services Senior General Min Aung Hlaing, he said. 
The Philippines and Myanmar established diplomatic ties in 1956. Myanmar is home to about 1,800 Filipinos working mainly in foreign firms and international organizations. 
In Thailand, Duterte is scheduled to discuss issues of mutual concern with Thai Prime Minister Prayut Chan-o-cha, including political, economic, agriculture, energy, education, and defense cooperation. 
"(Duterte) is expected to share with Thai officials information on various developments in the country, as well as priorities and programs of the Philippines for its ASEAN (Association of Southeast Asian Nations) chairmanship in 2017," Jose said. 
He said that Duterte is also expected to meet some 16,000 Filipinos living and working in Thailand. 
"The relations have always been strong and vibrant, with exchanges at the highest levels taking place regularly since the establishment of relations in 1949," the statement read. 
Duterte has previously travelled to Bangkok in November last year to pay his last respects to the late Thai King Bhumibol Adulyadej.
Courtesy Global Times