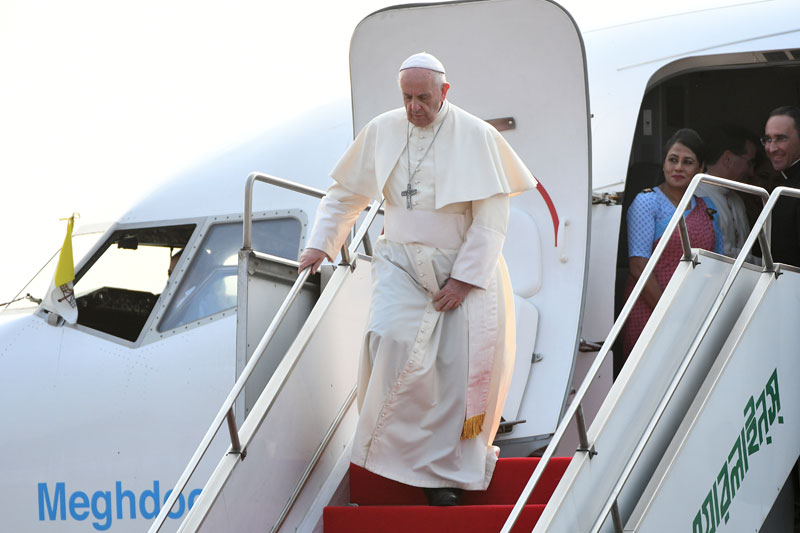 Pope Francis on Thursday arrived in Bangladesh, where hundreds of thousands of Muslim Rohingya refugees have sought sanctuary after fleeing a crackdown in neighbouring Myanmar, in the second stage of a tour dominated by the plight of the persecuted minority. 
Francis -- the first pope to visit Bangladesh in 31 years -- will spend three days in the mainly-Muslim country, which is grappling with a rise in Islamist extremism that has seen Catholics attacked for their faith. 
He flew to Dhaka from Myanmar, where he walked a diplomatic tightrope, staying away from allegations that the army is waging an ethnic cleansing campaign against Rohingya Muslims, despite pressure to publicly confront the incendiary issue. 
He also refrained from using the word "Rohingya" during his four-day trip in which he held two masses and private meetings with civilian leader Aung San Suu Kyi and powerful army chief Min Aung Hlaing. 
In Dhaka he will meet some of the refugees from the Rohingya community, whom he has described as his "brothers and sisters", and lead a mass for Bangladesh's tiny Catholic minority. 
Nearly one million refugees from the Muslim minority now languish in camps on the border and the Daily Star, a Bangladeshi newspaper, said in an editorial Thursday it hoped he could change their fate. 
"Thanks to the large body of evidence documenting severe rights abuses of the Rohingya minority of Myanmar, the extent of the atrocities carried out by Myanmar's security forces is known to all," it said. 
"We remain hopeful that given Pope Francis' legacy of standing up for the oppressed, he will speak out against the ongoing persecution of the Rohingya during this very important visit." 
- 'Moral authority' - 
Myanmar's government denies the Rohingya are an ethnic group, insisting they are "Bengali" migrants who are not entitled to full citizenship. 
The Vatican has rejected suggestions that the pope's reticence to tackle the Rohingya crisis head-on represented a failure of moral leadership. 
A spokesman said the pope's presence alone drew attention to Myanmar's myriad troubles and his "moral authority" remained undimmed. 
"He's not afraid of minefields," Vatican spokesman Greg Burke told a press conference, hinting the pope's private discussions may have been more strident. 
Francis had been urged not to use the Rohingyas' name in Myanmar to avoid provoking hardline Buddhists and making the country's Catholic community a target. 
"He seemed to comprehend the dilemma he faced," David Mathieson, a Yangon-based analyst, told AFP, applauding his diplomatic dexterity in a country where the army retains great power. 
"He is the Pope, not a pugilist... he was here to help the country work through this horrific humanitarian crisis and listen to both the civilian and military leadership." 
The pontiff was warmly embraced by Myanmar's Catholics, who make up just over one percent of the population. 
On Friday he will lead a mass in central Dhaka that is expected to be attended by around 100,000 people. 
Bangladesh's Catholic community accounts for less than 0.5 percent of the population of 160 million and have for centuries lived in relative harmony with their Muslim neighbours. 
But there has been a rise in Islamist attacks in recent years targeting religious minorities, foreigners and secular figures. 
The papal visit comes days after the disappearance of a Catholic priest in the same village where suspected Islamist extremists hacked a Catholic grocer to death last year. 
Walter William Rosario, 40, had been making arrangements for some 300 Catholics to travel to Dhaka for the pope's mass. 
Since 2015 at least three Christians, including two converts from Islam, have been hacked to death in attacks blamed on the militant Jamayetul Mujahideen Bangladesh (JMB). 
Tens of thousands of Catholics have travelled to the capital hoping to catch a glimpse of Pope Francis, who is to travel to the park for Friday's mass on a traditional cycle rickshaw. 
The 80-year-old Argentine pontiff has established a reputation for his down-to-earth manner, vowing to stamp out extravagance among the clergy and bring the Catholic Church closer to the poor. 
He was greeted at Dhaka airport by two Bangladeshi children who presented him with a large bouquet of flowers and by the Bangladesh President Abdul Hamid. 
(AFP)